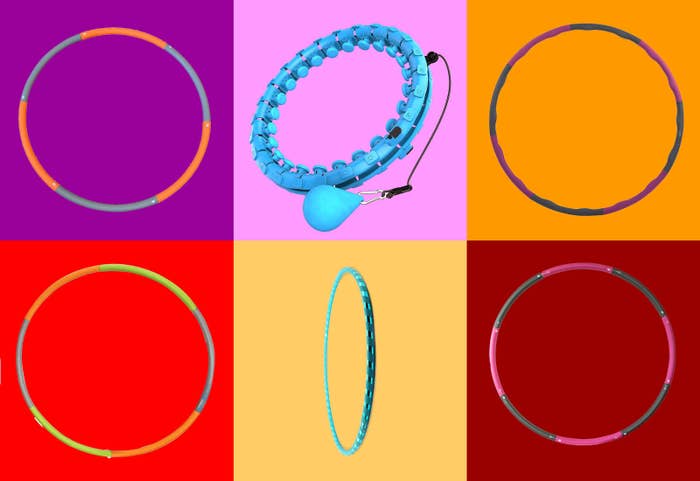 We hope you love the products we recommend! All of them were independently selected by our editors. Just so you know, BuzzFeed may collect a share of sales or other compensation from the links on this page if you decide to shop from them. Oh, and FYI — prices are accurate and items in stock as of time of publication.
You're probably familiar with the Hula-Hoop as the classic toy for children that sparked a fad in the late 1950s. More than half a century later, TikTok has spurred new interest in hula hooping, this time catered to adults using heavier, weighted hula hoops as a way to exercise at home.
A weighted hula hoop is just as it sounds — it's thicker and heavier than a traditional hula hoop. They generally range from 1 to 5 pounds. In addition, there's another option called a "smart hula hoop," which clips around your waist and has a weighted ball that does the gyrating as you move your hips.
Kaylee Black, a 20-year-old London transplant living in Los Angeles, saw the weighted hula hoop trend and decided to give it a try. She had lost over 35 pounds in quarantine, mostly through a change in diet. However, she was looking for ways to continue her fitness journey and cinch her waist since, as she describes, she "never had that kind of body which had a waist."
After a few months of using her weighted hula hoop every day for about 25 minutes in intervals of five minutes on, 30 seconds off, she started to notice a difference and lost about three inches from her waist. Her 2021 TikTok garnered over 65,000 likes and offered some evidence that this fad might actually be effective.
Fitness experts have some thoughts about Black's results and the weighted hula hoop trend overall. While they said any physical activity is better than no physical activity, most do not believe it's possible to spot-train or target fat loss through exercise in one specific area (like the waist).
"Regardless of the activity you do, it is still just the equation of energy in and energy out," said certified personal trainer Albert R. Matheny, cofounder of Soho Strength Lab. "So hula hooping is a way you can increase your caloric expenditure."
Matheny noted that you'll likely burn a similar amount of calories hula hooping as you would from walking for exercise.
Some research has suggested possible benefits for your waistline. In a 2019 study in the journal Obesity Facts, 53 overweight people either walked about 10,000 steps a day or used a three-pound weighted hula hoop for roughly 13 minutes a day. Each group did one exercise for 6 weeks then switched to the other group. Both groups had a small amount of weight loss (about one pound). Those who hula hooped lost more abdominal fat than those who walked, losing about three centimeters around their waist (just over an inch) compared with less than one centimeter in the walking group. (Keep in mind that the people in the hula hoop group also happened to walk a lot too, nearly 9,000 steps a day.)

Matheny compared weighted hula hoops to another piece of at-home exercise equipment, the mini elliptical machines that you keep under your desk to pedal while you work. Those are used while sitting, so Matheny said weighted hula hoops might be a better workout because you're standing and doing something that you probably enjoy.
Holly Perkins, a certified strength and conditioning expert and author of Lift to Get Lean, agreed that weighted hula hoops can be fun, which is an excellent motivator when doing any type of exercise.
"If this is something you enjoy, if this is a new passion and your form of activity, go for it," Perkins said. "Anything that moves you in the direction of being more active and having fun in life is what I want."
She noted that moving your hips to make that hula hoop swing around likely engages muscles from your chest to your knees, so it is possible that you would see a change in body fat in that area. However, she said that the actual utility of hula hooping really depends on your motivation. If you want to be stronger and reinforce your core for better functionality in day-to-day life, it may not be the best direction to go. (She recommends weight training for that purpose.)
Aside from that, they can also be a good choice for many reasons. Weighted or smart hula hoops don't take up much space, need a ton of room to use, or make a lot of noise, so it probably won't bother your downstairs neighbors. They're easy to use indoors in any type of weather, a hands-free option that allows you to multitask, and a way to mix up your exercise routine.
Black said she would recommend weighted hula hoops to people who are intimidated by the gym (or maybe want to avoid gyms due to the COVID risk or membership cost) or generally find working out to be a chore.
Matheny advises starting with a lower weight hula hoop and building up gradually to protect your body. Perkins even suggests starting with an old-school, traditional, non-weighted hula hoop for that same reason. As you get used to the weight, you can go heavier. Black ended up upgrading to a new hula hoop that allowed her to add weight when her original hoop started to feel too easy.
"This is such an unusual movement pattern, so to jump straight to a weighted version, you run a much higher risk of injury," Perkins said. "But if you start really accommodating your body to the movement pattern without a weight load and then you transition to something weighted, you're going to substantially reduce the risk of injury."
If you are thinking about trying one, these are the best beginner, smart, and weighted hula hoops to get started.

A classic. An original. A throwback to the hula hoops of your youth. This is an ideal beginner hula hoop to start getting your body accustomed to the motion if you haven't swung your hips that way in decades (or ever). Spinsterz hoops are custom made in the US to your size and color specifications, so you can truly get exactly what you want. And they're under 1 pound, so they won't put too much extra strain on your muscles.
Promising review: "This hoop feels substantial, weighty but not cumbersome, and overall very well made with great attention to detail. I chose the 'Black' option which has alternating matte black and reflective rainbow sparkle tape; very aesthetically pleasing. I'm 5'5" 115 pounds; I chose the small (36" diameter) which is the perfect size. I was looking for a "serious" hoop to use for exercise and general endorphin-boosting. I browsed numerous hula hoops before settling on this one based on others' positive reviews. Upon unpacking it I knew I'd made the right choice -- it exceeded my expectations. I'd repurchase this hoop as well as recommend it to anyone without hesitation." —Jennifer
What else to consider: It may seem a bit more expensive than what you remember a basic hula hoop costing, but that's what happens when things become trendy. It's also better quality than some of the cheaper options out there, so if you're serious about getting into hula hooping, it's probably worth the investment.
Best for: beginners who want to ease into the hula hooping motion before moving on to something heavier.
You can buy the Spinsterz Beginner Hoop from Amazon for around $45.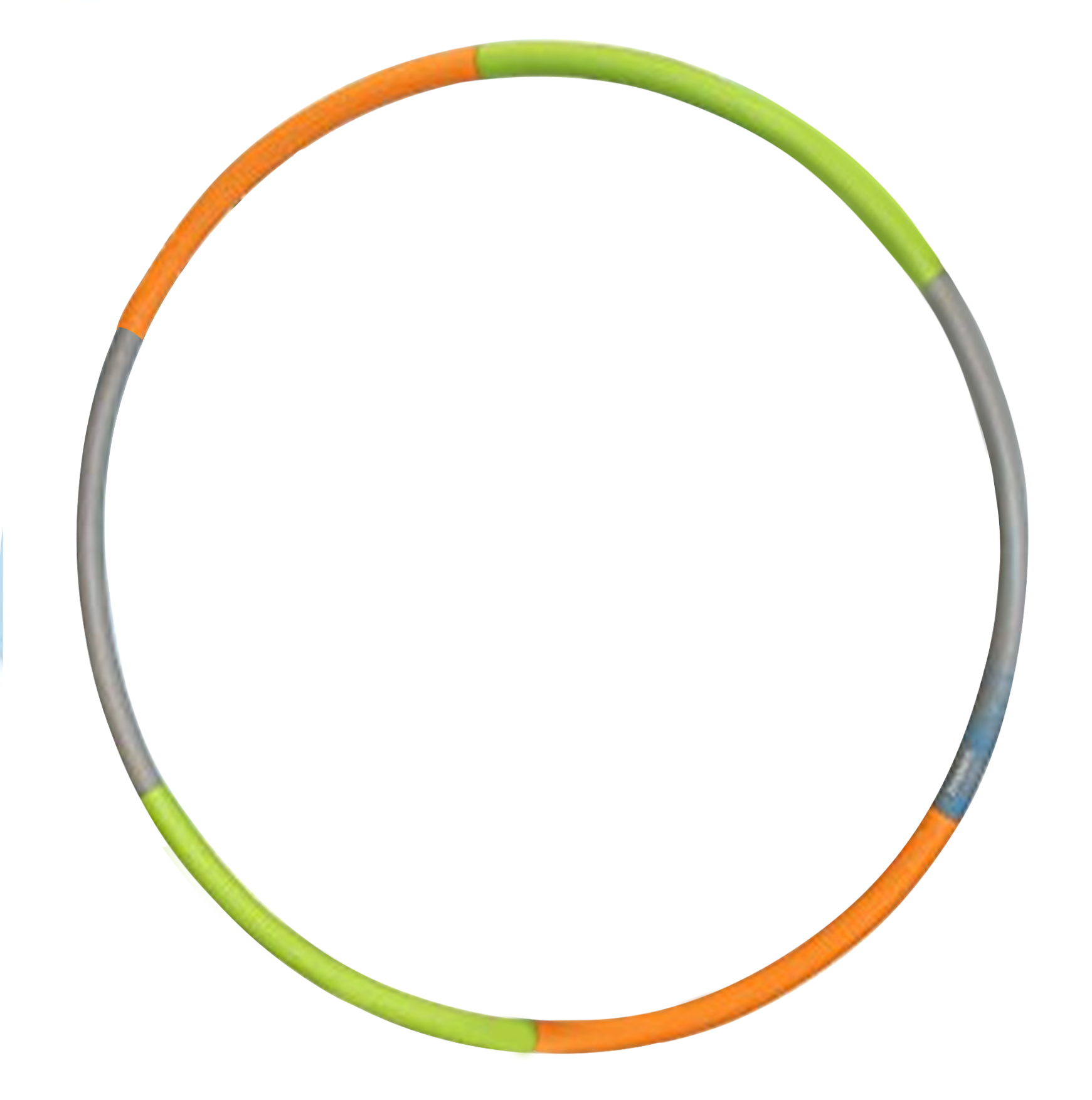 One major side effect of this style of weighted hula hoop is bruising around the waist. Black said that while it never really hurt, she did experience significant bruising when she first started as her body adjusted to the impact. This weighted option from Dynamis hopes to combat that by adding a layer of extra-thick padding to the outside of the hoop. It also comes in eight easily assembled pieces to make it convenient for storing or transporting. The total weight is 3.6 pounds with an interior diameter of 35.5 inches.
Promising review: "Now that our gym is closed for COVID-19 I was missing doing the hula hoop. Ordered this and it was here in just a few days. Snaps together easily and stays secure. This hula hoop is fantastic. Just the right size and weight to control easily and get a good toning. I highly recommend." —Linda, via Walmart
What else to consider: This hula hoop only comes in one size in terms of weight and diameter, so if you're looking for something more adjustable or require a smaller or larger size to better suit your body, you may have to look elsewhere. It's also a bit of a jump to go from less than 1 pound to over 3, so if you're worried about that, try something in between first.
Best for: easing into weighted hula hooping with something thoroughly padded to minimize bruising.
You can buy the Dynamis Weighted Hoola Hoop from Walmart for around $40.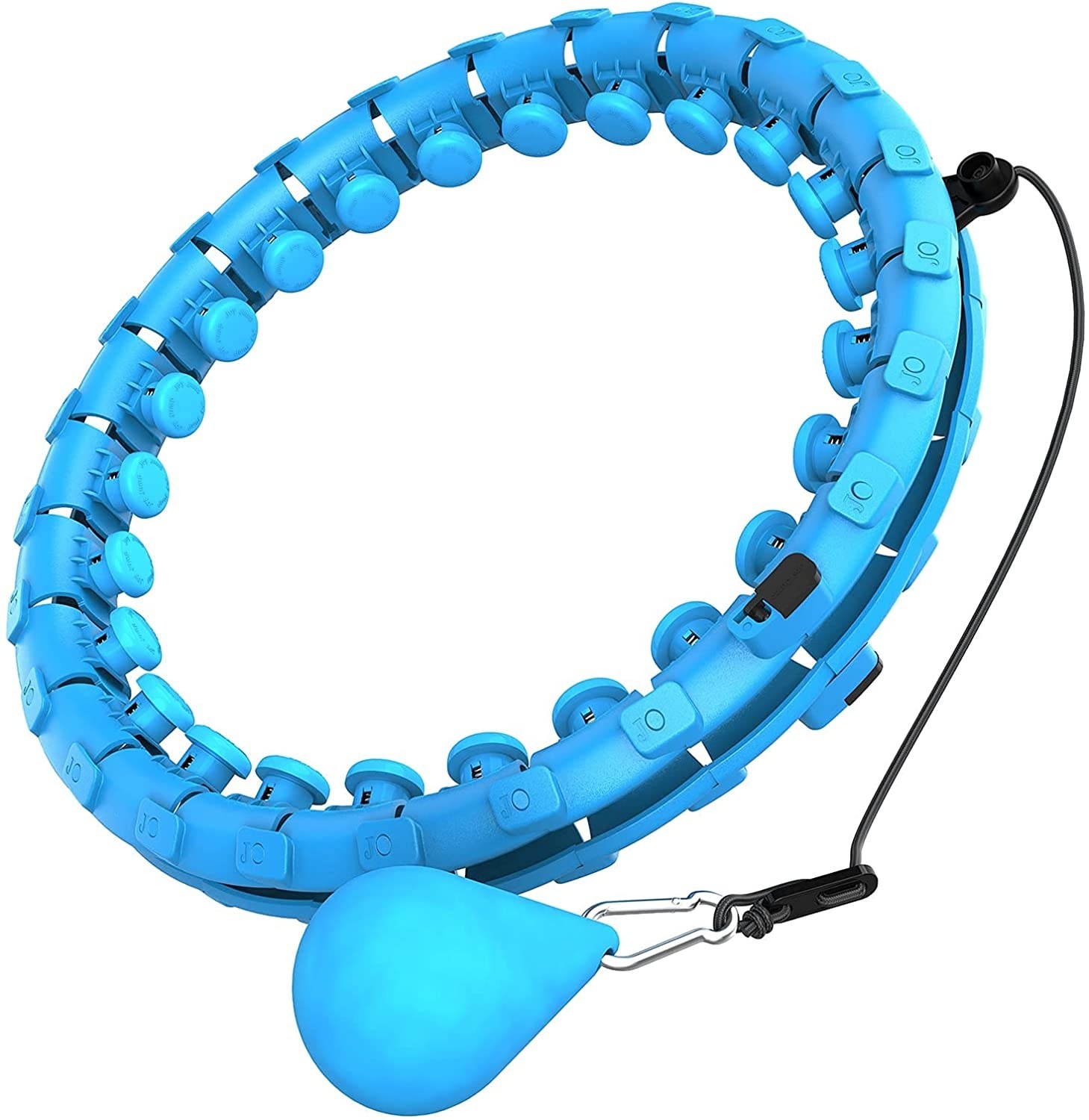 While this hula hoop is also weighted, it falls into a different category of smart weighted hula hoops. As you can see, it looks a bit different than your average hula hoop. It comes with 24 detachable hard plastic parts so that you can adjust the size based on your waistline (it says that it should be suitable for waists in the 31- to 47-inch range). All of the weight is in the soft 3pound ball that swings around 360 degrees while the actual hoop stays snug to protect your lower back and avoid impact.
Promising review: "Like everyone else, I saw this on tiktok and decided to give it a shot. Super fun to use. I'll admit it's difficult to start but once you get the hang of it after a few minutes it's super easy and fun. It is a little loud but nothing unbearable. The pieces are easy to add to and weight is not too heavy or light." —Richard Enriquez
What else to consider: Some reviewers noted that the hard plastic made this hula hoop a little bit noisy to use, but that did not seem to detract from their overwhelmingly positive experience.
Best for: a solid, set weight, adjustable size smart hula hoop.
You can buy the Dumoyi Smart Weighted Fit Hoop from Amazon for around $60.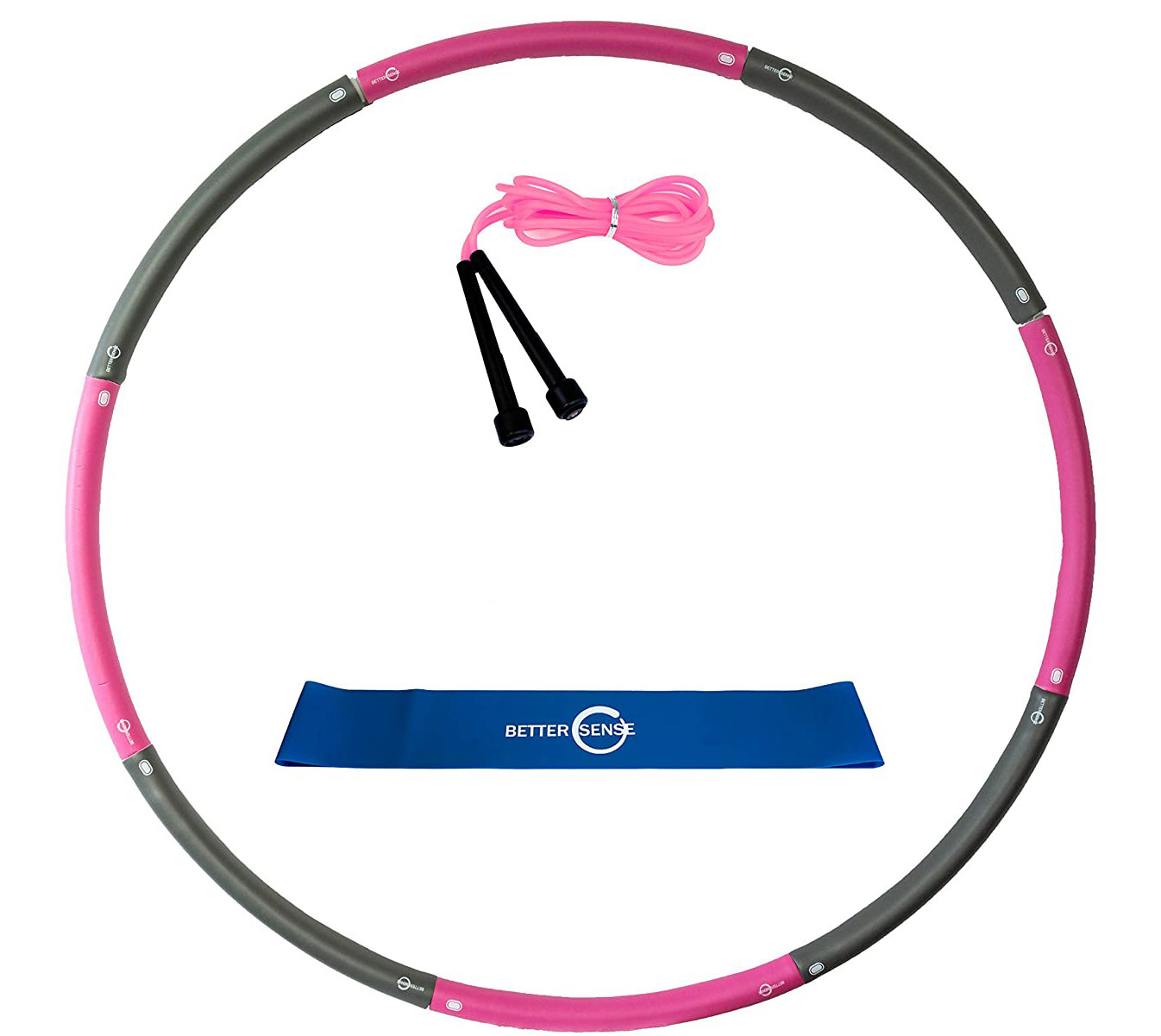 Though not quite as padded as the Dynamis option, this weighted hula hoop also offers smooth foam padding in eight detachable pieces. The company makes a lighter 2pound hoop that may be a potentially safer entry point into weighted hooping, or a 3.3-pound option if you want to dive right into something heavier. It can be adjusted to three different sizes depending on your body and skill level. A jump rope and resistance band are also included with this purchase in case you're looking for some other ways to mix up your home workouts.
Promising review: "Love it! Shipped fast, easy to assemble, also very easy to take apart for storage which is really important to me. Bright and colorful, soft sturdy foam. I'm having a lot of fun using it, and find it is great exercise. I'm considering purchasing some for Christmas presents. I think my friends and family would enjoy it." —Amazon Customer
What else to consider: Some reviewers had a harder time assembling it than others, especially with the addition of the foam casing getting in the way, but most felt that it was a good value given the quality and lower price point.
Best for: a more standard, padded hoop with additional weights available in separate products.
You can buy the Better Sense Hoola Hoop from Amazon for around $25.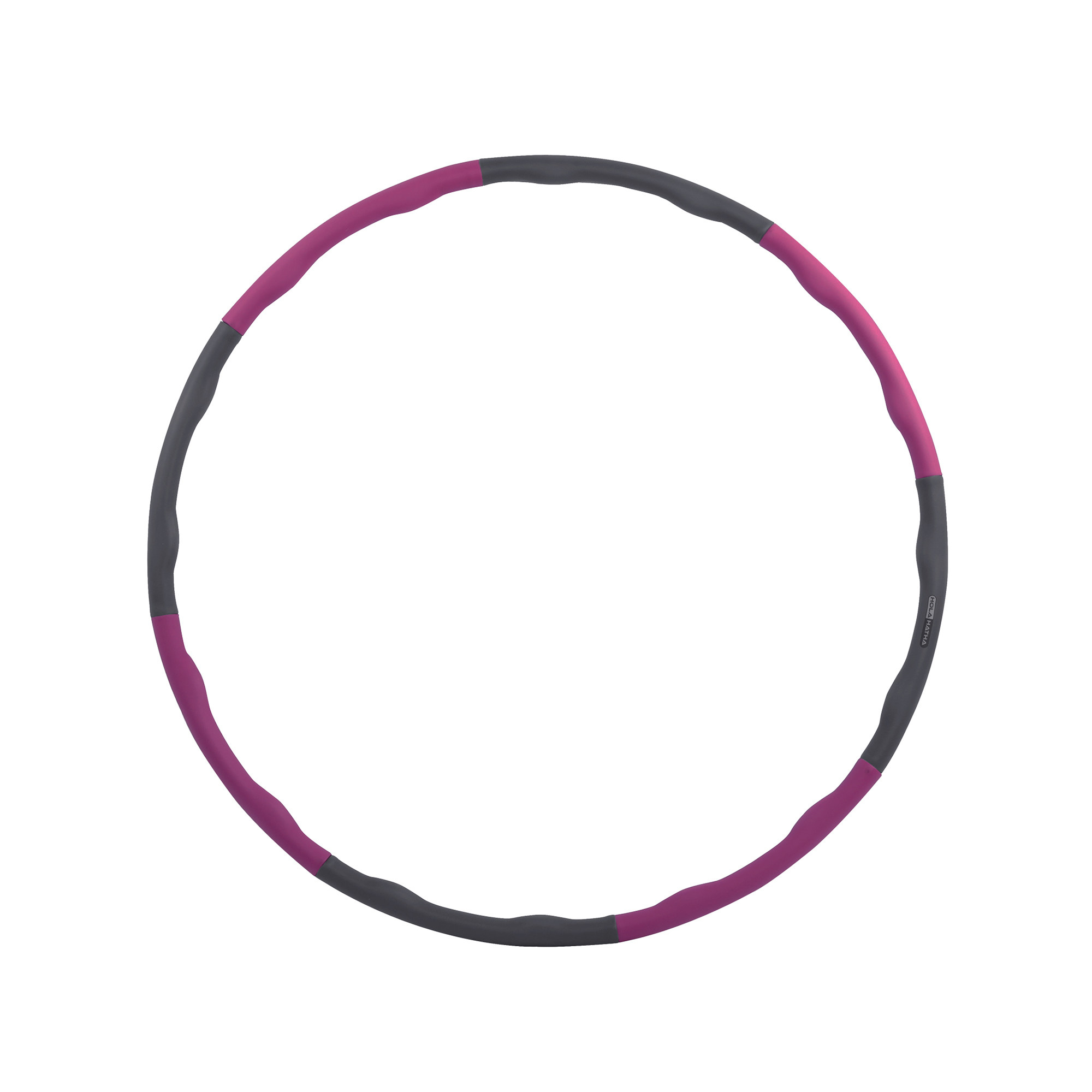 Weighing in at just under 2 pounds, this is another hula hoop that'll help you take a nice gradual step into weighted territory. It comes in six pieces that press and click together, all coated in a textured foam padding that's supposed to be a unique ergonomic design to create traction and gripping during workouts. You have to use all of the pieces for it to function properly, but one circumference size should work for most. It also happens to be on sale, so it's even more affordable than usual.
Promising review: "It has grips on the side so it doesn't fall off your waist. It has a good amount of weight for beginners who want to learn to hula hoop. For seasoned users this def tones the body and you can be twisting for hours on this." —LA Duty, via Target
What else to consider: A few reviewers noted that the textured ridges caused some back pain, which prevented them from using this hula hoop for more than a few minutes. Others appreciated the gripping and noted that their bodies got adjusted to the impact pain, so up to you whether you want to take that risk.
Best for: a padded, lighter-weight hula hoop with a bit more traction to prevent slipping.
You can buy the HolaHatha Weighted Foam Padded Fitness Hula Hoop from Target for around $24.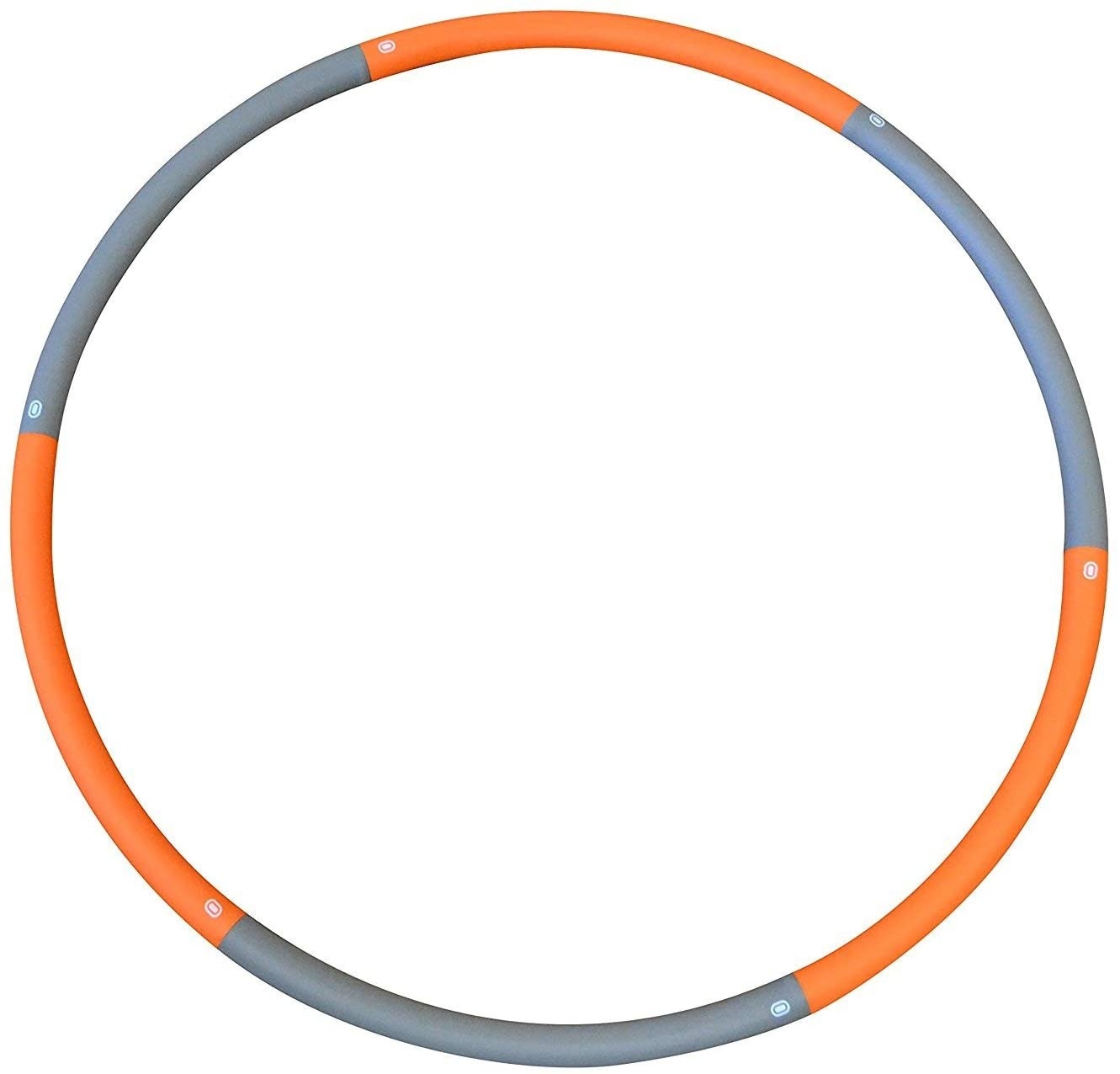 Finally, a more traditional weighted hula hoop with adjustable weight. It starts at 3.3 pounds and goes up from there in intervals of 0.3 pounds up to a maximum of 5.3 pounds. The company suggests starting out with no additional weights and increasing as your body strength improves. The diameter is set at 38 inches and made up of six detachable pieces, so it's easy to disassemble when you want to add more weight or take it on the go. The weights come in a convenient carrying case to help them remain just as portable. There is also a layer of smooth comfort foam padding to help avoid bruising.
Promising review: "I received my hoop exactly as described. It is very easy to put together, add weights and take apart. This weighted hoop stands out from the others because it weighs 5lbs when using all of the weights and you can feel the effects of it after your workouts (very sore the next day). The hoop does not come apart while in use and the weights do not shift around inside the hoop like I have read about other reviews/hoops. Delivery was fast & on time. Overall this is a great product & I love my hoop." —Tasha Ragland
What else to consider: Depending on what sort of hula hoops you've used before, this one may feel much larger in diameter, so you'll need a decent amount of space to use it so you don't knock things over or bump into walls.
Best for: a great-quality hula hoop with adjustable weight to gradually increase as you feel ready.
You can buy the Bintiva Weighted Hula Hoop from Amazon for around $50.