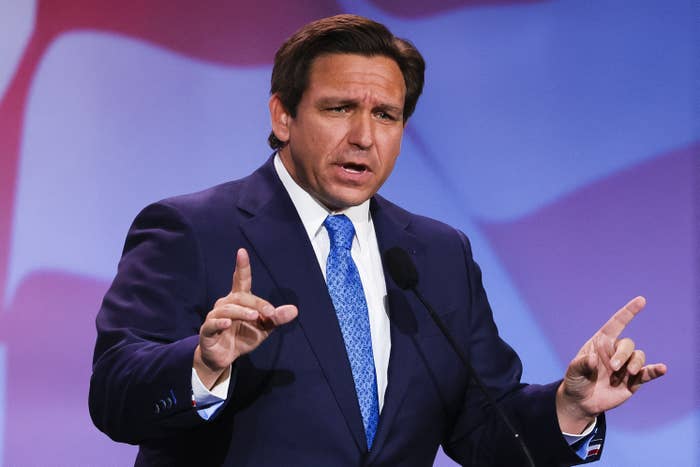 After Chaya Raichik was revealed by Taylor Lorenz of the Washington Post to be the creator behind Libs of TikTok, a popular account that trafficked in anti-trans rhetoric, Gov. Ron DeSantis offered her refuge in the guest house of the Florida Governor's Mansion.
Raichik made the revelation during her first TV appearance on Tucker Carlson Today on Tuesday. It was the first time that she had ever given an interview publicly. She works as a real estate agent in Brooklyn and has managed to keep a relatively low profile even after the Post reported her identity in April. Raichik said that public knowledge of her identity led to continuous threats to her life, which is why Gov. DeSantis offered her a safe haven.
"When I was doxxed, someone from Ron DeSantis's team called me," she told Carlson. "She said, 'The governor wanted me to give you a message. If you don't feel safe, if you need a place to go, to hide, to stay, you can come to the governor's mansion.' She said, 'We have a guest house for you, and you can stay as long as you need.'"
Raichik began posting content denigrating liberals on her personal social media accounts around April of 2020, but rebranded as Libs of TikTok a year later. Then she built a massive following of more than half a million users on Twitter, where she would repost content by LGBTQ and politically liberal creators with cheeky captions meant to incite outrage. Raichik started by poking fun at Anthony Fauci, the country's chief medical advisor at the start of the COVID-19 pandemic. Then she started spouting hate toward Black victims of police violence before repeatedly depicting queer and trans people as predators who endangered children.

Raichik's content is regularly shared by right-wing media outlets, and multiple shout-outs from Joe Rogan helped the account take off. The Washington Post article further outlines how the account prominence escalated to the point of shaping political discourse and directly impacting legislation.
"Libs of TikTok has become one of the most important sites of reporting in the new media," Carlson said in a teaser for the interview. "Essentially, Libs of TikTok is one of the reasons we know what's happening in classrooms across the country.... For doing this, the left has really tried to hurt the person who runs this TikTok."
Those classrooms became battlegrounds in Florida, where DeSantis centered his 2022 re-election campaign on a bill that banned teachers in kindergarten through third grades from talking about gender identity and sexual orientation to their students. Critics called the bill "Don't Say Gay," and DeSantis signed it into law in March. Several other state legislatures followed, in what one gay rights advocate told Paige Skinner of BuzzFeed News was a "coordinated nationwide campaign" to use LGBTQ people as a "political wedge issue."
It does not appear that Raichik took Gov. DeSantis up on his offer for a Floridian hideout, but she was still effusive in her gratitude.
"I was almost in tears," she said. "He took time out of his extremely busy schedule to send someone to call me to make sure I'm safe. It was incredible, I don't even have the words for it."
"I never did any in-person events, and I'm choosing to do that now because I feel like, over the past few months, I've done so much," she told Carlson. "I've helped educate people. I know that I've helped create legislation to tackle some of these issues, and I think I've done all I can, and I am ready for the next step."

Now that she's made her on-camera debut, Raichik has plans for more speaking engagements in the coming months to "push against the types of leftists she spotlighted with her account."