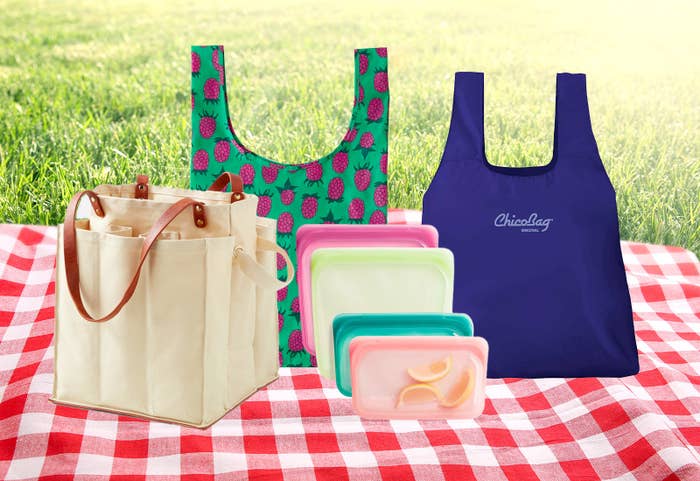 BuzzFeed may collect a share of sales or other compensation from the links on this page if you decide to shop from them. All products were independently selected by our editors, and the prices were accurate and items in stock at the time of publication.
When Katy Perry asked us all if we ever feel like a plastic bag, drifting through the wind, wanting to start again, the metaphor in her song "Firework" implied that those plastic bags would get a second chance, a new beginning. And while she's correct that plastic bags can often be seen drifting through the wind, that's where the literal interpretation of the lyric, and the life cycle of those bags, ends.
I know single-use plastic bags can sometimes seem easier — you may have become dependent on them over the years because of their convenience. And it's frustrating when you forget to grab your reusable grocery bags on the way to the store.
My theory is that if you have cute, aesthetically pleasing bags, you'll be more likely to want to use them and less likely to forget them. Stasher bags will make your food storage look chic. Baggu bags are simply a functional accessory.
Plus, due to sweeping plastic bag bans by cities, states, and retail chains, they're no longer available at many stores. And if you want one of the more eco-friendly bags they do offer, you probably have to pay a fee. (Sure, that may only be five cents, but it's the principle.)
You (or at least, I) also end up hoarding a random collection of paper or soft polyester bags with the intention of reusing them, until your drawer or cabinet is so jam-packed that you have to throw them away. It may not be plastic, but it's still a waste.
Why should you avoid plastic bags?
Even if it's tempting to use a plastic bag for whatever reason, it's important to keep in mind that the environmental impact of the plastics industry is dire. According to a 2021 report from the Bennington College Beyond Plastics project, the industry emits at least 232 million tons of carbon dioxide per year, which is equivalent to the average emissions from over 100 coal-fired power plants.
Environmental policy expert and Beyond Plastics founder Judith Enck explained that plastic bags are made from toxic chemicals and that ethane, a byproduct of hydrofracking, is used in their manufacture; they are rarely if ever recycled. Plastic recycling in general hasn't been a success story, she said, but film plastic specifically is stockpiled because there aren't reliable markets for it and it can literally clog up the recycling system.
"Never ever put a plastic bag in your recycling bin because when it gets to the recycling center [a material recovery facility], it gets stuck in the gears of the equipment and causes major problems," Enck said.
People get confused because plastic bags will have the recycling logo on them, but you have to take them to a specified drop-off location if you want to recycle them. Enck said those drop-off bins are often filled with garbage and nothing ever gets recycled. And when it is stockpiled, it not only creates a fire risk, but will also often be intentionally incinerated.
The 2021 report explains that the burning of plastic waste releases an enormous amount of CO2 and carries the highest climate impact of any sanctioned waste management practice.
Plastic bag bans have shown some promise of reducing this plastic waste. New Jersey, for example, enacted a statewide ban on single-use paper and plastic bags in 2022, and a beach sweep by Clean Ocean Action found almost 40% less store/shopping bags that year than it had the year prior. (Eight states now ban single-use plastic bags.)
"The environmental impacts of plastic bags are immense, and the evidence is everywhere," Enck said. "In the springtime, I urge everyone to look up before the leaves come in on the trees and you'll see a lot of plastic bags in trees, and also obviously it's littered, it gets into storm drains, gets into streams, and then the ocean. The alternative is so easy. It's bringing a reusable bag to the store with you. It is not hard."
Most people will use reusable bags hundreds if not thousands of times, she added, but even if you just reuse the bag once, you will increase the environmental benefits of reusables.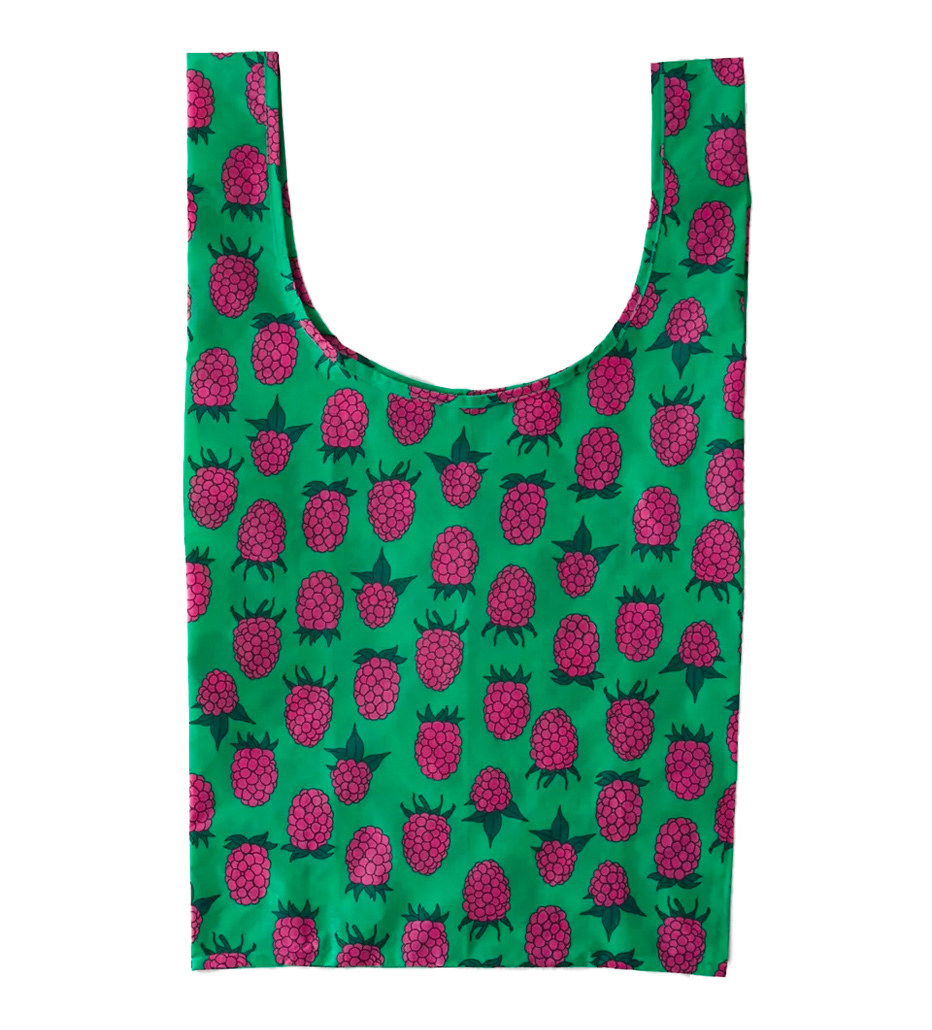 I'm aware that I am obsessed with Baggu bags, but getting my first cute tote bag from the brand is what finally inspired me to carry around a reusable bag at all times. They fold up into a tiny little pouch that you can pop into your purse, but I usually just throw my phone, keys, and wallet directly into one and use it as my primary bag in case I need the space for groceries or anything else I might want to pick up. They have tons of fun colors and patterns to match your style or mood, which is key. Plus it's a versatile, machine-washable, extremely durable bag (made from recycled nylon) that can hold up to 50 pounds, so you can use it for everything, over and over and over again.
Promising review: "I have so many Baggu bags bc they are so great for everything! Love using these for my trade joes trips :-)" —wildhoney via Urban Outfitters
You can buy a Standard Baggu from Urban Outfitters for around $14.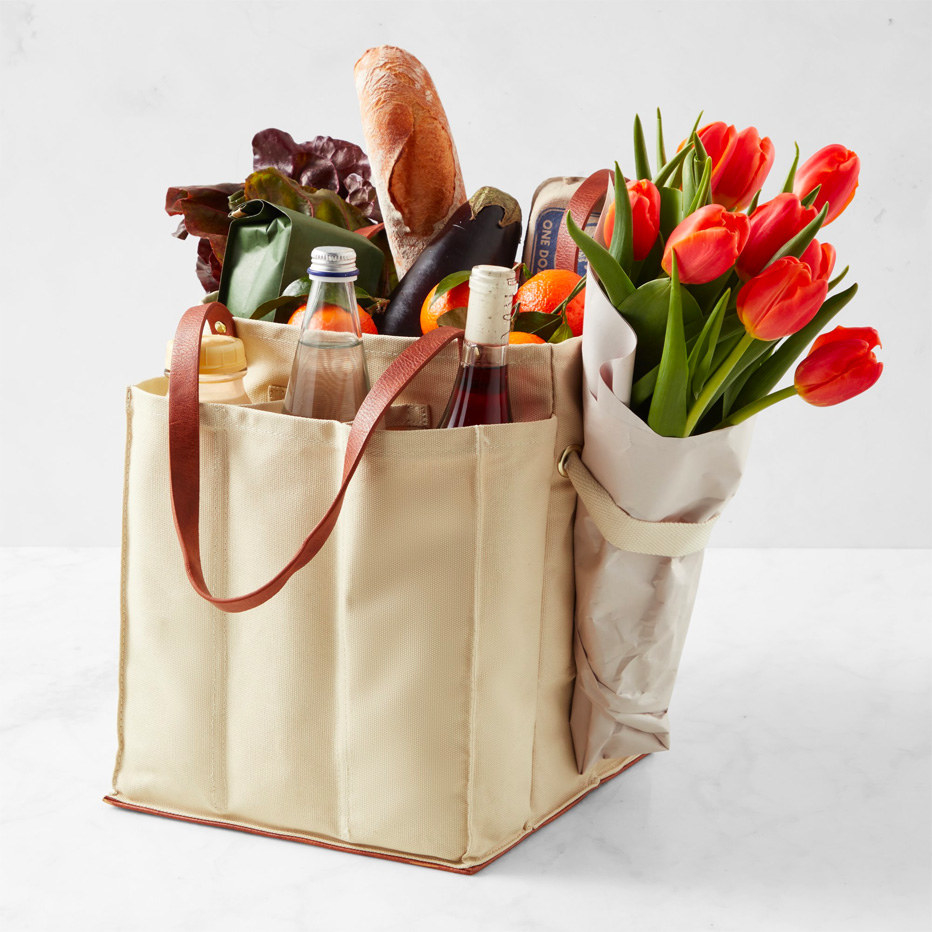 Maybe it's the way they styled it for the product photo, but this reusable tote makes me want to gallivant around Paris, ducking into different markets for wine and a baguette, or peruse a local farmers market on a sunny Sunday collecting locally sourced cheeses. But seriously, it's an extremely functional tote bag if you worry about things like a jug of almond milk smushing your bread and produce, as I do. I also love that it's more structured to stay upright on the move, and still looks chic with a vegan leather base and straps that support heavy-duty cotton canvas.
If you want something similar but bigger for your family grocery runs, Williams Sonoma also makes a larger Grocery Tote.
You can buy the Market Tote from Williams Sonoma for around $50.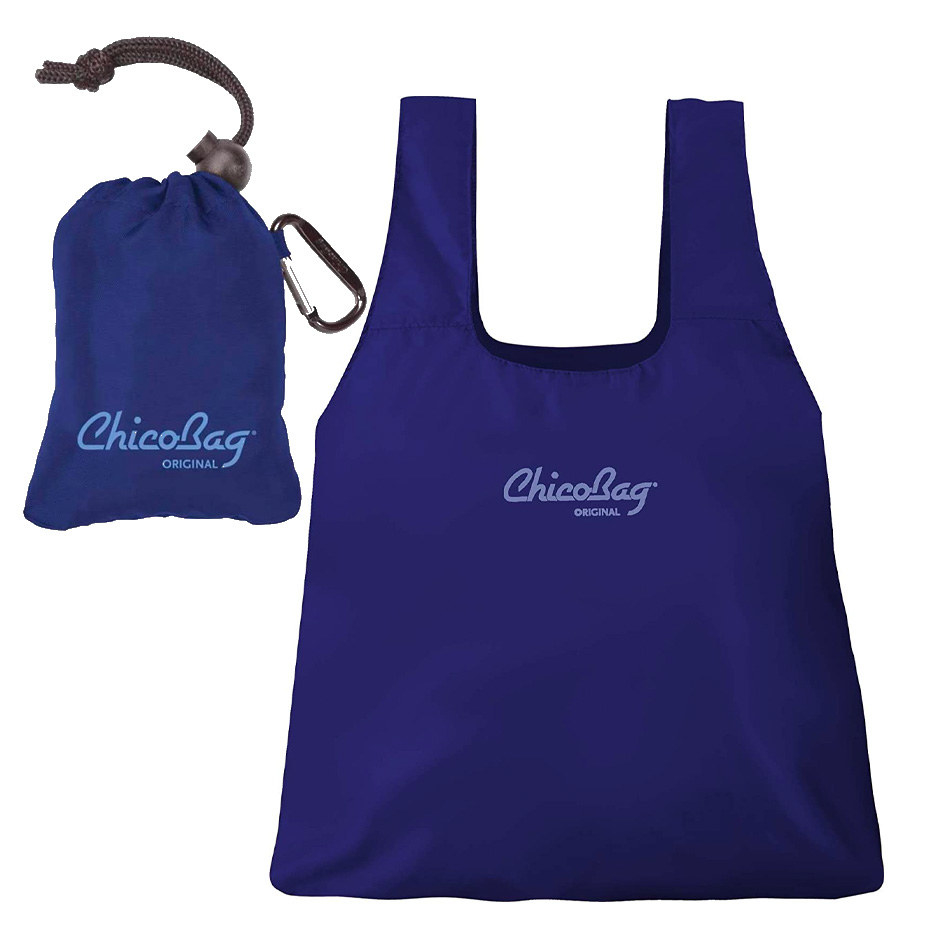 Enck reiterated that it is easy to make the switch to a reusable grocery bag and called out ChicoBag as the original innovative foldable bag that helped make it even easier. The whole bag stuffs into a built-in compact pouch so that you can store it anywhere or keep it on you without a hassle. They're made from a lightweight, machine-washable material and can hold up to 25 pounds.
Promising review: "These are great to carry in a purse or bag or car. They open up to a nice, big size. Very easy to open & fold back down. Well made; secure carry. I use two and have two away as fun gifts." —Lady Ozark
You can buy a set of four ChicoBag Original Reusable Tote Bags from Amazon for around $32.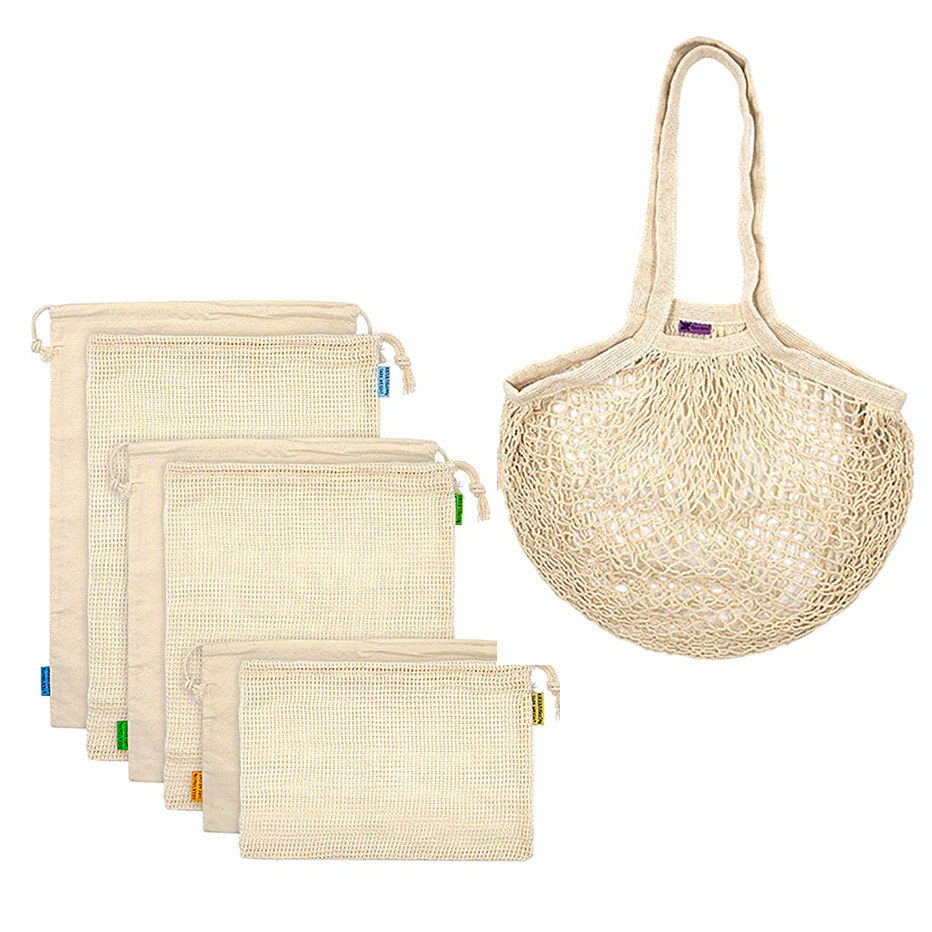 The other kind of single-use bag you may be using at the grocery store is a produce bag. These days, many stores have opted for some sort of compostable version, but that's probably not doing a ton on the environmental front given how we dispose of them. This set of reusable mesh produce bags is the perfect thing to keep inside your reusable grocery bags so that you always have them on hand. They allow your fruits and veggies to breathe while still keeping them separate from the rest of your haul. It also comes with a larger mesh bag that you can use as a grocery or errand bag for lighter items.
Promising review: "Great for reducing waste! I used these to fill up bulk items at the grocery store. The net bag makes for an amazing shopping bag too! I've washed them many times and they stay in great shape. The material is durable and soft at the same time. I love these bags!!" —Ginny
You can buy this set of seven Qinline Reusable Produce Bags from Amazon for around $16.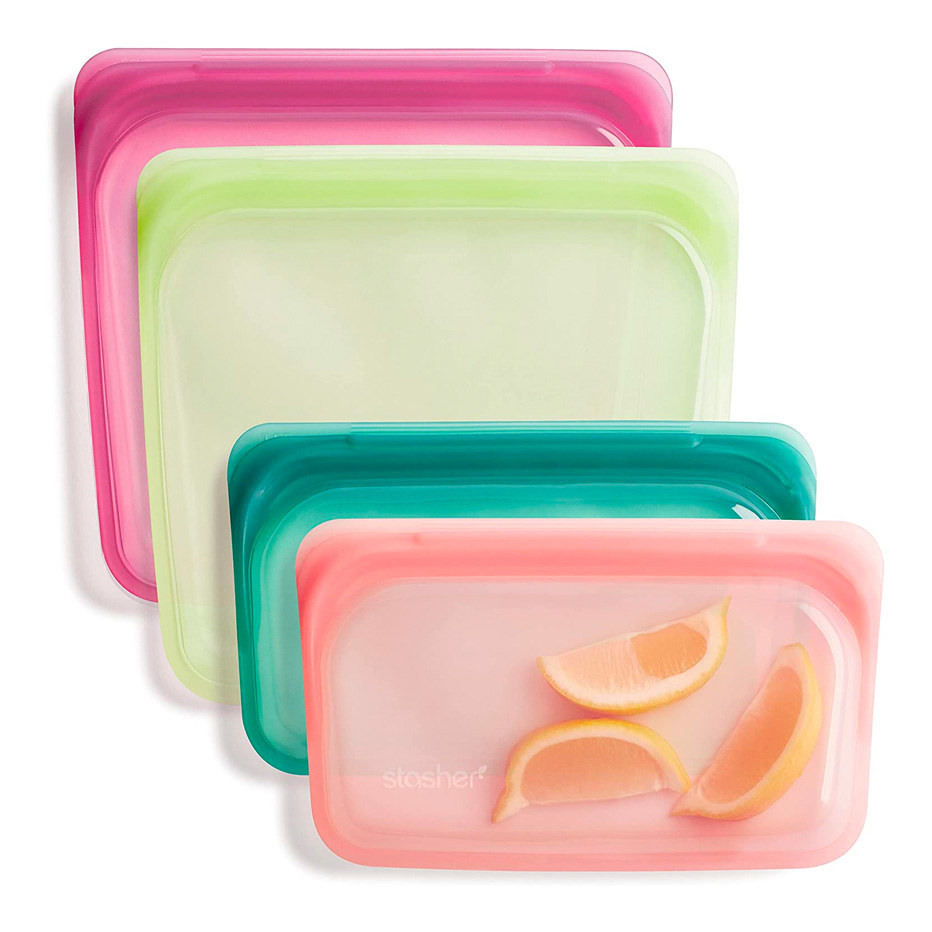 When it comes to food and snack storage, Ziploc or similar small plastic bags have always been the go-to. But that's just another kind of plastic bag we can't recycle, so why not switch to a reusable alternative?
Stasher bags come in all different sizes, shapes, and colors that keep your food safely sealed in the fridge, pantry, or backpack. They're made from pure silicone, and they're safe to use in the microwave, freezer, or even sous vide. My favorite part is that you can run them through the dishwasher for easy cleaning, so there's really no excuse not to give up those single-use plastic baggies.
Promising review: "I have tried other brands…none like these. Durable, easy to clean, and super easy to close." —BethB
You can buy a set of four Stasher Silicone Reusable Storage Bags from Amazon for around $46.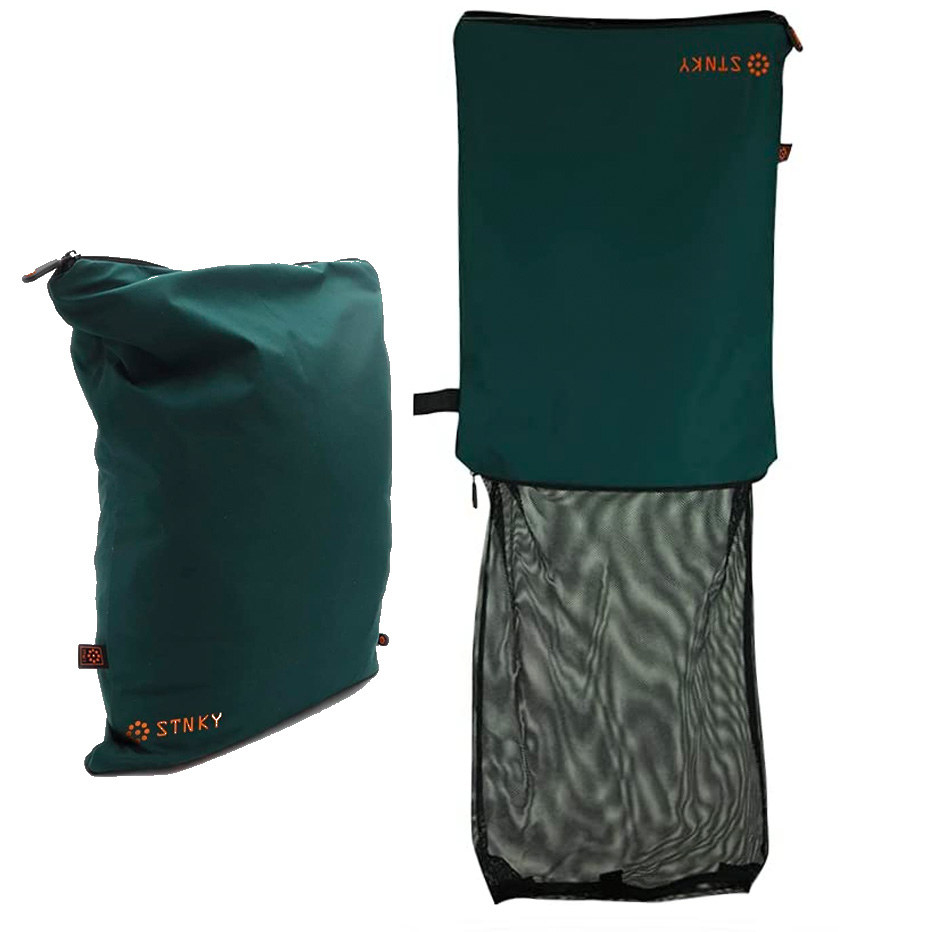 Back in March 2020, when New York's plastic bag ban was set to take effect, my greatest concern was what I'd do with my sweaty clothes after a workout. At the time, I was working out before heading to the office, and a sign at my fitness studio said that the plastic bags they offered in the locker room would cease to exist when the ban hit.
That's how I discovered the STNKY Bag. I didn't want to have to carry a whole extra bag when my gym clothes could reasonably fit in my work bag. This nylon pouch lined with a mesh pocket allows me to keep all my stuff in one main bag, without the workout clothes contaminating everything else with gym smells and sweat. It locks in any odor and moisture, so nobody in the office or subway or car will have a clue what's inside. When it's time to wash, you can pull out the mesh insert and pop it into the laundry machine without ever having to touch your cold, wet, dirty clothes. It's honestly a great, versatile buy that you can use repeatedly for shoes, bathing suits, or anything else that you'd prefer to keep contained.
Promising review: "I love this bag!! I use it for my stinky gym clothes and it totally keeps the stink in during my 12 hour shifts after the gym. I throw it all in the wash and it is a dream." —Kaleigh
You can buy a STNKY Bag from Amazon for around $28.