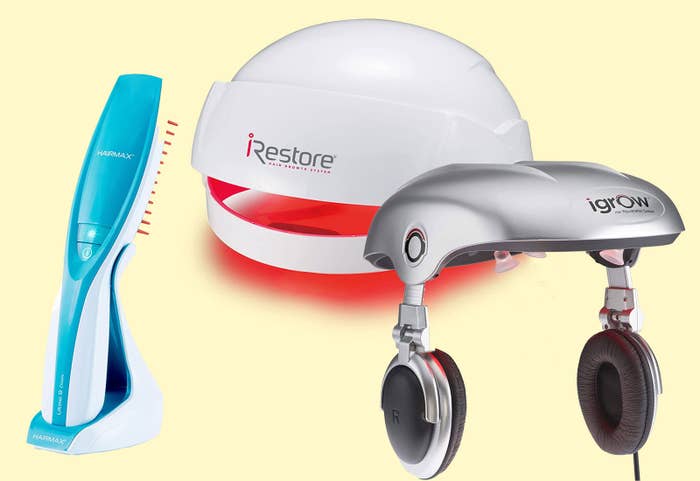 Hair loss can be a traumatic experience no matter why or when it happens. The most common cause of thinning hair in men and women is androgenetic alopecia, also known as pattern hair loss. It's a hereditary condition resulting in gradual hair loss starting any time after puberty, either with thinning at the hairline and top of the head or with a widening of the part.
There are several ways to treat hair loss, including topical treatments, medications, and even surgical hair transplants. But it wasn't until I stumbled upon a helmet lined with LED lights that I learned about this over-the-counter option to stimulate hair growth.
As mentioned in my health tech product predictions for 2023, the market for at-home LED light therapy in skincare is continuing to expand this year. The same sort of therapy is also being used in scalp treatments intended for hair regrowth.
Back in 2013, Dr. Raymond Lanzafame, a laser surgeon with his own practice in Rochester, New York, contributed to studies on the effectiveness of visible red light laser and LED sources in hair growth for men and women with androgenetic alopecia.
Both studies, which were funded and conducted by the manufacturer of one of these devices, found an increase in hair growth after red light treatment. (Lanzafame has consulted in the past for companies that make such devices and for others in the laser and photonic fields.)
"Androgenic alopecia is a fancy way of saying male pattern baldness that's genetic and hormone responsive," he said. And while he has seen promising results from light therapy in treating it, he noted that there is variation across individuals and how much they will benefit — not everyone will be responsive.
A 2021 study of human hair-producing cells grown in a laboratory found that red light seemed to promote human hair growth and inhibited hair follicles from entering the catagen phase, which signals the end of active hair growth. While it's not clear how these results translate into real-world success, they do support the use of low-level laser or light therapy in treating androgenetic alopecia specifically.
Lanzafame, who is also executive director and chair of the Society of Laparoscopic and Robotic Surgeons, explained to BuzzFeed News that applying light at specific wavelengths and doses can stimulate the growth of non-pigmented skin cells in the scalp. The light essentially helps to stimulate mitochondria, or the energy engines, in these cells. On a tissue level, the light treatment can also have anti-inflammatory effects that help with hair regrowth.
When it comes to which of these red light laser or LED treatments to try, there are both active and passive devices to consider, he said. The helmet is a passive device, and there are also red light combs that require more active control.
You should understand your specific situation, since the causes and potential results for everyone are different, and know exactly what you're buying, Lanzafame said. He also suggested looking out for FDA clearance, which many of these technologies on the market have.
The FDA treats over-the-counter devices differently from medications. While FDA-approved drugs need to demonstrate efficacy before they can be sold, that's not so for these types of cosmetic devices. They generally can get clearance if they can show they are at least functionally equivalent to something that's already on the market.
They are cleared for use by people with lighter skin types, he said; studies haven't included enough people with darker skin tones to get FDA clearance. They also may not work for other types of hair loss — like alopecia due to an autoimmune condition or chemotherapy — or for those who are already completely bald, he said.
He also advised against LED treatments for anyone with a metabolic condition like porphyria that makes you more sensitive to light, particularly red light. Some drugs can cause photosensitivity as well, so if you're taking any of those, this is not the route for you.
While a bit of tingling has been reported, devices should not make you feel like your scalp is heating up, and they also shouldn't cause rashes. It's common to combine this technology with topical agents, like minoxidil (sold under the brand name Rogaine), to enhance the effect.
As with any potential treatment or new product, he said, people need to manage their expectations and know that a helmet or comb won't result in instant growth. In the studies he conducted, the biggest difference between treated and non-treated people occurred over the course of three months. Once you get beyond six months, you've probably seen the maximum possible results, he said. From there, you should continue using the product once or twice a week to maintain the new growth, but the improvement will likely plateau.
"The short story for readers is yes, it [red light therapy] can be helpful," said Lanzafame. "Active or passive, the light has to get to your scalp. You do have to keep doing it, you do want to make sure that the devices have a [FDA] clearance."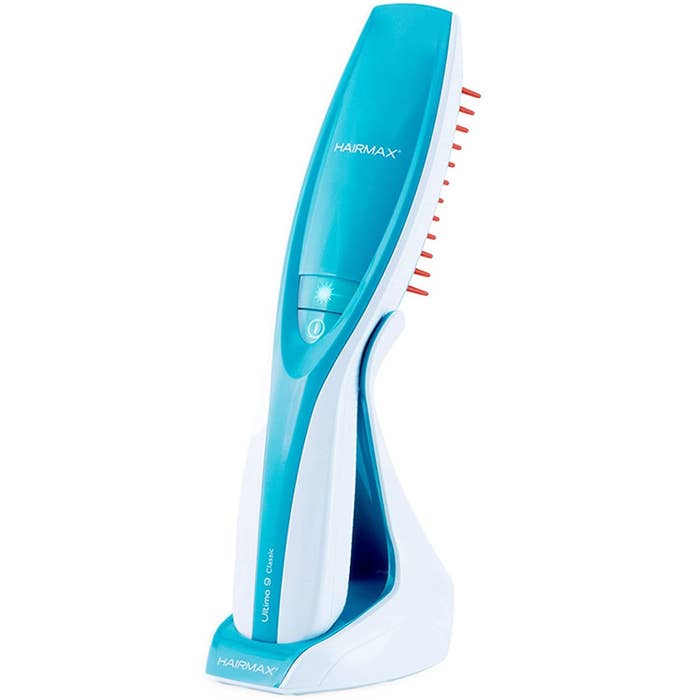 Lexington HairMax laser combs were the first FDA-cleared red light laser devices to treat hair loss in the United States, according to Lanzafame. They are still available and continue to get good reviews. This comb is also more affordable than most of the helmets, so if you're willing to deal with the more active process of holding it to your head, it's a great option. The manufacturer recommends using it for 11 minutes, three times per week.
Promising review: "I am a female over 40 years old. My hair is long and I had been noticing over the last few years that my hair was becoming more brittle and thinner so I started researching different products and Hairmax seemed the most sound and logical theory. So I bought this model and it really works. I have used this product for over a year now and my hair has been restored to how it was when I was in my 20s. It's long, it's thick, it's full to the point to where my friends, family, and hair stylist have noticed." —Miss Violet
You can buy the HairMax Laser Hair Growth Comb from Amazon for around $199.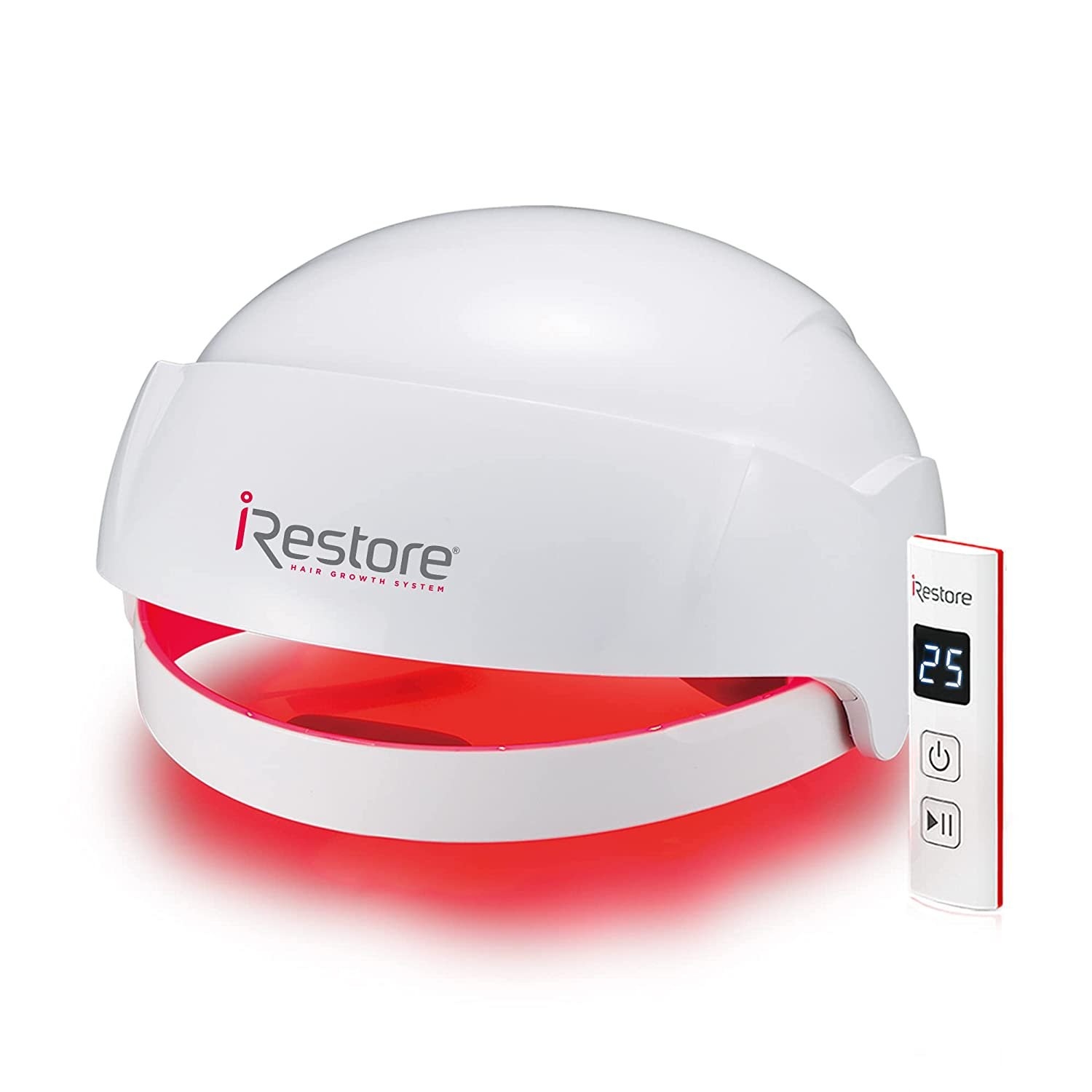 iRestore is one of the brands Lanzafame mentioned that has FDA clearance. It's a passive, non-invasive device that you wear like any other helmet and that stimulates hair follicles with 25-minute sessions every other day.
Promising review: "I suffer from stage 4 MPB and have been losing hair for a few years now. I had tried Rogaine and it was okay at first, but my hair seemed to have stopped responding to it. Fortunately, I stumbled upon iRestore and decided to give it a try...and it is without a doubt one of the best purchases I've ever made. It helped reverse my thinning hair and I am so relieved. It was embarrassing and scary to see hair fall out, and it's a miracle I found this neat little laser helmet. Definitely would recommend!!" —Jeffrey S.
You can buy the iRestore Laser Hair Growth System from Walmart for around $695.
Lanzafame said that the studies he worked on were done with the investigational version of this device, which also has FDA clearance. It provides full scalp coverage and has attached headphones for entertainment while you use it. The manufacturer recommends wearing the hands-free helmet for 25 minutes every other day for maximum results. It's similar technology to the iRestore helmet with a bit of a different design and comes at a slightly lower price point.
Promising review: "It works! You have to use it every other day and after a few months you will see your hair growing back!" —CatySu
You can buy the iGrow Laser Hair Growth Helmet from Amazon for around $450.