BuzzFeed may collect a share of sales or other compensation from the links on this page if you decide to shop from them. All products were independently selected by our editors, and the prices were accurate and items in stock at the time of publication.
I'm embarrassed to admit that I've never been a regular flosser. At every adult dentist appointment I've ever had I tell them that I floss a few times per week, when it's more like one night every few weeks — and then only if I have something visibly stuck in my teeth.
Before you shame me, I'm far from alone — a widely cited CDC survey from 2016 found that only 30% of the population flosses daily. And one dentist felt even that was optimistic, estimating that it may even be closer to 10% of people who floss regularly.
I, for one, have an excuse. After I completed Invisalign in 2016, I had permanent retainers attached to my teeth (essentially metal wires bonded to certain teeth so they can't move). As if I need another reason to skip it, these retainers make it impossible to floss those teeth.
I've always gotten good reports from dentists about my oral hygiene, though, so I wasn't all that worried — until the past few months when my gums began to bleed every time I brushed. So when I had a chance to try Quip's cordless water flosser, I eagerly accepted.
In case you're not familiar, water flossers are dental devices with a reservoir and motor that can pulsate a stream of water to clean between your teeth.
I had been using the device — and loving it — before my most recent dental checkup, where I got some tragic news: Water flossing is not a replacement for traditional dental floss.
The number one lesson I learned was that you need to floss, ideally with loose dental floss or a little floss pick. However, I was glad to hear that my chic new water flosser was also beneficial, especially with these pesky permanent retainers that make using dental floss a nightmare.
"Water flossing is a great option in addition to brushing and flossing," certified general and cosmetic dentist Lauren Becker told BuzzFeed News via email. "They can be especially useful if you have permanent dental appliances since the pressure of the water allows you to clean under or around them in hard to reach places."
She put a big emphasis on the "in addition to traditional flossing" part. It should never replace it, she said. "As great as water flossing is, traditional flossing gets in between the teeth in a way that a water flosser does not."
I believe in science. I believe what experts say. But some of us have tried and failed repeatedly to get into better flossing habits and know ourselves well enough to accept that it's never going to be a daily occurrence. And in my humble opinion, if it's water flossing or bust, water flossing has to be better than nothing.
How to use a water flosser
According to Becker, it's important to look for a water flosser that offers different pressure settings so that you can find what's most comfortable for you. Some water flossers have tips in different shapes or come with tips that serve different purposes, so it's helpful to know if you're looking for a special function. You'll want to find one that fits comfortably in your mouth as well.
Once you've acquired your water flosser of choice, you simply fill the tank, which can be a separate entity or directly attached to the flossing device. I quickly learned that warmer water was much more comfortable for me than cold water. Becker also said that you can mix in a little mouthwash to add flavor and get some extra anti-plaque benefits.
"I like to split the mouth into four quadrants, going over the teeth and gums in four areas — inside, outside and on top of the tooth, then throughout the gums and cheeks, continuously spitting out the water," she said. "Once finished, empty out any remaining water and let the reservoir dry completely to avoid bacteria collecting and a musty smell."
There aren't any major risks she knew to be associated with water flossing, aside from the potential for bacteria buildup if you're not cleaning the reservoir properly. Some brands also recommend that you get new tips every three months or so.
I can't explain why exactly, but I'm far more likely to use my water flosser than traditional dental floss. If you think you might relate, I highly recommend giving a water flosser a shot.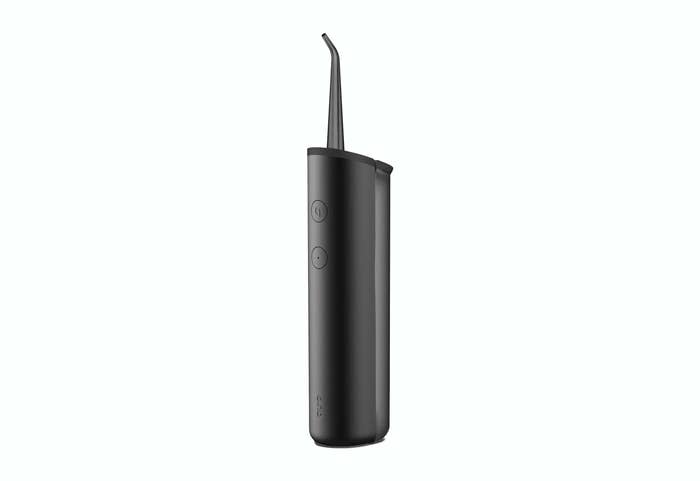 Part of the reason I'd never purchased a water flosser was because I thought they were all clunky, ugly, and very expensive. This one proved me wrong. It's chic and slender, as all Quip products are, while still functioning effectively.
There are two pressure modes: one gentle and one for deep cleaning. I accidentally went for the deep clean mode on my first try, and it was a little too intense, so it's something you may want to work your way up to. There's also only one type of tip, but you can order tip replacements when needed. I appreciate that it's all-around easy to use and doesn't take up too much of my limited bathroom counter space.
Promising review: "I got one for Xmas and absolutely LOVE IT! My teeth feel so clean after, and I feel like it's easier with a water flosser to floss! I seriously recommend. It was so easy to learn how to use as well." —Maddie via Target
You can buy a Quip Rechargeable Cordless Water Flosser from Target for around $70.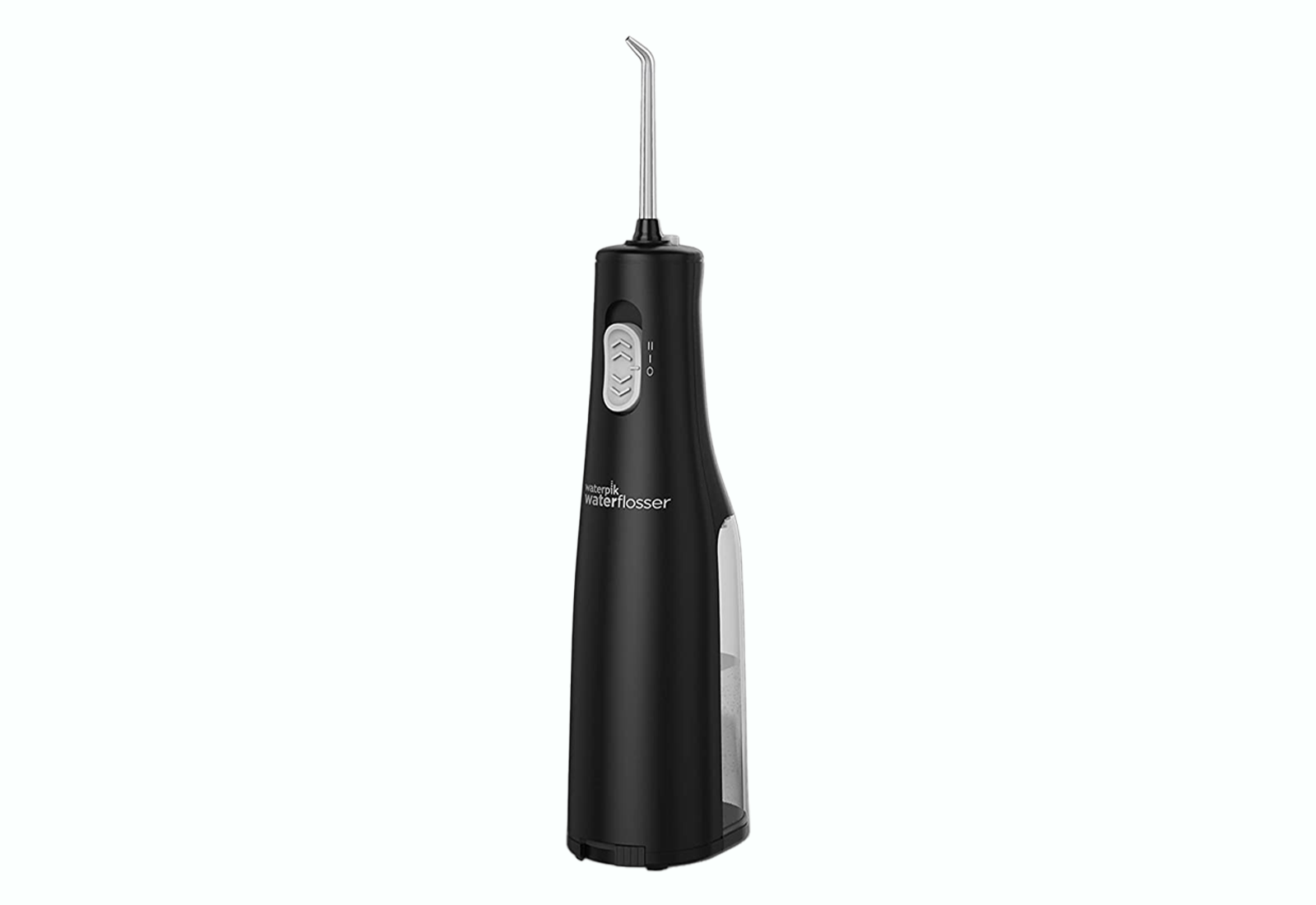 The Waterpik brand name has become synonymous with water flosser, like Kleenex is to tissue. It's by far the most recommended water flosser, by dentists, users, and reviewers alike. Becker specifically recommended this model because it's cordless and compact, which makes it great for travel, and still offers two pressure settings for comfort.
"Not only is this a great option for travel, but it's also a great option for cleaning around permanent dental appliances," she said. "This model has earned the ADA seal of acceptance as well."
It is battery-powered, so keep in mind that you'll have to continuously replace the batteries to keep it functioning. But it's affordable enough to make it worth the added cost. They also make a more expensive but very similar model that's rechargeable, if that's your preference, and it comes with four tips.
Promising review: "I would recommend to anyone. Easy to use. Good results." —Sheila Pollitt
You can buy the Waterpik Cordless Water Flosser from Amazon for around $35.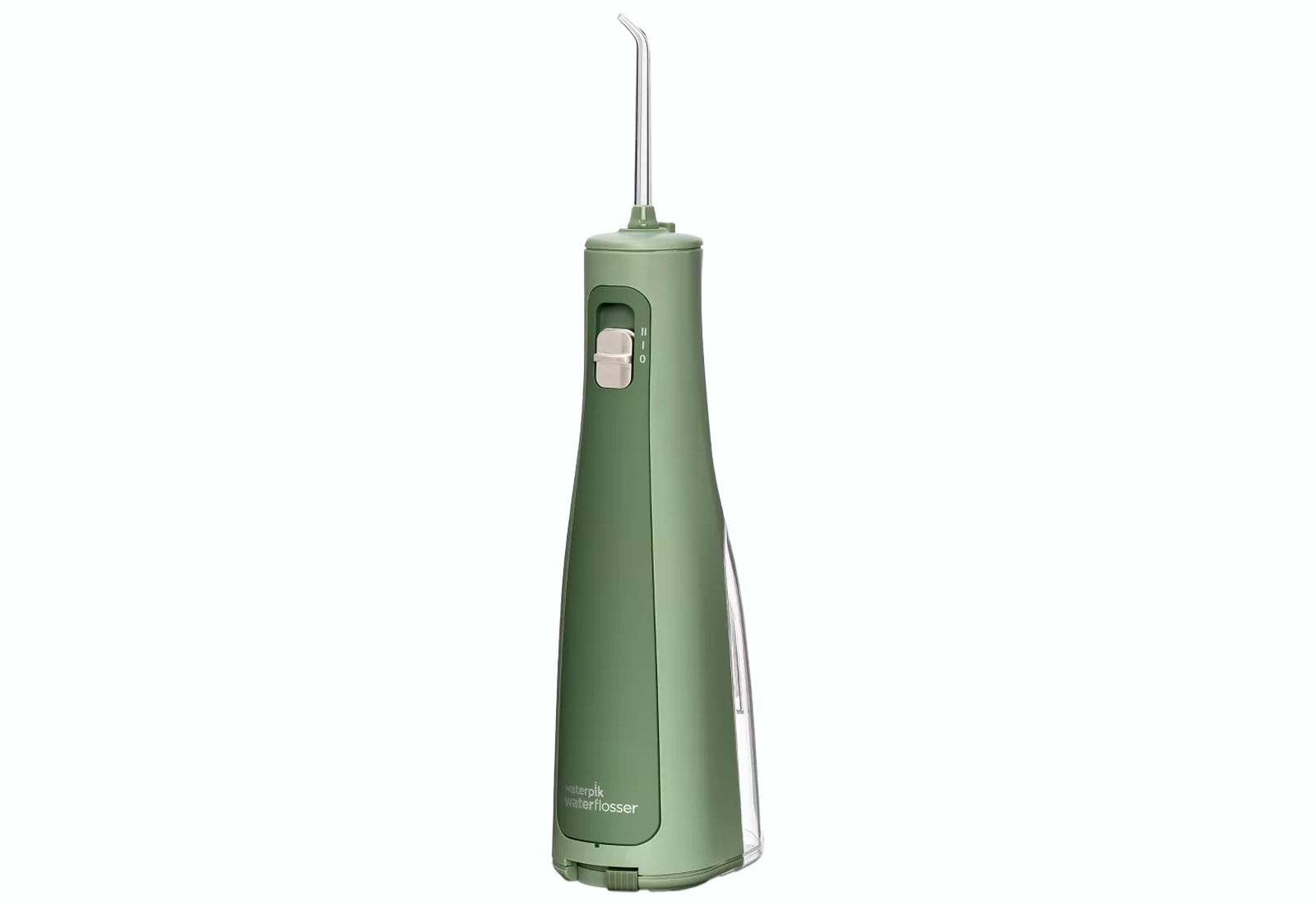 The other Waterpik model recommended by Becker is this similarly portable, battery-operated option with an aesthetic similar to that of the quip. It comes in three colors and doesn't take up much space, so it's easy to keep out on display in your bathroom.
Again, Becker likes how convenient it is for travel and on-the-go cleaning. She would even suggest keeping one at your office to rinse any debris out of the mouth after meals. It's also safe to use in the shower for those who like to multitask in the morning.
Promising review: "I bought this waterpik because the travel one that I was using kept losing power frequently no matter how long I charged it. This one is battery operated and is still able to travel. I really love that." —SmessyRN via Target
You can buy the Waterpik Cordless Revive Portable Battery Operated Water Flosser from Target for around $50.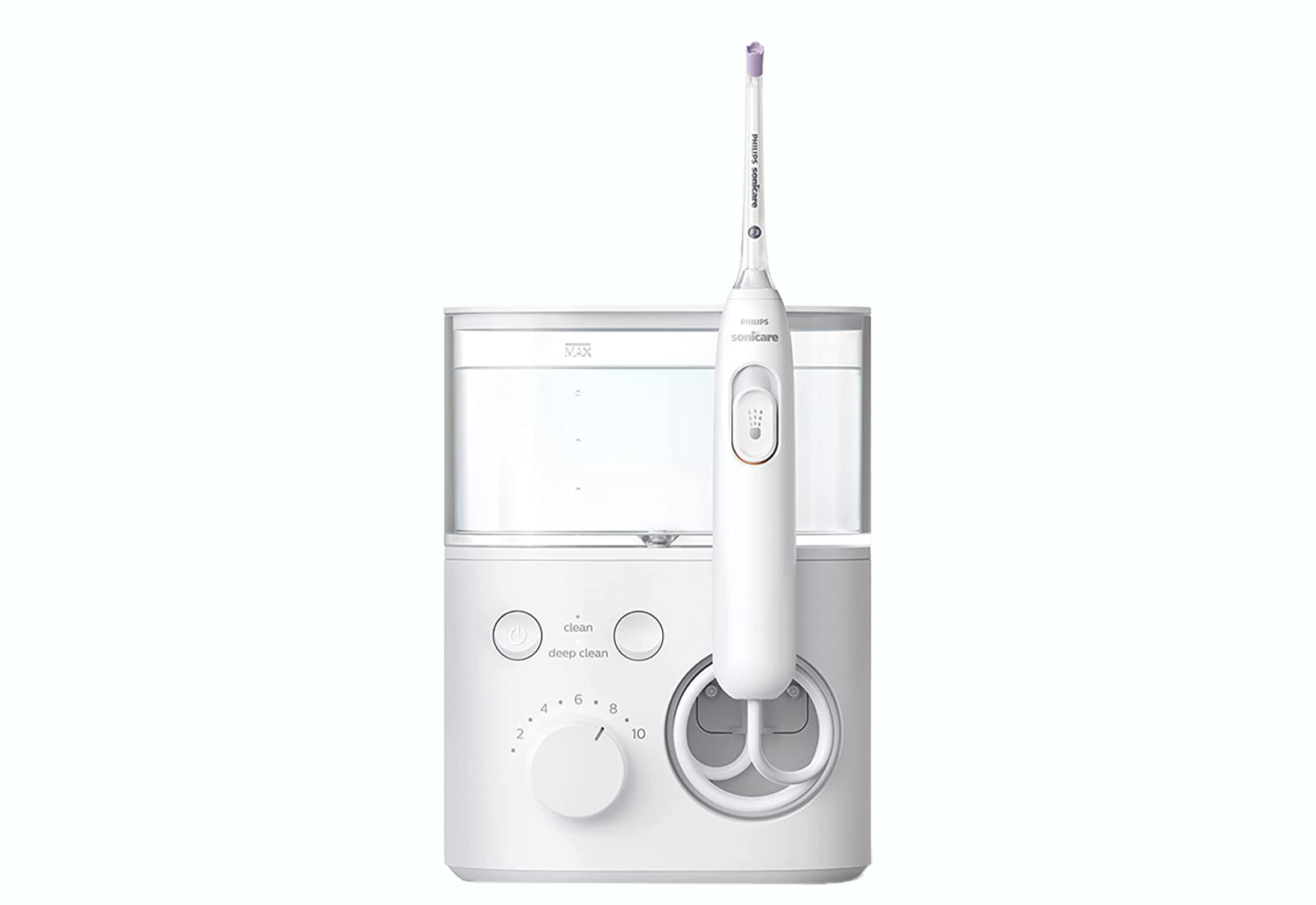 "The unique shape of the tip on this flosser gets the stream of water between teeth for a deep clean," Becker said. "Overall, Philips is a great brand to turn to for this as their products hold up with a range of intensity levels. It's also quiet and clean looking, so it doesn't disrupt others or the aesthetic of your bathroom."
Although this is one of the clunkier water flossers with a separate water reservoir and corded handle, the size allows for greater power and increased functionality. There are two flossing modes with 10 intensity levels to choose from, and two different nozzles to swap out.
Promising review: "I needed to replace my old different brand and after looking at options I decided to try this one since it's the same company as my toothbrush. I love how much quieter it is and it does a great cleaning before I use my tooth brush. I highly recommend it." —M. Frederick
You can buy the Philips Sonicare Power Flosser 3000 from Amazon for around $90.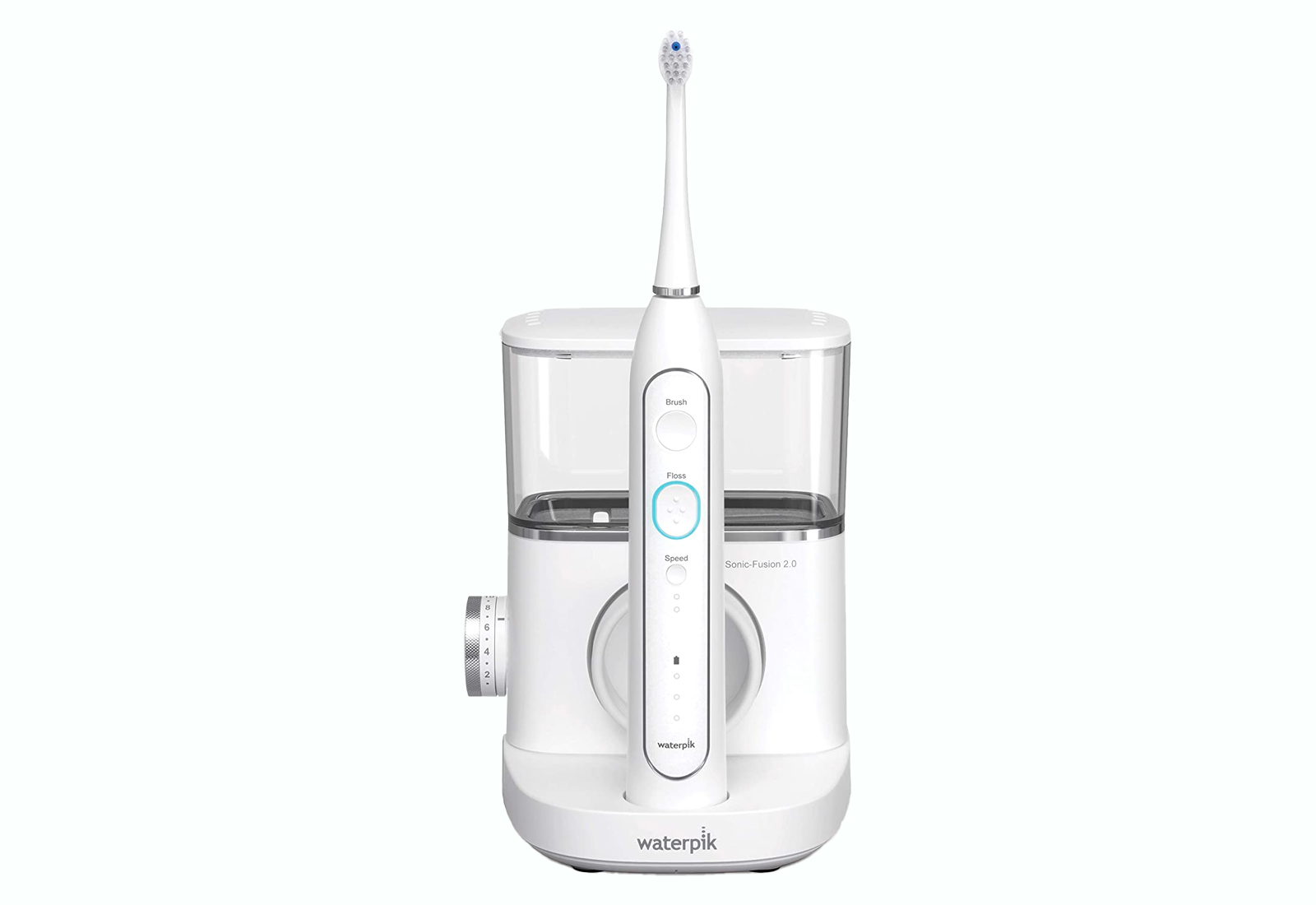 If you want to knock out electric brushing and water flossing at the same time with one tool, this is the one for you. It's a combination electric toothbrush and water flosser that flosses while you brush. It has three modes, a brushing timer, 10 pressure settings, and two flossing brush heads. Again, it's a larger machine that's going to take up more space in your bathroom, but the multifunctionality may balance that out.
Promising review: "This is the best teeth cleaning tool I have ever used. Gets teeth really clean." —Shan Stewart
You can buy the Waterpik Sonic-Fusion 2.0 from Amazon for around $180.