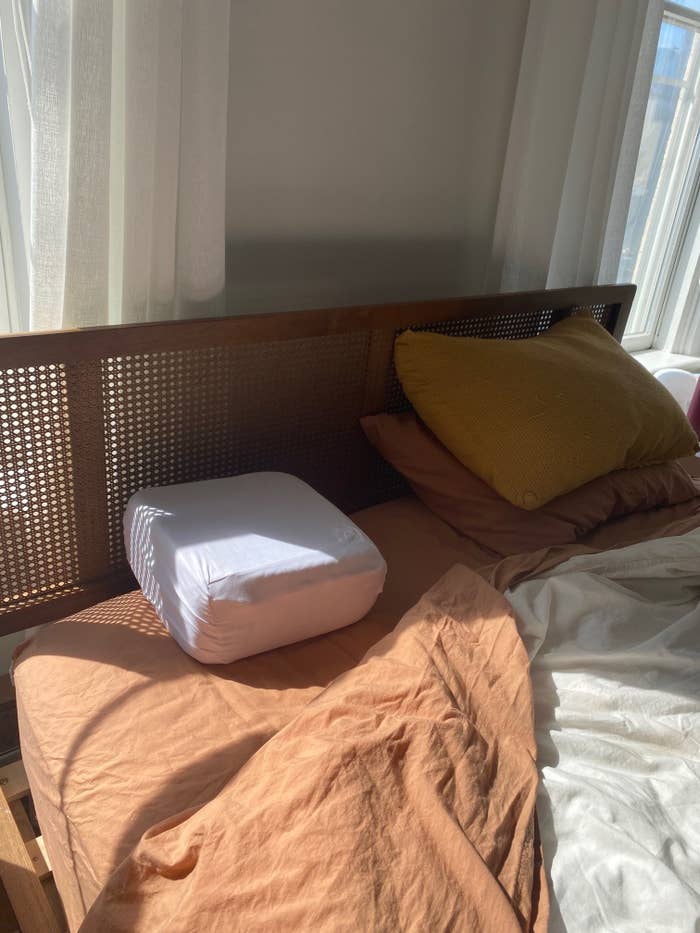 We hope you love the products we recommend! All of them were independently selected by our editors. Just so you know, BuzzFeed may collect a share of sales or other compensation from the links on this page if you decide to shop from them. Oh, and FYI — prices are accurate and items in stock as of time of publication.
I can't tell you what I did that triggered this in my algorithm, but a couple of months ago I suddenly started seeing ads for Pillow Cube everywhere. To be honest, its pillows looked quite strange and uncomfortable to me. I can get on board with memory foam, but that cube shape? In a pillow? Considering that I've never quite found the right fit for my preferred sleep position in any rectangular pillow, I was intrigued enough to test it out for myself.
The one thing I seemed to overlook was that Pillow Cube's products are strictly intended for side sleepers, and while I thought I was a side sleeper at least some of the time, it turns out that I'm almost exclusively a stomach sleeper (the worst way to sleep for your health, apparently, according to the Sleep Foundation).
Despite the fact that I do not partake, sleeping on your side is actually the most common sleep position and has some benefits. It may reduce snoring (particularly for people with sleep apnea) and acid reflux, and prevent neck and back pain — if you're using an appropriate pillow and have the proper support.
A 2020 survey from the International Journal of Environmental Research and Public Health found that pillow shape was the main factor causing symptoms that affected sleep quality like neck fatigue and shoulder pain. It also determined that side sleepers in particular (which they refer to as the lateral sleep position) were not using pillows that offered adequate support, and were therefore experiencing these symptoms more and feeling less satisfied with their pillows.
Rebecca Robbins, an associate scientist at Brigham and Women's Hospital and instructor at Harvard Medical School, explained that although side sleeping is the most common position, side sleepers need a very different pillow than stomach or back sleepers.
"Your shoulder would be the first point of contact," she said. "In a perfect world, your head, neck and spinal column are aligned. That's always what we want, but there's a lot of space to fill there. Having something that can support that is important."
Due to all that space, a side sleeper likely needs a more voluminous pillow, and it's OK if it almost feels too full — most compress to some degree. Her advice is supported by the survey findings, which showed that neck fatigue was less common among people using pillows filled with plastic capsules, latex, or memory foam than those using feather- or cotton-filled pillows, likely because the materials maintain their shape and offer better neck support.
All of this research primes the market for Pillow Cube, a company that claims to make the perfect pillow for side sleepers. Since Pillow Cube's product has a 60% memory foam core, it checked out on paper as far as the best material for a side sleeper pillow. It's also supposed to be antimicrobial and temperature regulating with an absorbent and washable cover to keep things extra cool and clean. However, I still couldn't find any reasoning to explain the cube shape.
My first impression upon receiving my Pillow Cubes was that I'd been sent a package directly from Saved by the Bell, since it had a distinct early '90s vibe. I liked the quirky, retro branding and watching them expand from relatively flat squares to voluminous and firm cubes. It was an enjoyable unboxing experience all around. Then came bedtime, which was a little less enjoyable.
I decided to try the Classic Ice Cube version first. (The company provided this cooling version, and the original cube pillow, called the Sidekick, to try out at no cost.) The shape and firmness were relatively identical to the original, with the addition of a cooling effect. It was one of those bizarrely warm New York days in early March where I resist turning on my air conditioner because I know it's going to be frigid again in no time, but still need a bit of cooling power.
While it did feel cold to the touch with just the cover on, it didn't necessarily feel any cooler against my head once I had popped it into the pillowcase. (I think a pillowcase should come with the OG Sidekick since it won't fit into any standard case, but you do have to purchase them separately.)
It took some adjusting to find a comfortable position with the cube. My bottom arm felt like it was in the way, and I didn't know where to put it. I fell asleep fairly quickly after I stopped fidgeting with said arm but woke up a few hours later when I went to switch sides and got frustrated with the cube once again. In my partially awake state, I lost sight of my journalistic goals and tossed the cube aside in favor of my usual plush rectangular pillow. A similar sequence of events occurred throughout the next two nights. I am unfortunately a creature of habit.
Some other things I noticed in my Pillow Cube journey that may be helpful to others: My head was angled slightly up, meaning that the standard height was likely too high for the width of my shoulders. However, this didn't seem to cause me any significant neck strain. When I went to switch sides, I felt like my head might fall off the pillow since there isn't much length to work with, which could be pertinent since most people don't wake up in the exact position that they fall asleep in.
After testing out the original cube pillow and the cooling version, I went back to Pillow Cube's website to dig a little deeper (probably something I should have done more before selecting the two cubes I tried) and found a quiz that you can take to determine the right size pillow for you.
It was not surprising that the standard cubed Sidekick was not the best choice for me. I'm a stomach sleeper hoping to train myself to be a side sleeper, and I frequently toss and turn in my sleep.
Instead, they suggested the Side Sleeper Pro, which measures 12 by 24 inches (clearly rectangular) in the 4-inch depth, the thinnest size.
When I clicked on the Side Sleeper Pro to learn more, it told me that the larger Side Sleeper Cube is actually the ideal pillow for beds while the Sidekick (actual cube) is best for couch naps and travel.
This was a bit confusing since the Sidekick is the attention-grabbing product that's plastered across all of the advertisements, so my PSA is that it's not the best option if you're looking for a primary bed pillow.
My results also mean that the name of the company and the sizing guide are a bit counterintuitive. Having "cube" in the company name implies that the products are all indeed square-shaped, and my quiz told me that I should opt for the thin size (4 inches thick) while the standard size (5 inches thick) is actually what correlates to my height (they give a range of 5'4" to 6'3" and I am 5'6").
In conclusion, after my testing and additional exploration, I can see the utility of the Pillow Cube but highly suggest doing your research and taking the quiz before purchasing one. Don't get the standard Sidekick just because it's your strongest visual association.
The Side Sleeper Pro is actually better if you plan to use it as your primary pillow, and no matter your height, the thin size may be best for those restless stomach and back sleepers hoping to transition into side sleeping. However, if you know you have broad shoulders, the standard or thick could still be the most comfortable angle for those worried about neck pain.
My colleague recently tried the Side Sleeper Pro and loved it so much that she convinced several relatives to buy one. Her review:
"I've always struggled to find a pillow that fills in the gap between my shoulders and head, but the thickness of this pillow fills that space perfectly, which prevents me from crunching into myself, which hurts my upper back, neck, and shoulder (this is the biggest game changer for me). The thickness also relieves pressure on my shoulder, which has always been an issue as a side sleeper.
This pillow is advertised as a side sleeper pillow only, but I end up on my back a couple times a night and I find it to be just as comfortable. I do notice that my neck is propped up higher than it maybe should be, but I haven't had issues with this yet. I guess I don't sleep on my back long enough to feel pain because of this.
The pillow is firm yet soft (what I prefer in a pillow), conforming to the weight of my head with enough support for my neck. It's heavy enough so it doesn't slip around when I change positions, which is a plus given I share my bed with my partner, and it doesn't get too hot on my face."
As someone with frequent digestive issues, acid reflux, and occasional neck pain, I am determined to train myself to be a side sleeper as opposed to flopping onto my stomach with one arm under a squishy pillow for extra support. My arm often falls asleep causing me to wake up and shake out the tingly sensation every few hours.
I believe that the Side Sleeper Pro could be an effective tool for that training, and also likely beneficial for spine and neck alignment for any consistent side sleepers. I would only recommend the Sidekick to 100% side sleepers who want something for couch naps or travel, as is suggested by Pillow Cube (granted, mostly in the fine print).
You can buy the Sidekick from Pillow Cube for around $70.
You can buy the Classic Ice Cube from Pillow Cube for around $160.
You can buy the Side Sleeper Pro from Pillow Cube for around $130.