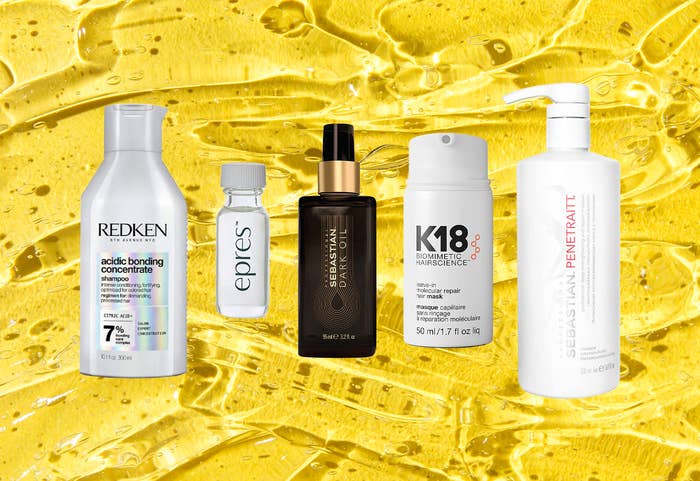 BuzzFeed may collect a share of sales or other compensation from the links on this page if you decide to shop from them. All products were independently selected by our editors, and the prices were accurate and items in stock at the time of publication.
Everyone wants to believe that the trending miracle product is going to change their lives. If clearer skin or better sleep could be just one click away, who wouldn't at least give it a shot?
For years, people on Instagram and TikTok have raved about Olaplex and how one product or combination of products in their numbered line had completely transformed their hair. It started to feel so legitimate that even I, always a skeptic of expensive magic in a bottle, took the plunge (and still use the No. 6 bond smoother to this day). That all changed in 2022, when the conversation took a turn for the worse.
Suddenly, it felt like every content creator who had once raved about Olaplex was warning people not to use it — first because it included a chemical called lilial that was banned in the EU due to potential reproductive toxicity, and then because some were alleging that the products cause hair loss.
Cosmetic chemist Michelle Wong told BuzzFeed News that the amount of lilial (a substance that is still legal in the US and Canada) in Olaplex products was incredibly low, but the brand was reformulated to exclude the ingredient. The hair loss claims, however, are more complicated to prove or disprove.
Does Olaplex cause hair loss?
Olaplex has been around since 2015, and so the fact that there are all these hair loss complaints is unexpected if it's something in the formula, Wong said. "The formula hasn't really changed."
Wong believes that reports of hair loss from Olaplex and many other hair products over the last few years may be related to the pandemic. Illness and stress, both of which have been at an all-time high, are two known causes of a sudden and temporary hair loss called telogen effluvium. Researchers also found people who had persistent symptoms after COVID were four times as likely to report hair loss than those who had not been infected.
People often interpret a company's decision to refund some customers as an admission of guilt, but Olaplex has stood behind the science and testing that goes into their formulations. The company told us that when customers aren't satisfied with a product, they are willing to "explore a possible refund."
There's "no evidence that Olaplex products cause hair loss or hair breakage," according to a spokesperson. "We believe in the safety and efficacy of our products, which are thoroughly tested in-house and by independent third-party laboratories."
The experts we talked to unanimously agreed that the products alone are probably not making users' hair fall out, though they did have other ideas about why people think otherwise.
"There isn't a form of hair loss that occurs from applying a hair product topically once unless you're allergic to that product," said Dr. Chesahna Kindred, a board-certified dermatologist who specializes in hair loss. There are no ingredients in Olaplex products that she considers to be markedly different from other products on the market. Her advice to anyone experiencing hair loss is to see a dermatologist to get to the bottom of it.
Kindred's practice has an in-house hair salon, and her resident stylist Susan Peterkin Bishop believes that Olaplex should have remained a professional product rather than being marketed to the consumer.
"Most consumers do not follow product directions," Peterkin Bishop said via email. Wong agreed that a lot of people are simply using Olaplex incorrectly — applying it after washing and not rinsing it out, or pulling wet hair full of No. 3 into a tight bun and sleeping in it. Still, she doesn't believe the way they're using it would lead to hair loss.
Celebrity hairstylist Bradley Leake explained via email that Olaplex is intended to help strengthen the hair bonds, which are broken down from coloring, heat styling, and environmental conditions.
"Olaplex No. 3, which is the one that a lot of people say you should be using because it's the most potent, was never designed to be a conditioning treatment, and people were using it that way," said Wong. "They're assuming that Olaplex is a conditioning treatment that will make hair softer and more manageable, but it is only really meant to change the structure of the hair without any sort of coating."
How to choose and use your at-home haircare
When a product becomes as popular as Olaplex did, suddenly everyone has a hack or opinion about using it for maximum results. These viral hacks often go against the instructions, which can lead to unintended effects, according to Wong.
She recalled seeing TikToks and other viral advice telling people to coat their wet hair with No. 3 and then sleep with it in a tight bun, and since hair is most fragile when it's wet, that could lead to lots of snagging and breakage. "Not necessarily hair loss from the root, but it's probably just breaking off and potentially getting more damaged than they're repairing with the Olaplex," said Wong.
While other hairstylists didn't necessarily agree with Peterkin Bishop that all Olaplex products should be for professional use only (No. 1 and No. 2 can only be sold to professionals), they do think you should consult a stylist to build a customized home haircare routine.
Get a recommendation from a stylist you trust, said hairstylist and educator Angel Cardona, because in some cases the hair could just be dry and might need more moisture instead of a strong reparative treatment.
"I'm no scientist, and I trust [Olaplex] and the research that goes into creating these products," Leake told BuzzFeed News via email. "However, I do think overuse can be a concern."
He said that products like Olaplex are meant to repair hair over time, but they can get heavy and weigh down the hair during use, which is why he recommends rotating in a gentle shampoo like Color Wow Color Security Shampoo to cleanse the hair of any buildup and give it a fresh canvas every couple of shampoos.
What to use instead of Olaplex
The primary takeaway I got from speaking with a dermatologist, a cosmetic chemist, and three experienced hairstylists is that Olaplex is unlikely to cause hair loss, but using it incorrectly can lead to breakage. That being said, it's still a good idea to consult your stylist before using it, and follow the company's instructions on your product of choice.
For those who are still wary about using Olaplex and want to find other products that will similarly treat damaged hair, I asked the experts what they recommend. As with any product, I highly suggest reading the instructions and resisting viral hacks.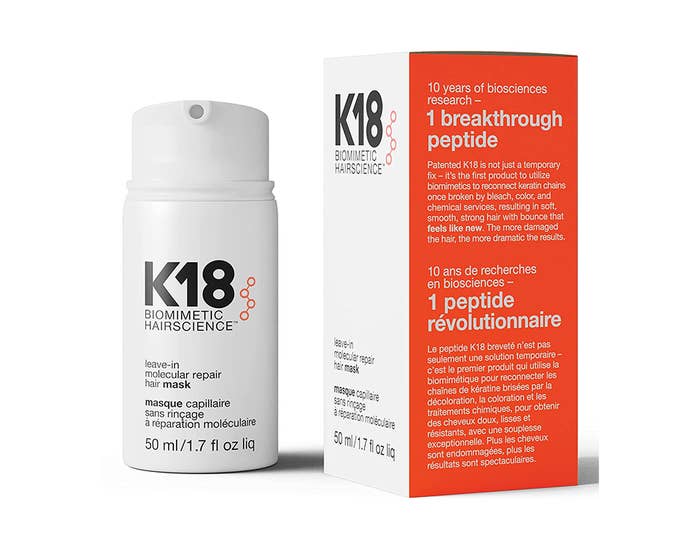 The most frequently mentioned product to replace Olaplex No. 3 was the K-18 Leave-in Molecular Repair Mask. Leake said that he has noticed a similar difference in the integrity of hair while using this mask as he has from using Olaplex, and that it's a great bond repair option. Wong mentioned that K18 uses an effective bond repair peptide that's similar to Olaplex, and Cardona said he'd also heard good things about the brand.
This mask promises to renew hair that's been damaged by bleach and color, and it advises using it after you shampoo (skip the conditioner) and letting it sit for four minutes before continuing to style your hair. No need to rinse.
Promising review: "My hair is dry and damaged due to hard water and color. One application and my hair feels back to normal." —Kristine Marsh
You can buy the K18 Leave-in Molecular Repair Mask from Amazon for around $75 (or the mini size for around $29).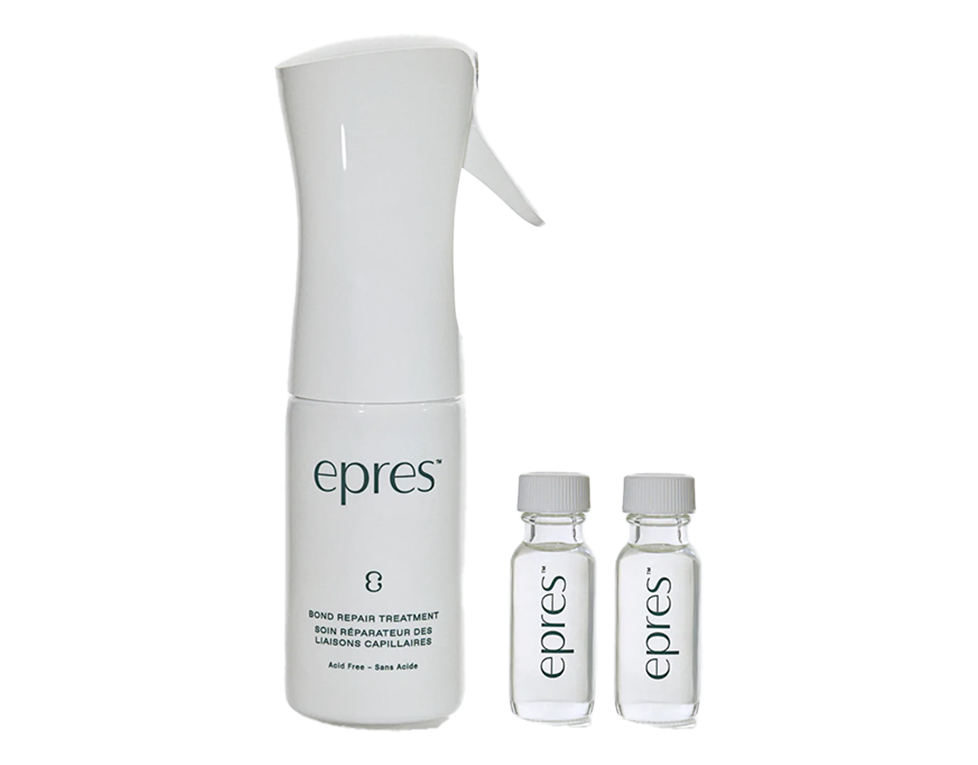 Epres was created by Eric Pressly, one of the chemists who invented Olaplex. However, it is a completely different company and product — a single-step treatment that you spray on one to two times per week, rather than an entire line to choose from or work into your routine. That makes it a more affordable option, plus you can buy refills as you continue to use it rather than purchasing a new bottle.
Leake has been loving Epres, which he described via email as a unique repair treatment that rebonds the structure of the hair with maximum efficacy, working to repair chemical, thermal, and mechanical damage.
Promising review: "I have long thick hair and I color it as well as use heat tools on it often. This treatment has done wonders for my hair! I have a lot of breakage from using too much heat/pulling at my hair and using this spray has really helped with that. It's one of the very few products I've used (and I've tried MANY) that actually repairs my hair and doesn't just mask it for a day or two." —James & Danielle
You can buy the Epres Bond Repair Treatment starter kit from Amazon for around $48.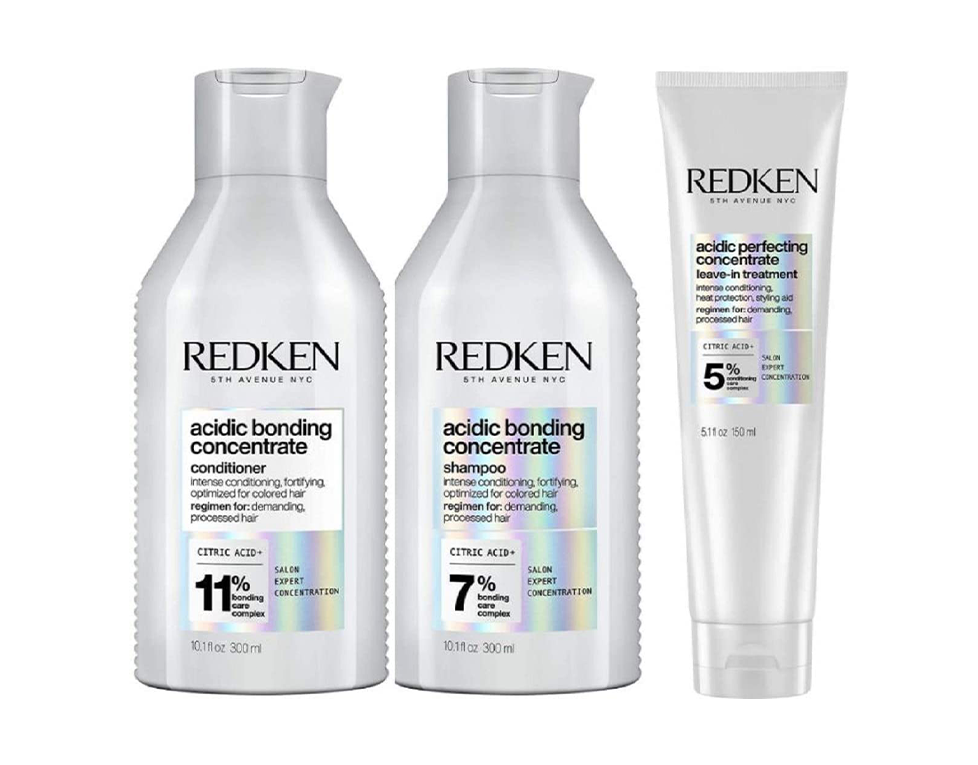 Though Wong said this is a more temporary bond repair solution, Redken has a whole line of acidic bonding concentrate products designed for damage control. The products include a shampoo, conditioner, and leave-in treatment, or you can just use the treatment as an addition to your current wash routine. The star ingredient is citric acid, which is supposed to strengthen damaged hair.
Promising review: "Had a professional highlight done but wasn't happy with results. Used a box bleach kit to add more blonde but was impatient and didn't wait long enough after the first highlight. The results were lighter hair but dull, dry, brittle hair with breaking ends that looked just as awful as it felt. Used shampoo, conditioner & leave-in product from this Redken Acidic Bonding line. After first use I am blown away. The scent is lovely and lingers. Hair is softer and the frizz is almost all gone. Hair feels strong and much smoother. Ends still have a little bit of roughness. Expecting even more improvement from continued use." —Mary F
You can buy the whole Redken Acidic Bonding Concentrate on Amazon for around $96 (or the leave-in treatment alone for around $32).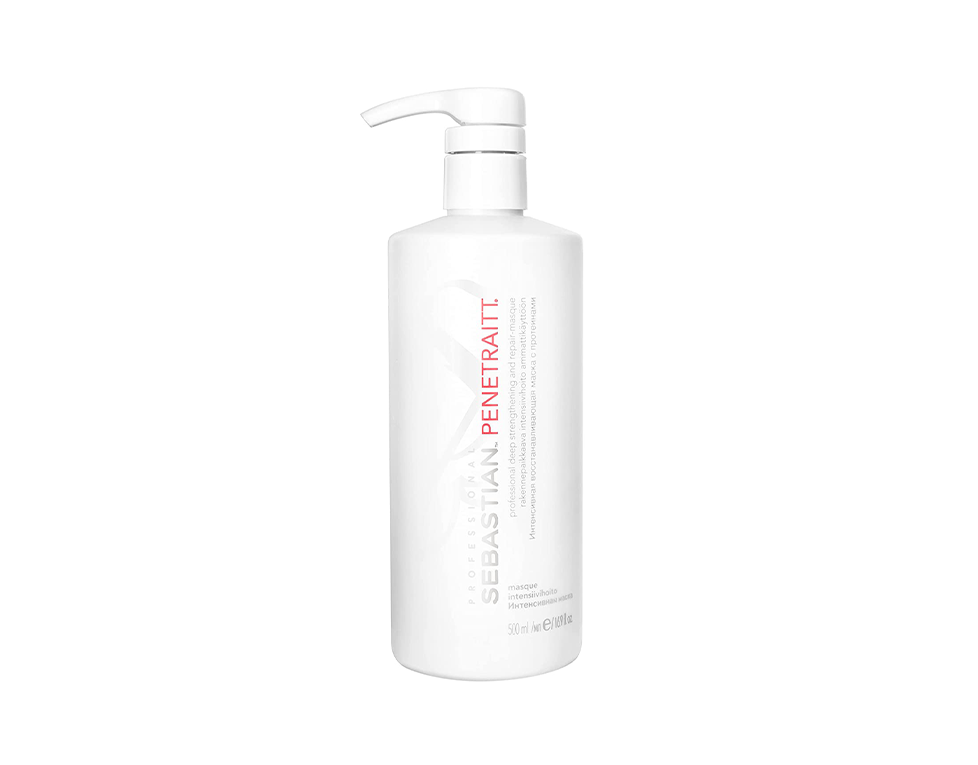 Cardona is a big fan of this Penetraitt deep repair and strengthening mask (he is a spokesperson for Sebastian products, but it also has 4.8 out of 5 stars on Amazon). You get a lot for your money with this mask compared to some of the other products on this list, and it similarly claims to strengthen and fortify damaged hair and protect it against stress from chemicals and heat. You distribute it through damp hair and leave it in for two to three minutes before rinsing out, and you're apparently left with softer, shinier, stronger hair.
Promising review: "OMG I haven't felt my hair like this for ages. My hair is so soft, shiny and healthy. It looks awesome. I dyed my hair like a year ago and it got damaged. I didn't know what to use, but this conditioner really made my hair like I have never messed with it. Really worth the price." —Eleno Garza
You can buy Sebastian Penetraitt Deep Repair & Strengthening Masque from Amazon for around $33.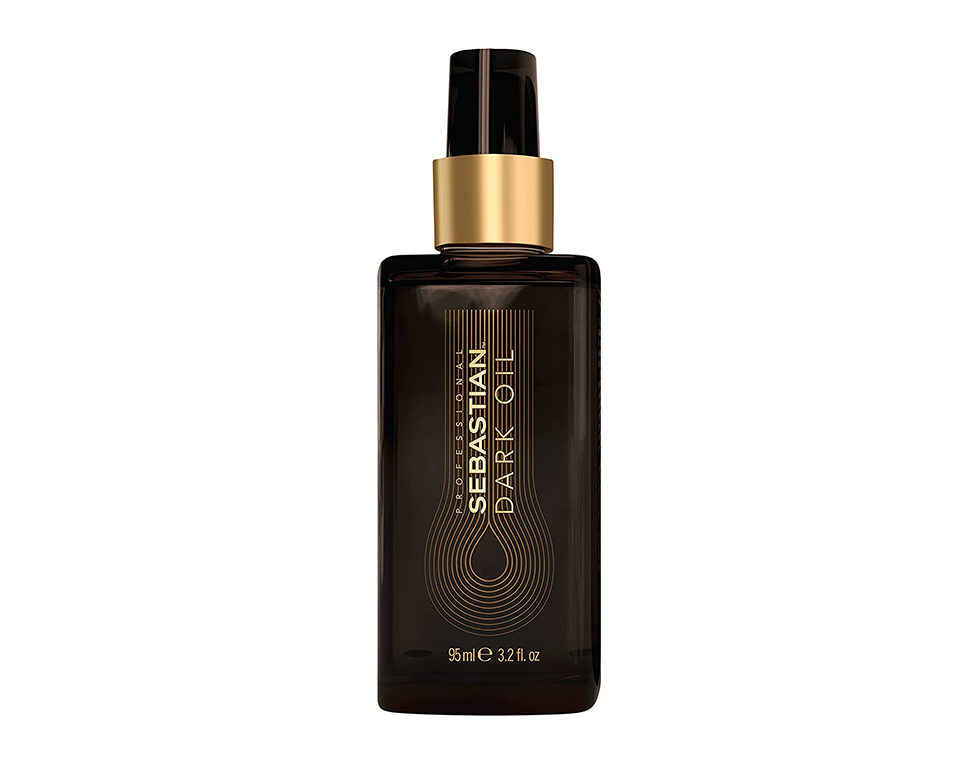 For those that used the Olaplex No. 7 bonding oil, this dark oil also from Sebastian could be a good replacement. Cardona recommended it to smooth, repair, and add shine to hair (again, he works with the company, but it's highly rated by reviewers as well). It provides similar benefits to the Olaplex oil in offering UV protection and smoothing away frizz without weighing down your hair.
Promising review: "I've used this hair oil for years now and I absolutely LOVE it. The scent, the texture, the softness it gives my hair. Occasionally I will try other hair oils to compare, I'm talking bottles half the size and twice the price, and nothing comes close. I highly recommend any of the Sebastian products but this dark oil I can't do without!" —Candace Allen
You can buy Sebastian Professional Dark Oil from Amazon for around $46.