BuzzFeed may collect a share of sales or other compensation from the links on this page if you decide to shop from them. All products were independently selected by our editors, and the prices were accurate and items in stock at the time of publication.
When the average person thinks about combating climate change, their mind probably goes to reducing food waste, recycling, choosing electric cars when possible, and maybe looking askance at Kim Kardashian's and other celebrities' private jet usage. One thing that people are starting to understand, however, is that it's about more than individual choices; corporate responsibility is essential from an impact perspective.
If you want providers of goods and services to be kinder to the environment, one way to do that is to support companies, including those that sell clothing, that already have eco-friendly practices in place.
In recent years, there's been more discussion of just how bad fast fashion is for the environment. TikTok is suddenly all about buying vintage in contrast to fast fashion brands like PrettyLittleThing that used to reign supreme. But I'll admit that buying secondhand activewear feels a little strange to me, which is why I've been looking for athleisure and performance workout apparel that's genuinely doing right by the environment.
Of course, it would be ideal for everyone to consume less in general, clothing included. That's probably something we can all work on, while also being realistic about the fact that we're going to need to buy things once in a while. Since my exercise clothes and shoes tend to wear out most quickly and I'd like to feel the least possible amount of guilt when replacing them, I needed to know who was doing right by the planet in this category.
From an everyday consumer's perspective, these are some eco-friendly activewear brands that are trying to balance cost effectiveness, comfort, functionality, and the climate as well as they can, with goals to continue reducing their environmental impact over time.
Girlfriend Collective is literally doing so much on the sustainability front that it would take too long to go through everything. The key points include 100% recycled and recyclable packaging, clothes made from recycled materials like post-consumer water bottles, fishing nets retrieved from the seas, fabric scraps, and other waste, and a coloring process that includes eco-friendly dyes and the donation of dye mud, a waste material, to a local pavement facility where it's recycled into sidewalks and roads.
The company also has an ethical manufacturing process and size inclusivity. If there's a downside to shopping this brand or another company that does it better, I can't find it. The high-rise ribbed leggings in particular are calling my name.
Promising review: "Love this color and fit! I wanted a neutral legging and this pair is perfectly compressive, high rise, and the rib is very fun & trendy." —Maggie D. via Girlfriend Collective
You can buy the RIB High Rise Legging from Girlfriend Collective for around $44.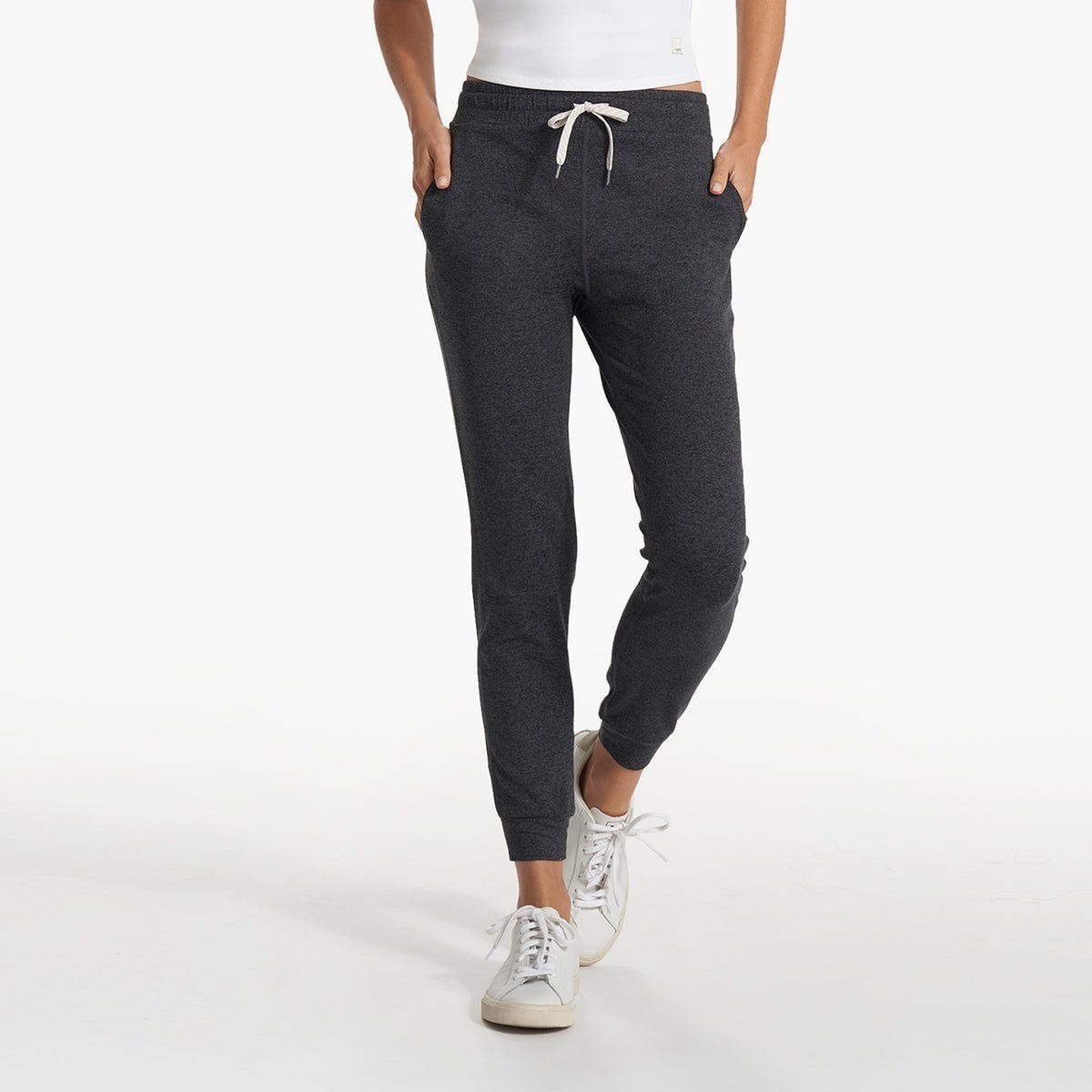 Whenever you see a brand promise to be carbon neutral, or net zero carbon, it doesn't mean it's not producing any emissions — it means it's offsetting the carbon released through its processes by taking measures to remove an equal amount from the atmosphere. One of the tenants of Vuori's sustainability mission is a promise to offset 100% of its carbon footprint.
But that's not all. It also focuses on using sustainable and recycled materials, reducing waste as much as possible, and implementing ethical manufacturing practices. The buzziest Vuori product I've seen is its performance jogger, made primarily from recycled polyester.
Promising review: "Love wearing these pants when I'm training clients. They feel like pajamas but they look professional. They are super soft and surprisingly durable. I wore them doing aerial rope and they held up great even doing drops where other pants would rip or get damaged." —Anonymous via Vuori
You can buy the Performance Jogger from Vuori for around $94.
In the years following Allbirds' launch, I felt like everyone I knew had a pair and was obsessed. They loved them because they were cute and comfortable, so it was just an added bonus that the company makes sustainability a priority, primarily through natural and renewable materials.
From the beginning, Allbirds has been trying to replace petroleum-based synthetic materials with natural alternatives whenever possible. When that hasn't worked, it created or invested in new solutions, like plant-based leather and a carbon-negative shoe sole foam. Their goals for 2025 include 75% sustainably sourced natural and recycled materials, reducing the carbon footprint of raw materials by 25%, and doubling the lifetime of footwear and apparel products.
Promising review: "I had been on the fence about buying these for so long and now… I am soooo happy I went for it! These are incredible! I work on my feet all day (I bend, I lift, I walk in dry and wet environments) and these last with no pain anywhere! I mean— what else could I ask for? These are perfect. I wear them any chance I get." —Christina C. via Allbirds
You can buy Women's Wool Runners from Allbirds for around $110.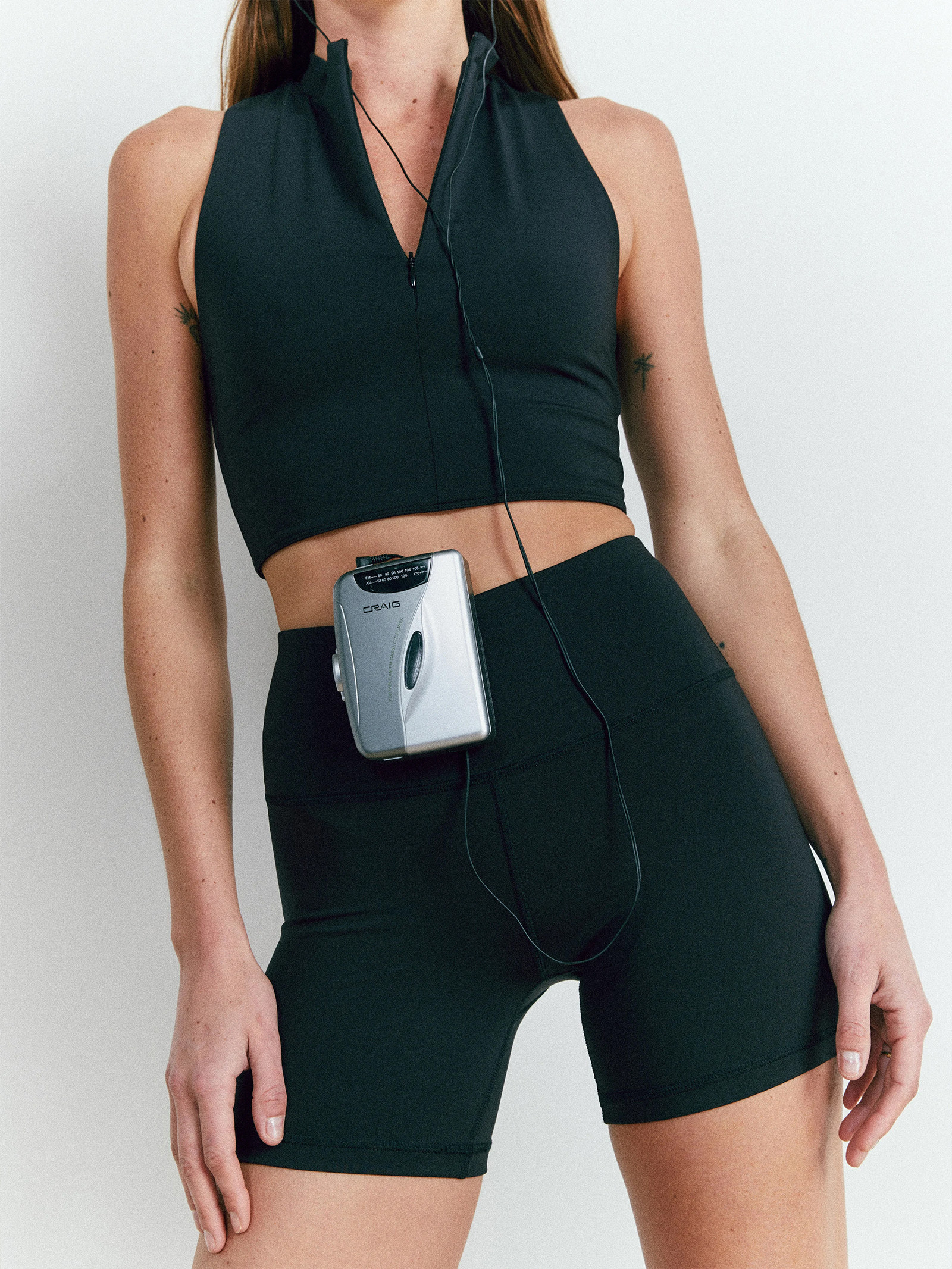 Reformation is one of the only clothing companies that I knew to advertise as climate-conscious from the start. It considers water impact, energy input, land use, price, greenhouse gas emissions, human toxicity, ecotoxicity, and garment care implications when choosing its fabrics, and hopes to source from 100% recycled, regenerative, or renewable materials by 2025.
You can see a very transparent breakdown of its materials and how it rates them in terms of sustainability on its website. The company has been reusing and recycling clothing since 2015, but it started the RefRecyling program more recently to encourage people to send back their old Reformation so that it can be used to create new products.
The brand does much more than just activewear, but the line designed for bending and sweating is just as incredibly cute as everything else. It's definitely more of a trendy, racquet sports vibe with a few items that I'd do yoga or pilates in, and I'm very much OK with that.
You can buy the Cindy Ecomove Zip Front Set from Reformation for around $118.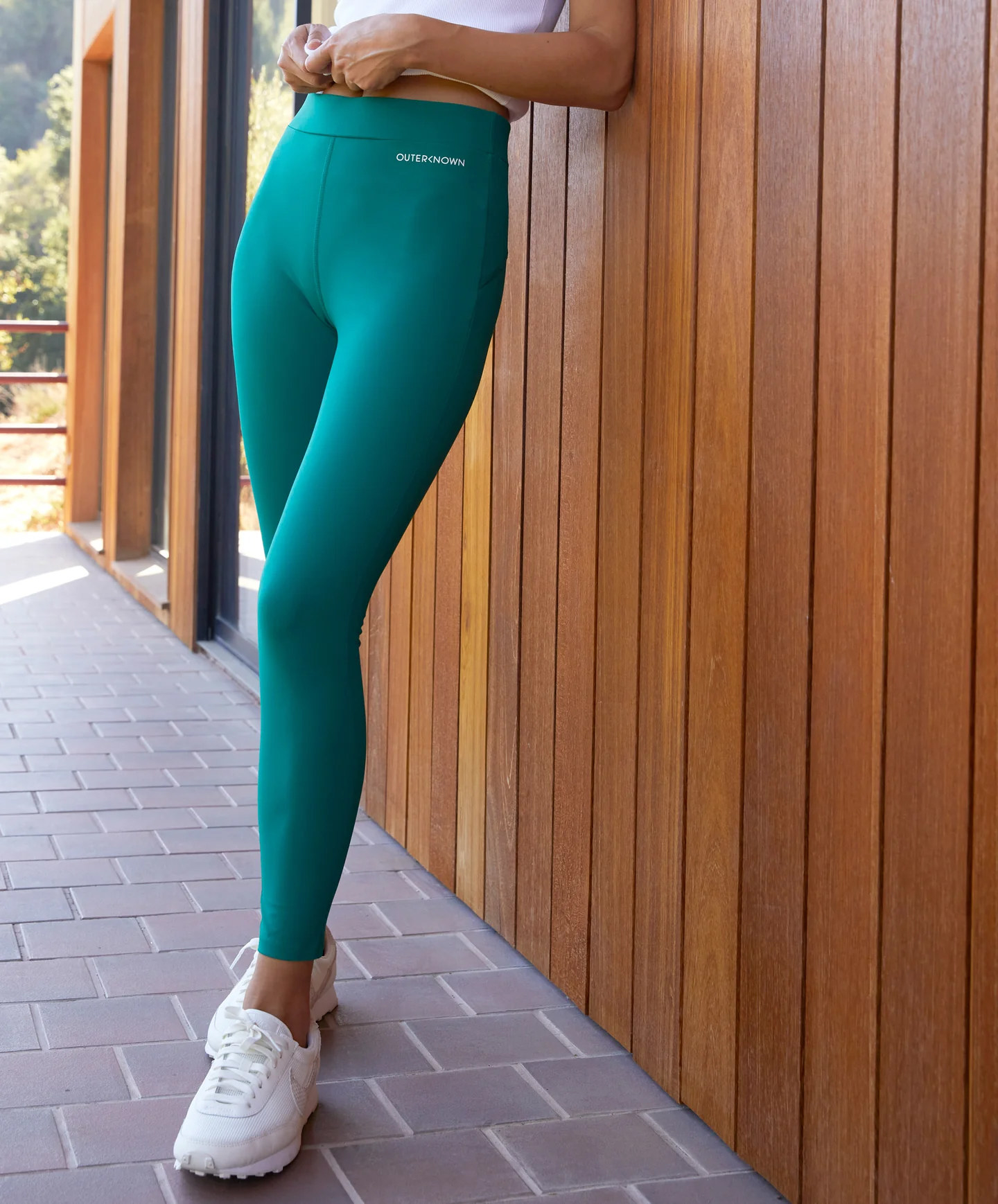 Anyone even remotely familiar with the sport of surfing has heard of Kelly Slater. He is THE famous surfer, and his apparel brand was founded with a total commitment to sustainability. As of 2022, the company uses its preferred sustainable fibers for 95% of its clothing and continues to work to get that to 100%. It focuses on circulatory practices, or keeping its clothes out of landfills, diversified and renewable sourcing of materials, regenerative farming, and partnering with environmentally focused nonprofits.
Outerknown makes tons of swim, lounge, and generally surf-style apparel, but these leggings from its active collection made from regenerated fishing nets and other nylon waste are what I'm eyeing.
You can buy the OK Active 7/8 Leggings from Outerknown for around $118.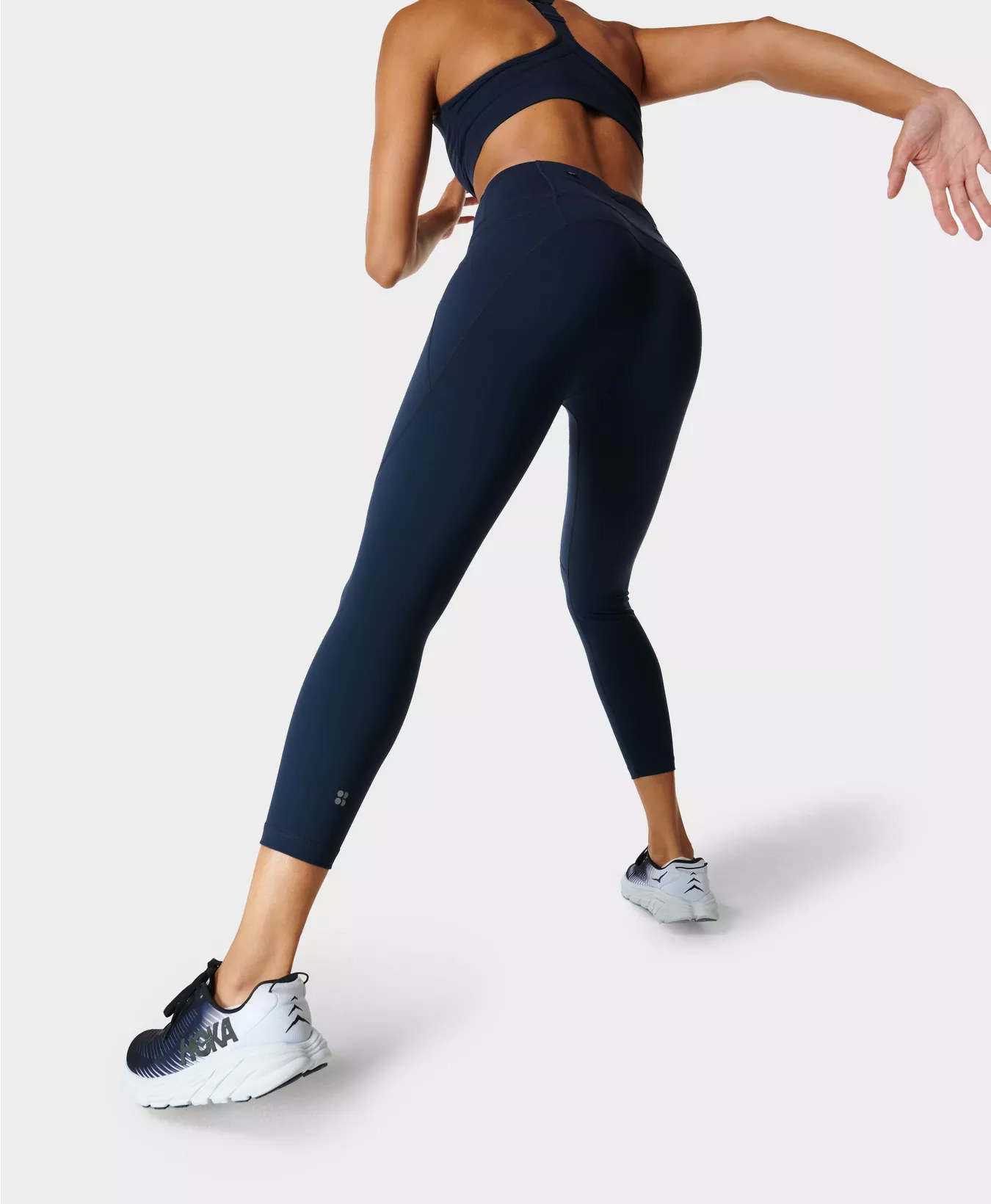 Sweaty Betty is sort of an underrated all-star when it comes to eco-friendly activewear. I didn't even know about its work toward a sustainable future when I realized that people in the US were overlooking this brand for cute and functional workout gear. It has everything from basic and flattering to trendy and patterned leggings, biker shorts, sports bras, exercise tops, sweatshirts, and sweatpants.
It's also committed to using more recycled materials and sustainably sourced fibers, reducing product waste, and getting rid of all single-use virgin plastics in its business operations. It has already kept over 40,000 garments out of landfills since 2019 and converted more than 1 million plastic bottles into its best-selling leggings.
Promising review: "SB leggings are amazing! They really hold their shape and the fabric feels so nice to wear. Love the patterns also." —FMHALL via Sweaty Betty
You can buy the Power 7/8 Workout Leggings from Sweaty Betty for around $100.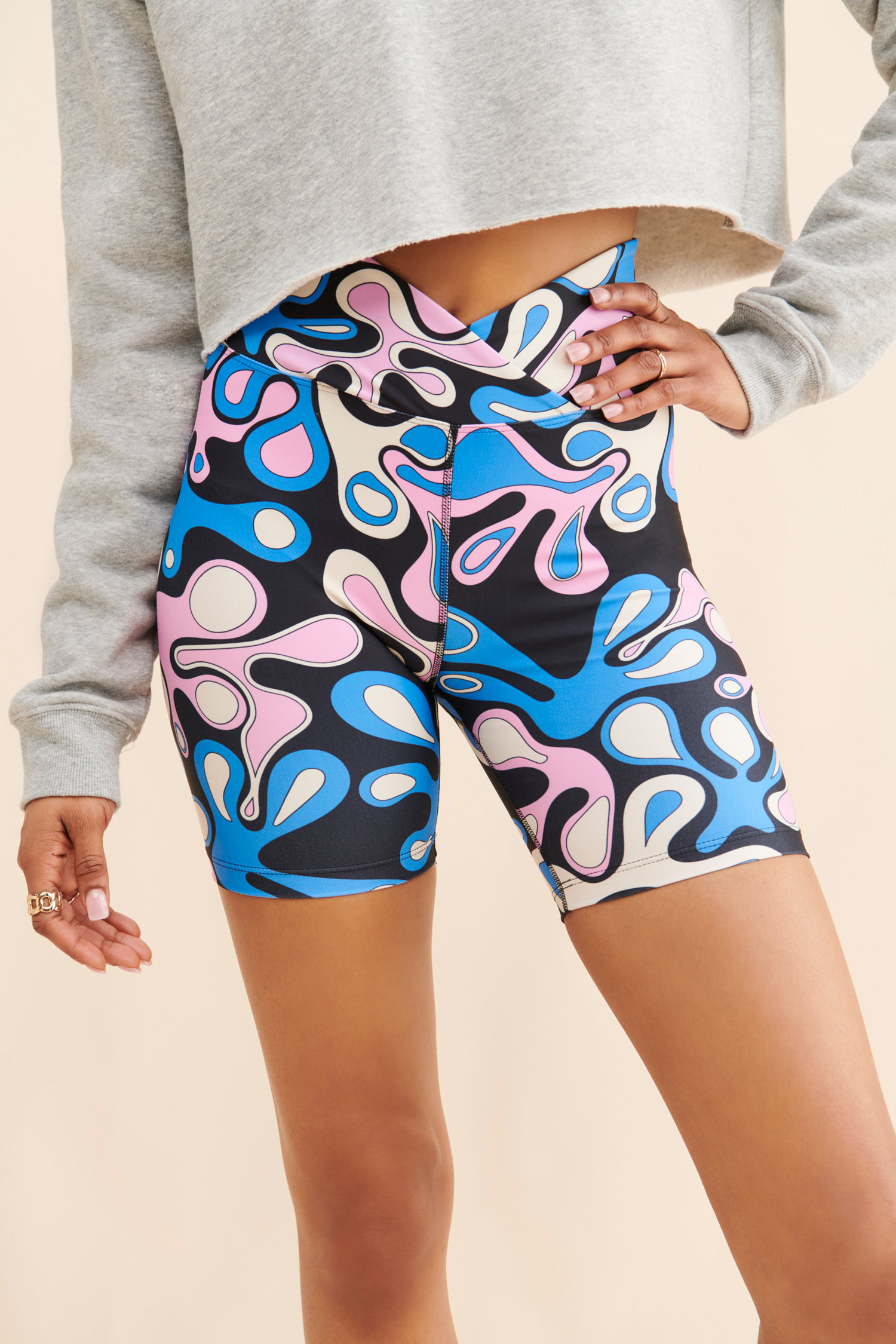 The entire concept of Nuuly, a clothing rental service, is one of sustainability. As the company describes it, it's a fashion ecosystem that reduces the waste of one-off purchases and offers secondhand items a new life. Its system of rewearing and repairing gives clothing a longer life, and when items are damaged, it uses the fabrics in its original Re_Nuuly designs. Everything is packed and shipped in reusable totes, eliminating the need for cardboard boxes, garment bags, and plastic hangers.
I've been using Nuuly for years. It's the biggest thing I do to avoid buying new clothes, so I was excited when it started offering athleisure. Sure, I probably won't wear my rented activewear for a hardcore workout, but we all wear it to run errands, walk our dogs, lounge around the house, or even for true fashion moments these days. Its recent feature with Year of Ours has me saving every single item to my closet, joining the fun printed bike shorts that have been in there for a minute.
You can rent the Splash Printed Biker Shorts from Nuuly (along with five other items) for around $88 per month.