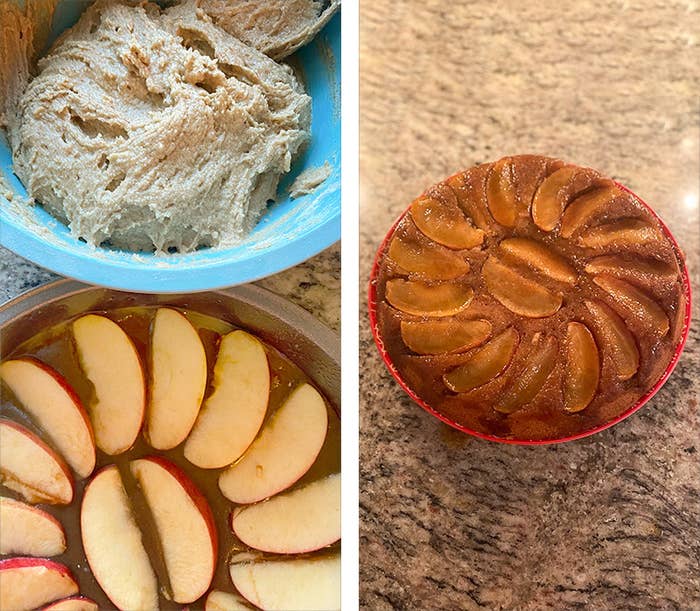 BuzzFeed may collect a share of sales or other compensation from the links on this page if you decide to shop from them. All products were independently selected by our editors, and the prices were accurate and items in stock at the time of publication.
Every fall, apples take over. They're in our salads, on our cheese boards, and baked into some of my personal favorite desserts. We even pay extra to pick them ourselves. I am a firm believer that apple mania should not end once the leaves have fallen. Plus, some sources on the internet tell me that apples are in season through December in certain climates.
I associate apples with crisp air and warm cozy meals, which leads me to one of my favorite cold-weather traditions: baking the best-ever caramel apple upside down cake.
I don't remember exactly when I came across this recipe, but I know that it was in the winter of 2020. I was cooped up in my tiny apartment and most of my holiday plans had been canceled due to COVID. My roommate invited me to her mom's apartment a few blocks away for a rowdy three-person Christmas Eve full of chili and board games, so I offered to bring dessert. Enter: the cake of my dreams.
I wanted to find something that would taste amazing, would look at least a little impressive, and wouldn't result in my cramped kitchen looking like a tornado had hit. I'm not the most experienced baker and tend to implode if things get too messy and chaotic, but I am focused and detail-oriented enough to handle a five-step recipe.
Another stipulation in my recipe hunting was that I had all of the required supplies, which can be a major hold-up when you have roughly one single cabinet of kitchen storage space. I'll admit that the first time I made this, I did not have a hand mixer and, to avoid lumps in the batter, I whisked my heart out until my hand was sore.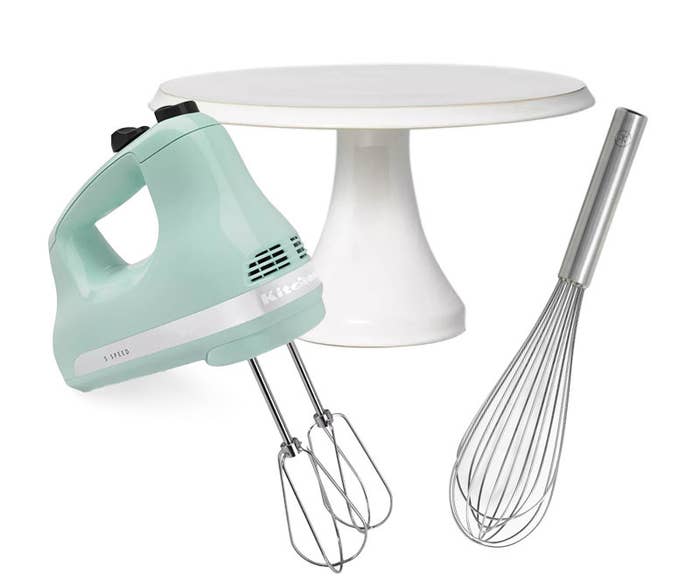 You can buy a cute, well-reviewed KitchenAid hand mixer from Target for around $45.
You can buy a sturdy, stainless steel baking whisk from Williams Sonoma for around $12.
Honestly, it worked and may have been the best one I've ever made (beginner's luck?), but everything is a whole lot easier with the right equipment. Three years later, I sail through this thing with the proper tools and it always comes out just as wonderful. It also doesn't hurt to serve it on a lovely little cake stand if you're really trying to dress it up for a party.
You can buy a cake stand from Target for around $20.

Aside from the hand mixer and whisk, you really only need a large bowl, a small saucepan, and a 9-inch cake pan. I've learned through trial and error that many cake pans are quite shallow (as in, two inches deep), and it's helpful for this bake to have a little more depth (at least two and a half inches, ideally three). These are also all extremely versatile tools, so if you don't already have them, it's worth the investment for this recipe and beyond.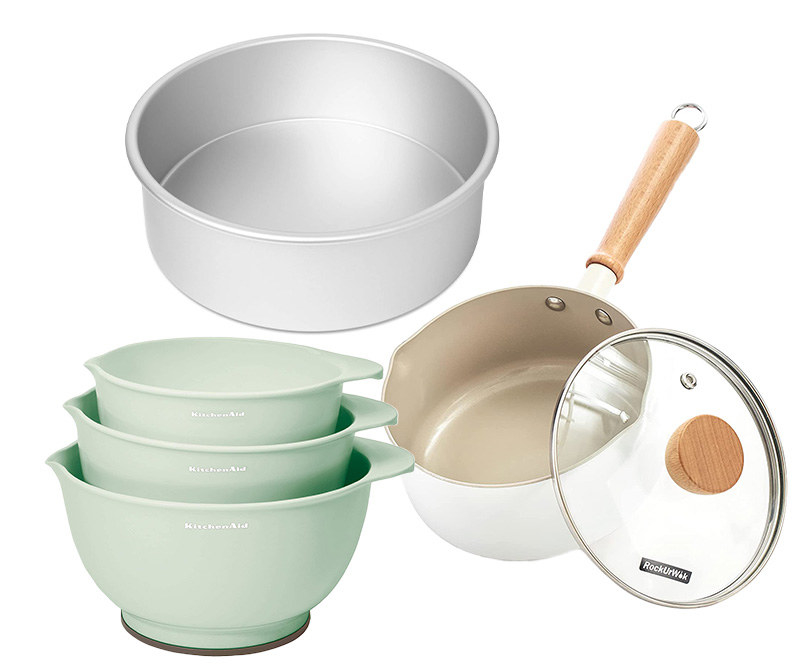 You can buy a set of KitchenAid mixing bowls to match your mixer from Amazon for around $19.
You can buy a petite and affordable saucepan that looks fancy from Amazon for around $26.
You can buy a properly deep cake pan from Amazon for around $15.
For those who may be skeptical about the caramel of it all, as I was before my first try, it's not as sickeningly sweet as the name might suggest. I'm actually not a huge fan of those smooth, cavity-inducing caramel sauces, but this version is not like that at all. The warmly spiced cake and baked apples really balance out the flavor to build the perfect combination of sweet brown sugar caramel, baked apples, and cinnamon-y cake.
My roommate and her mom loved it and nibbled away on the leftovers for days. When I eventually made the cake for a family Hanukkah party, my dad, who is notoriously picky about his sweets, said he could eat it for breakfast. It's a surefire crowd-pleaser and it's surprisingly simple for something that looks so festive. All of my amateur bakers, apple enthusiasts, and/or holiday treat seekers out there, take note.