BuzzFeed may collect a share of sales or other compensation from the links on this page if you decide to shop from them. All products were independently selected by our editors, and the prices were accurate and items in stock at the time of publication.
Gardening is one of those hobbies that becomes an identifier — once you get into plants, people may ask you about them, or start buying you gardening gifts. But you're probably fine with that.
As with caring for any living thing, being a plant parent isn't always easy, which means you'll likely need some things to keep your indoor plants or outdoor garden thriving. Even though it doesn't have to be an expensive hobby, the plant-related tools, supplies, and accessories can add up, particularly in the case of well-made items that are built to last.
We asked an expert what high-quality, durable, and useful items a plant lover might actually want to receive as a gift.
What not to do when it comes to plant care
First up: There are a few things you should avoid when buying a gift for a plant lover. "A lot of the problems that I see around the plant community is that there's just a bunch of garbage out there," said Christopher Satch, a horticulturalist also known as the NYC Plant Doctor.
Along with his plant care and styling business, Satch teaches classes at the New York Botanical Gardens, which he highly recommends taking if you're new to the gardening game. (They offer classes in everything from psychedelic mushrooms to DIY crafts and flower arranging, and yes, you can buy gift cards.)
There are some things he advises against, including self-water bulbs, water meters, and focusing too much on overwatering and humidity.
As pretty and effortless as they may be, self-watering bulbs don't evenly saturate soil, which should be the goal.
"You want your soil to be evenly moist, just like after a rainstorm where everything gets fully saturated," he said. "Now you're probably wondering, what about overwatering? That's another term that's been thrown around way too much, and no one really quite knows what it means."
People often worry about their plants getting too much water, and yes, letting them sit too long in standing water can cause the roots to rot. However, that's generally not the true problem, Satch said. The real issue is that the soil is not drying out fast enough, which is usually because you don't have enough light or heat, he said.
When it comes to moisture in the air, a common misconception he hears is that humidity is causing those brown tips you may have seen on the leaves of your houseplants.
"It's not humidity at all," Satch said. "It's usually a fungus that's affecting the plant."
Most plants don't require a humid environment "unless they are orchids or air plants or other epiphytes," he said. (Epiphytes include plants like moss.)
"Basic houseplants literally could care less if it's super dry or super wet, as in the air is super humid," Satch said. "They really don't care, and they do just fine."
That's why some of his top suggestions include using a fungicide to stop fungi from invading, and an insecticide to prevent bugs from eating away at your precious plant babies.
Indoor and outdoor gardening essentials
Since heat and lights are so important, and Satch knows you may not be getting enough in your home or apartment, supplemental lighting can be a game changer. His favorites, like this panel light for growing herbs and vegetables indoors, are from a company called Waveform Lighting, but what you really want to be looking for is a high CRI value, or color rendering index. (The panel light Satch recommended was sold out at the time of publication, but you can get one of these options on Amazon from Vivosun or Barrina.)
"You want it to be about 92 or greater," he said. "That number just means that the light that that bulb is producing is the closest to the sun that we could possibly make it, because 100 on the CRI is sunlight."
Another factor to note in choosing artificial lighting is the lumens, or the actual quantity of light being emitted, since both quality and quantity are key.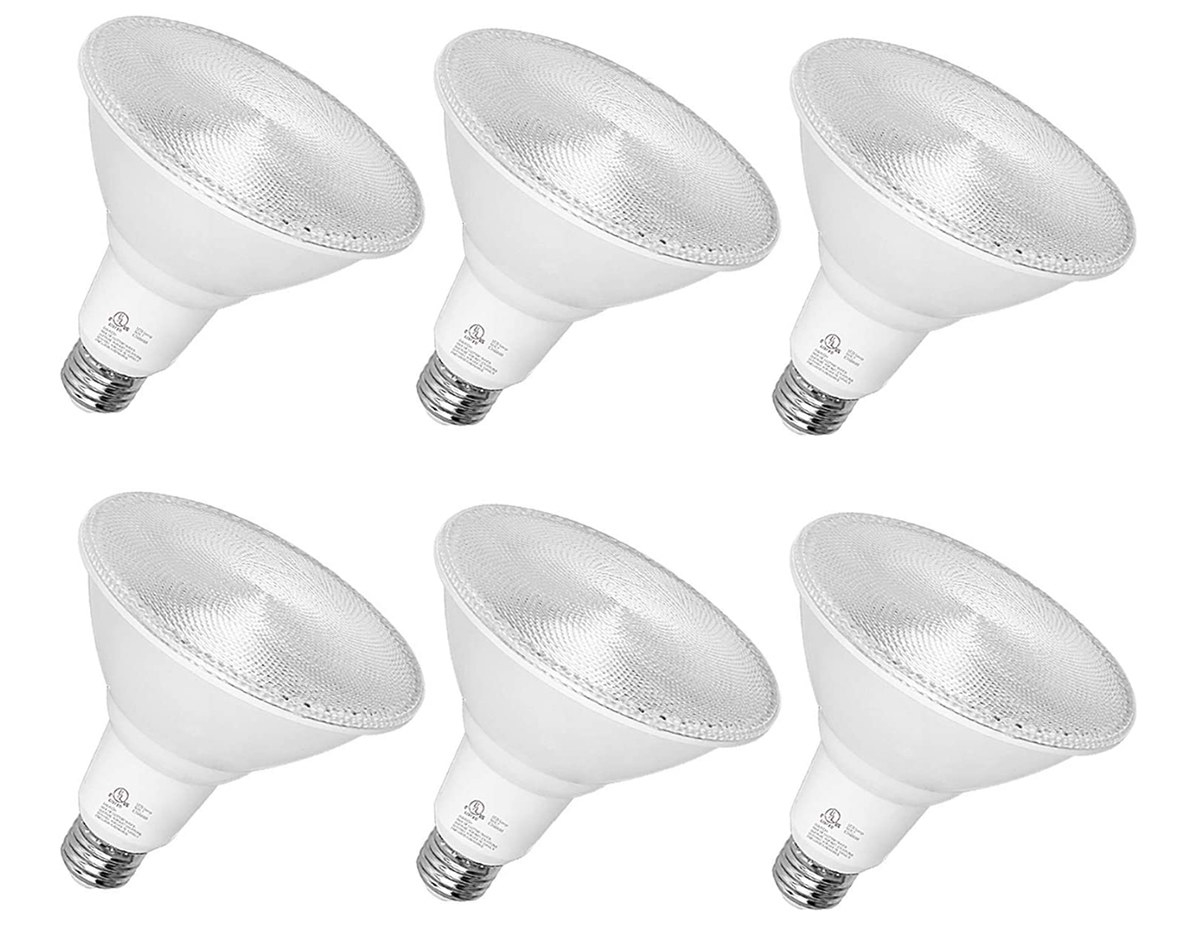 If you're a beginner or just looking for something more affordable that will do the trick, Satch recommends standard floodlights like the ones you'd use in your garage. Even though the CRI value may not be ideal, they're intense enough to be effective.
Promising review: "These are as bright as a street light and a great price to boot!. Sturdy construction, great beam pattern. What's not to like about that?" —David A. Wallace
You can buy a 6 Pack of LED Flood Light Bulbs from Amazon for around $37.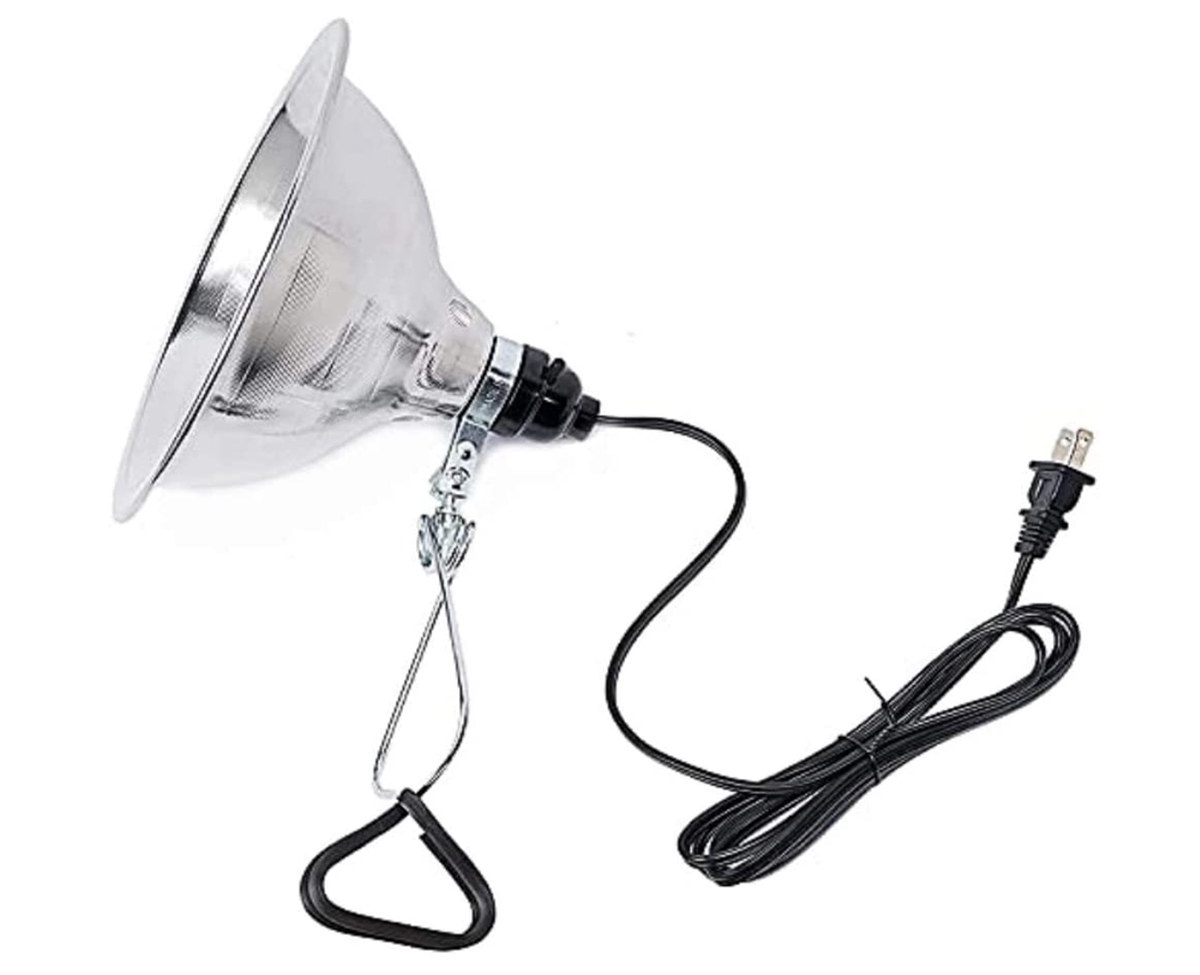 Of course, you need something to hold those bulbs and allow them to be directed precisely at your plants, so he suggested these clamps to hold the floodlights.
Promising review: "These lamps are exactly as advertised! They work well for what I am using them for and I am happy with them. If you read the full ad and description and they fit your needs I would recommend them." —Ivy Gort
You can buy a Clamp Lamp Light from Amazon for around $12.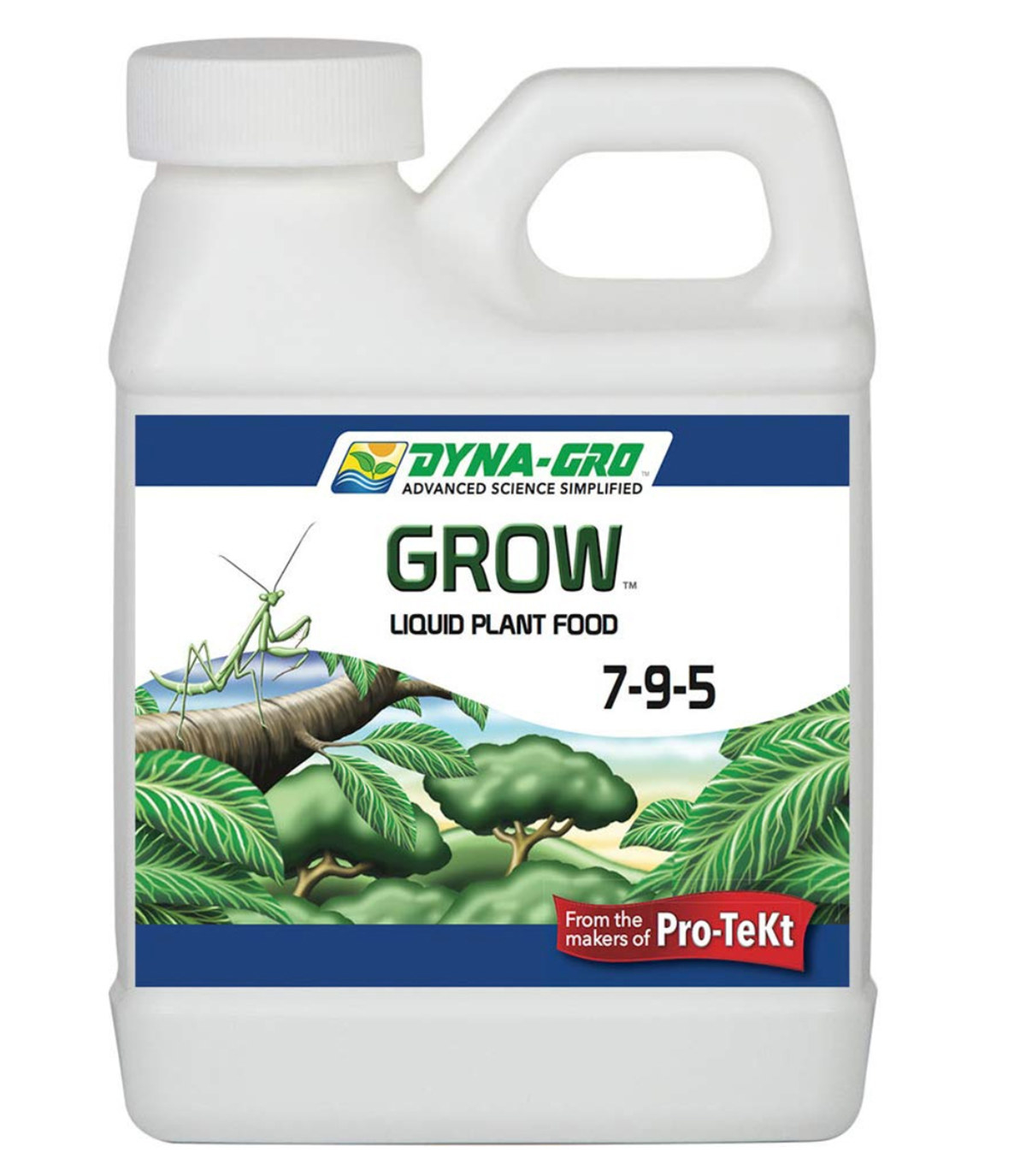 So now we know that we need to fully saturate our soil and apply enough light and heat for it to dry out, but it's also important that the soil is providing our plants with the proper nutrients. Though Satch said that plant products are generally not brand-centric, there is a specific fertilizer brand that he uses called Dyna-Gro.
"I highly recommend it to all my students because it is one of the few formulations out there that contains every single essential mineral that a plant needs to grow, especially calcium," he said. "A lot of other formulations do not include calcium."
Promising review: "My babies love this! I use it for every single houseplant I have. It's also urea-free, so it won't burn your plant's roots. I add 1/4 tsp. To a gallon of water and I use that every time I water my plants. The small container of this fertilizer will last quite a long time." —MichiganMitten
You can buy Dyna-Gro from Amazon for around $13.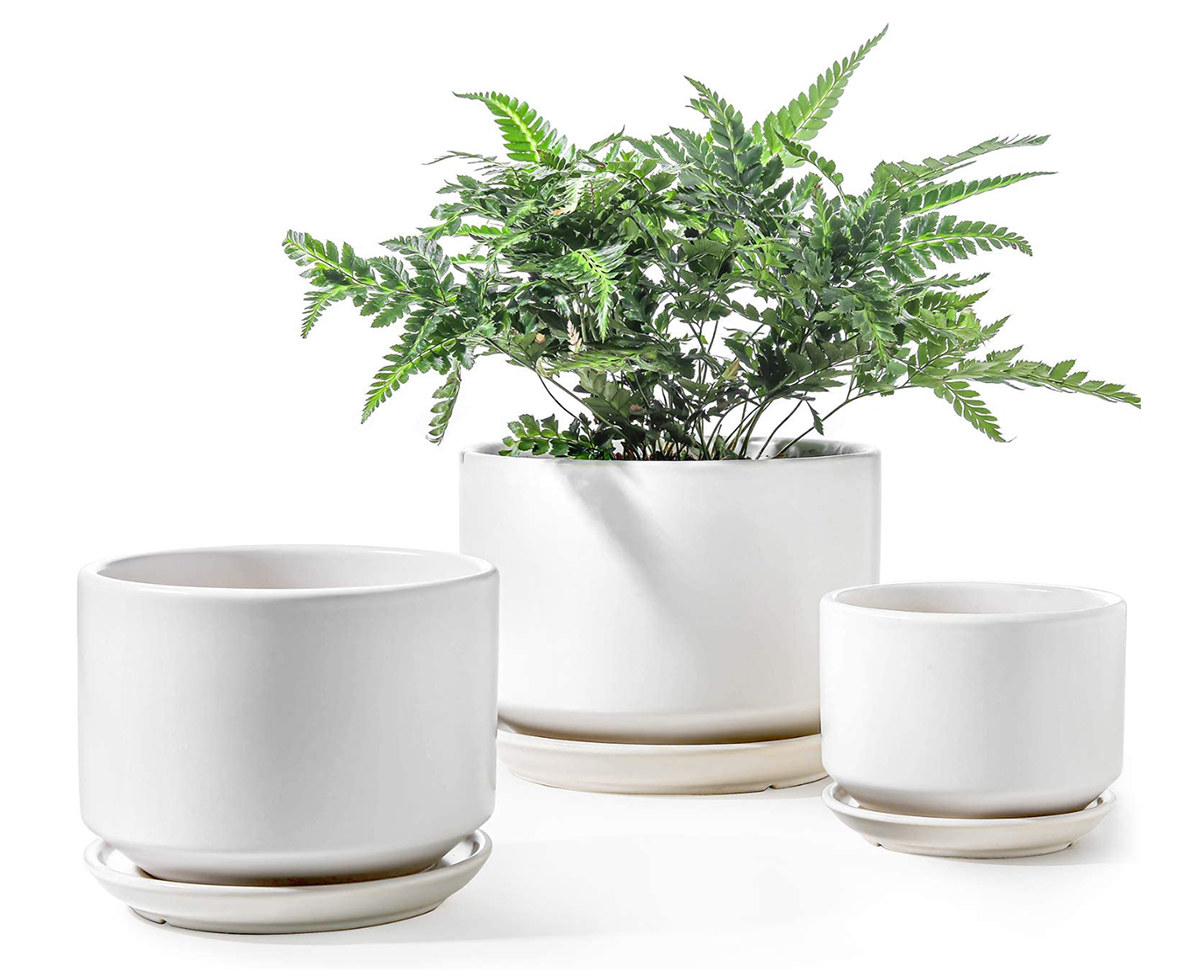 Of course you may want to have cute planters, especially when it comes to indoor plants that decorate your home. The biggest thing I've learned is that not all pots have drainage holes, and if there's nowhere for excess water to escape, it makes it harder for the soil to dry out.
I'm a big proponent of balancing functionality with aesthetics, which is why I like these attractive ceramic planters with drainage holes and mesh drainage nets in the saucers. (It's not the end of the world if you find a pot you love or already have some planters without drainage holes, but you should get some clay pebbles to place below the soil in your pot for better aeration and rot prevention.)
Promising review: "This is a perfect set of pots. The dish is part of the pot, round mesh for drainage holes included." —Dee
You can buy this set of three Ceramic Plant Pots from Amazon for around $30.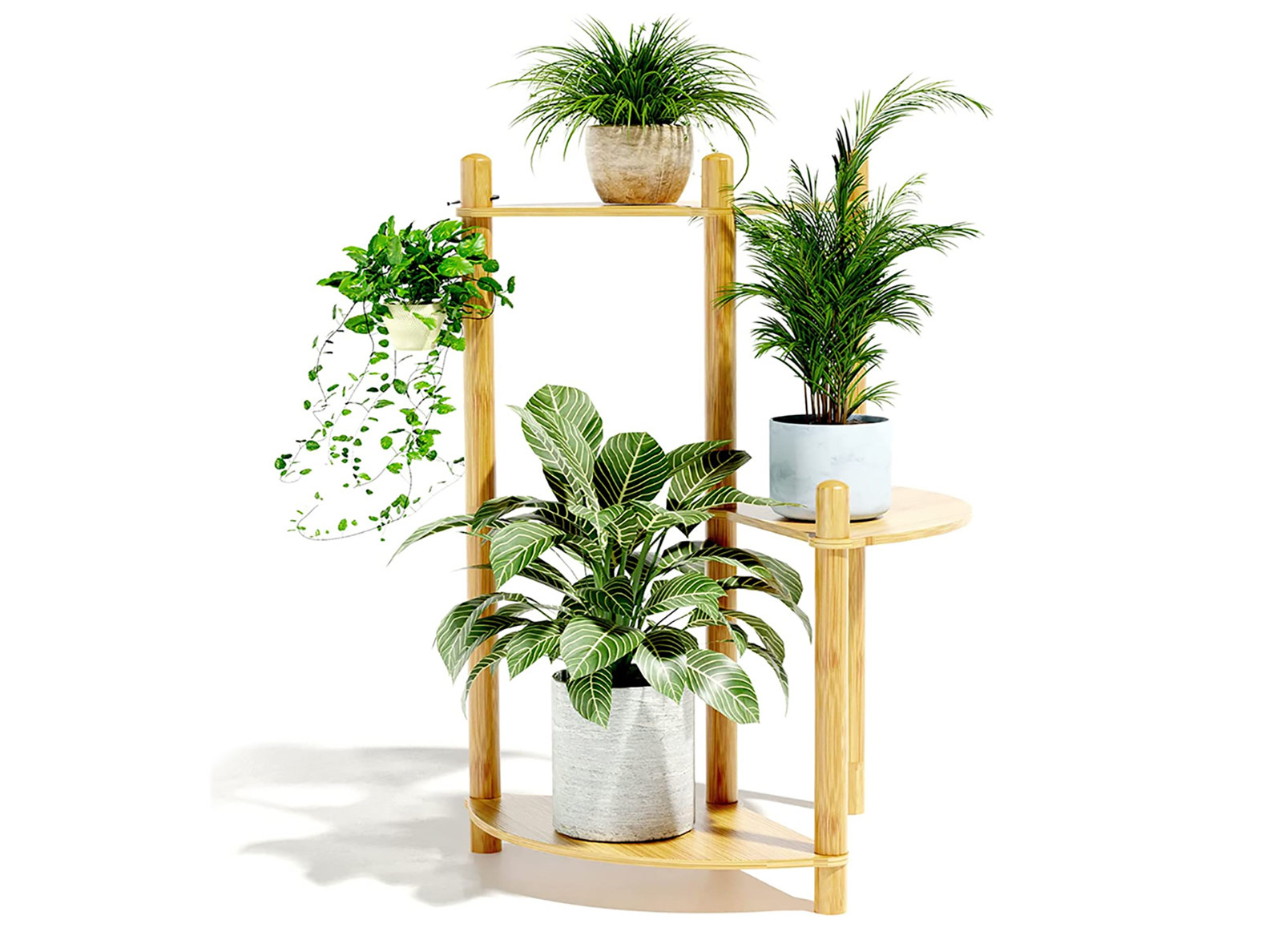 Though this is definitely more of a want than a need, I think plant stands are a great way to maximize the amount of plants you can keep in any space. You can put this in the corner of a room and fit at least three pots on it. The best part is the tiered design that allows all of them to remain visible to you and your light source.
Promising review: "Enjoyed this a ton! I love the dynamic design, and didn't really see many other plant stands where the pots are splayed out in different directions. I also love that there are varying heights, so I ended up putting a taller plant on the bottom and a stouter one on top." —Barry L.
You can buy this plant stand from Amazon for around $58.
Nadya Ribbed Watering Can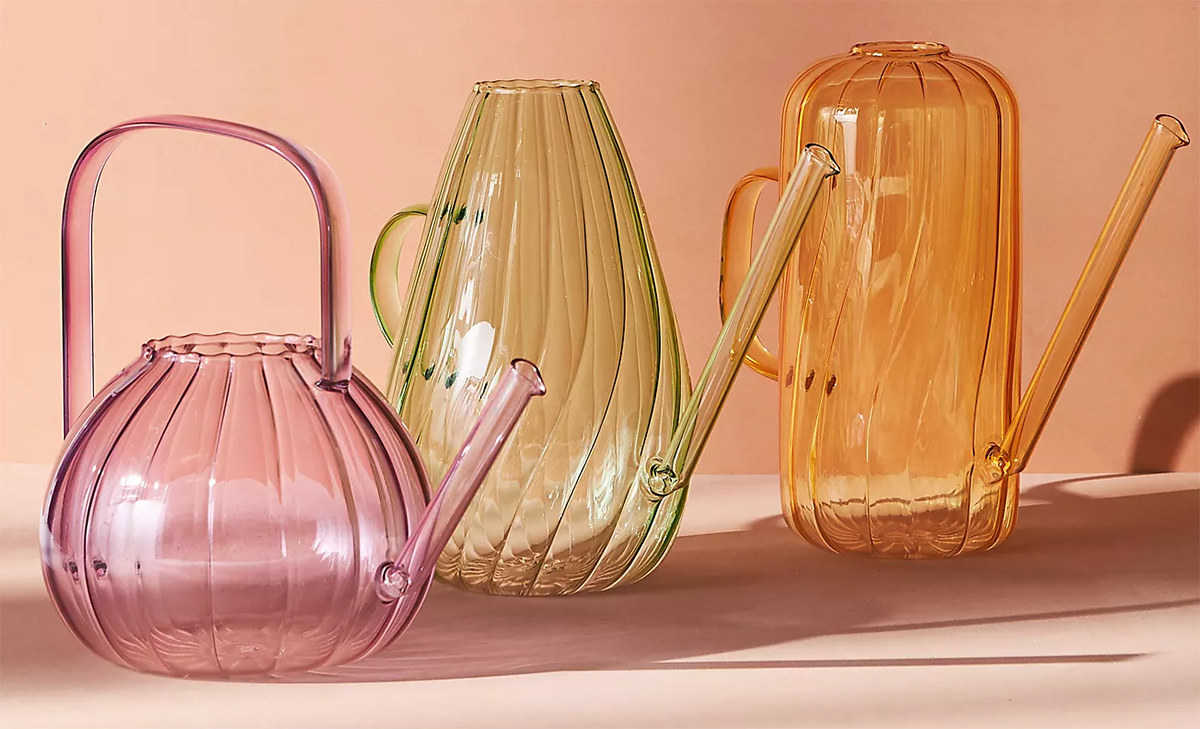 Another example of combining function with style, a watering can for your indoor plants can be chic as hell to add to your whole greenery vibe. Sure, you can buy a basic watering can at the hardware store, but a classy one like this will be a statement piece and also makes for a great gift.
Promising review: "I love these! I bought two. The pink and the yellow. Yes they are delicate but also make a statement. I don't feel like I have to put it up and away but instead I leave it out for display." —Reviewer via Anthropologie
You can buy the Nadya Ribbed Watering Can from Anthropologie for around $32.
The HC Companies Watering Can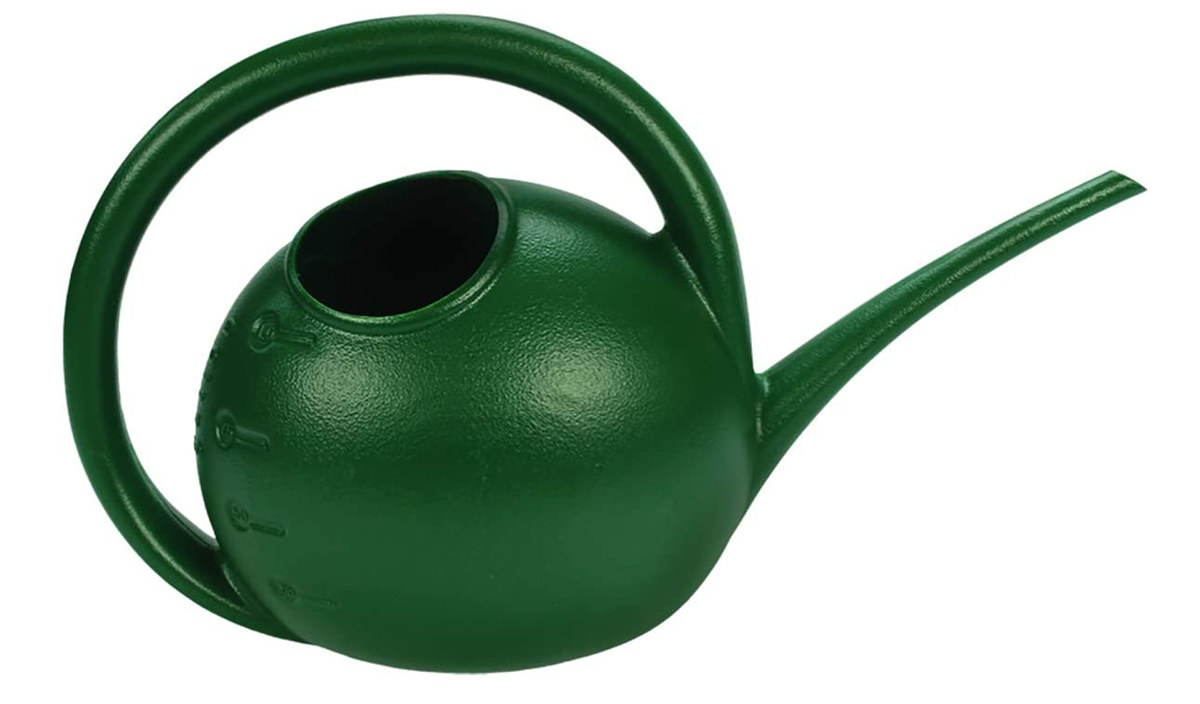 Satch recommended this watering can for those who take a more measured approach to their gardening and want the water to fertilizer ratio to be exact. It can be kept indoors for houseplants, but it's great for outdoor gardening thanks to the size and durability. The water level indicators are molded in so it's easy to guarantee proper measurements.
Promising review: "This is my second purchase. It is a wonderful size with a spout that releases just enough that you are not drowning your plants. It allows the soil to soak up the water without over flooding it. It is also medium sized so it is easy to maneuver. Lastly, it is very sturdy." —Jeff Getting Redesigned
You can buy The HC Companies Watering Can from Amazon for around $23.
Sainlogic Wireless Weather Station
Onto the outdoor essentials, Satch emphasized this weather station as a must-have. It consists of a rain funnel, solar panel and transmission module, wind vane, and a high-speed anemometer to transmit current information about temperature, humidity, air pressure, wind speed and wind direction, as well as the amount of precipitation.
You can keep the base station inside and place the sensor wherever you're trying to monitor conditions to keep your plants as happy and healthy as possible.
Promising review: "This was easy to install and set up. We love knowing what the temp, wind, humidity are right in our yard. Want to go for a bike ride, how strong is the wind? Need to water plants, how much rain have we gotten?" —Rbnbck
You can buy the Sainlogic Wireless Weather Station from Amazon for around $140.
Barebones Living Classic Leather Work Gloves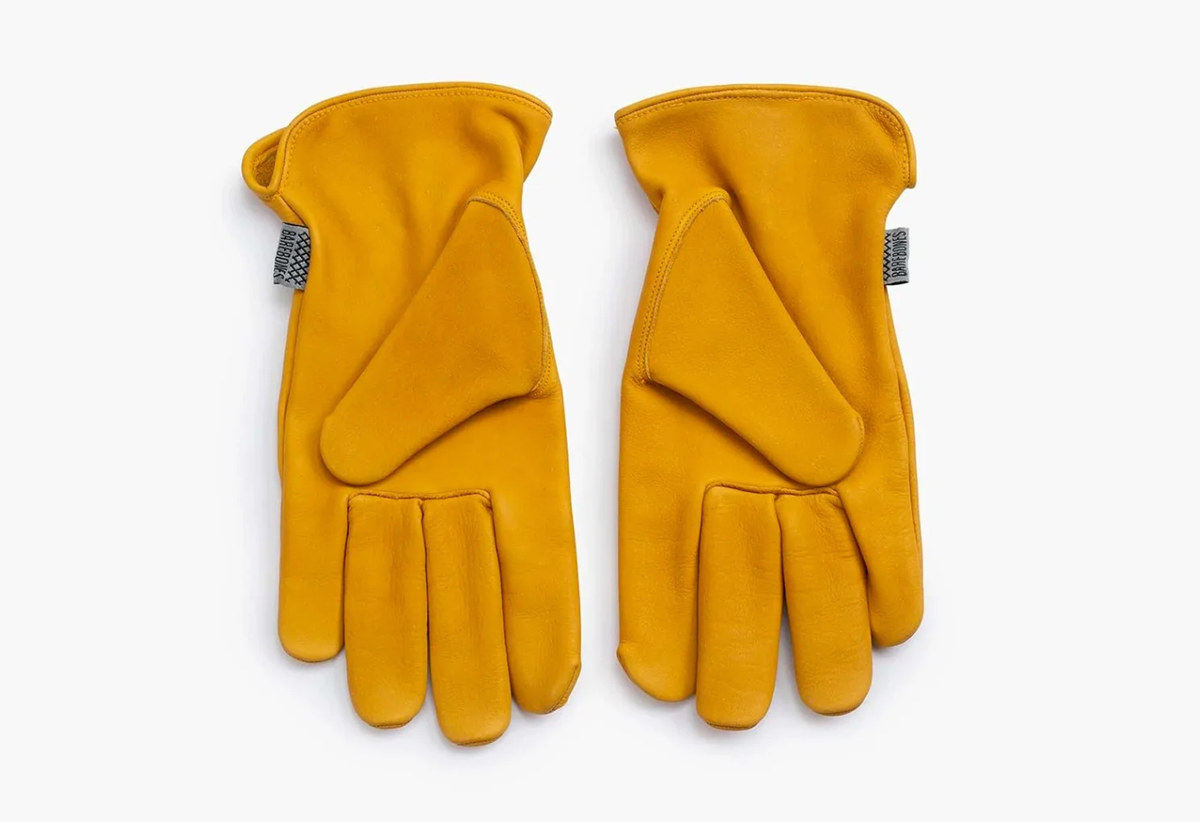 "What I usually teach my students is that, for outdoors, you definitely are going to need gloves. You're going to need pruners, you're going to need spades, shovels, things like that," Satch said.
Starting with the gloves, I'm kind of obsessed with these. Most work or gardening gloves I see are pretty ugly to be honest, but these make me want to have weeds to prune just so I can wear them. For the quality and style, they're actually pretty affordable and would make a great gift for the gardener in your life. I know my mom could use a glove upgrade.
Promising review: "I love working in the yard and I always wear the fingers out in my gloves. These gloves are truly lovely. They fit well, and hold up to whatever work I may be doing at the time." —Jani D via Food52
You can buy Barebones Living Classic Leather Work Gloves from Food52 for around $22.
Fiskars Bypass Pruning Shears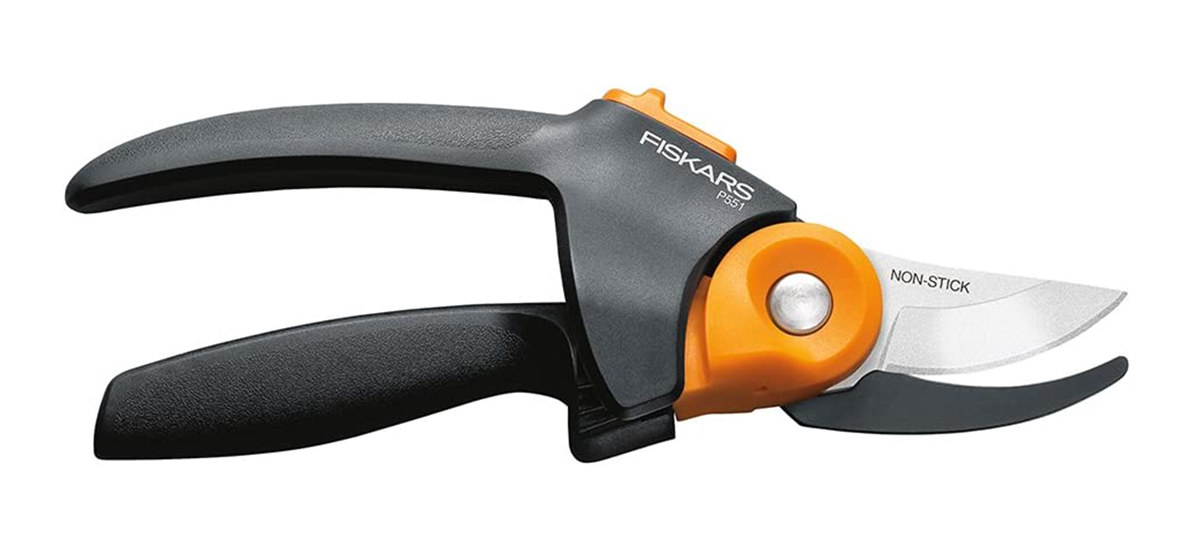 For actual gardening tools, Satch likes the products made by Fiskars. These stainless steel shears are sharp and easy to handle, so you can clip any branch or stem with ease.
Promising review: "I have been gardening my entire life & have tried a wide variety of pruning shears but keep going back to Fiskars brand. They hold up better than any others I've tried." —Brandi

You can buy Fiskars PowerGear2 Pruners from Amazon for around $29.
Fiskars Steel D-Handle Flat Square Garden Spade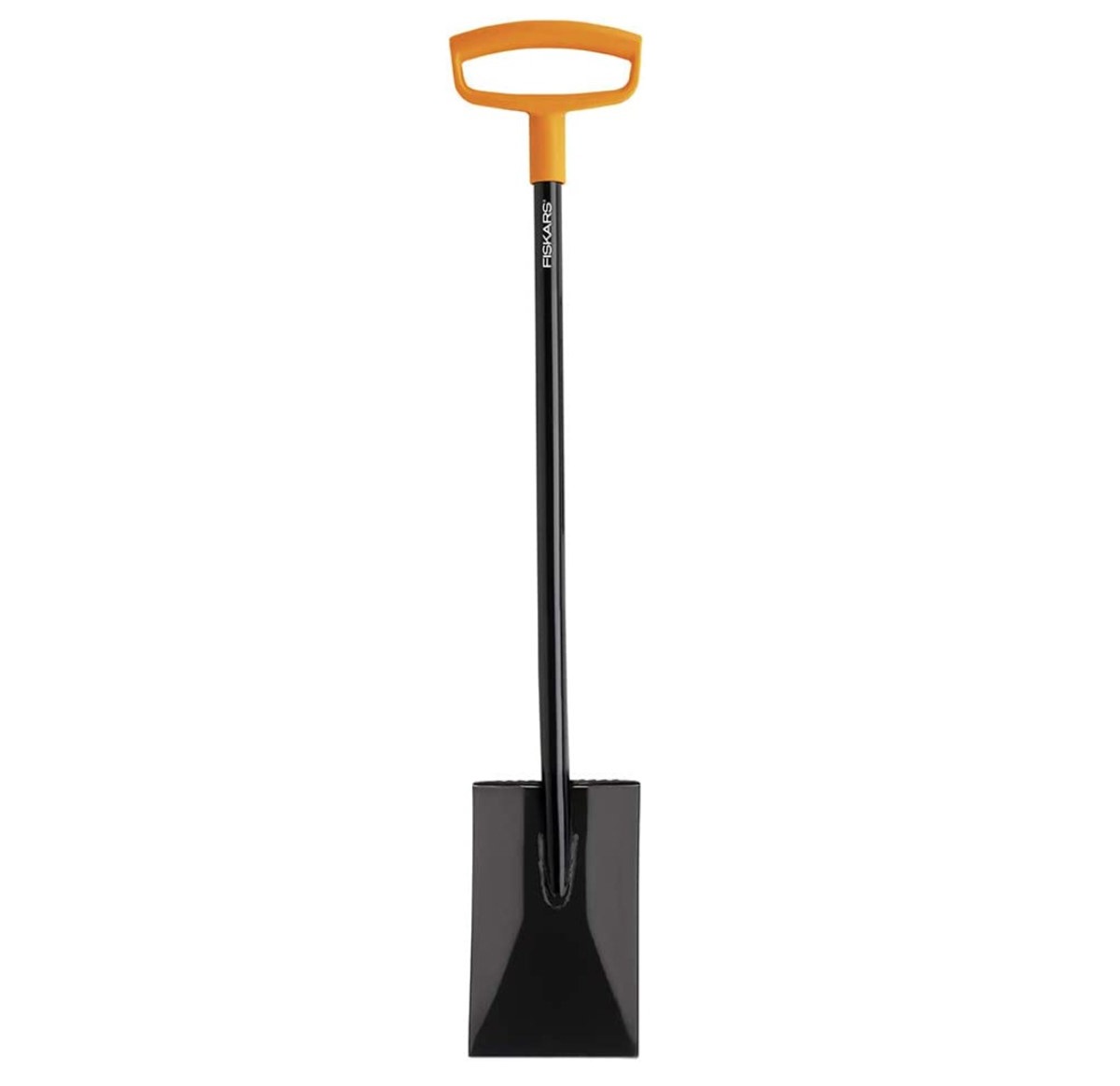 Fiskars also makes the only spade that I saw and immediately wanted to buy because it looked cool (I do not have an outdoor garden and do not need a spade). I also had to ask what the difference was between a spade and a shovel, which is really just that a spade is shorter with a flatter blade, and apparently you need both for slightly different purposes.
Promising review: "I am absolutely in love with this product. It is lightweight and easy to use. As an older adult, I especially appreciate the ease of use." —Darlene Holliday
You can buy Fiskars Steel D-Handle Flat Square Garden Spade from Amazon for around $40.
Bully Tools 14-Gauge Round Point Shovel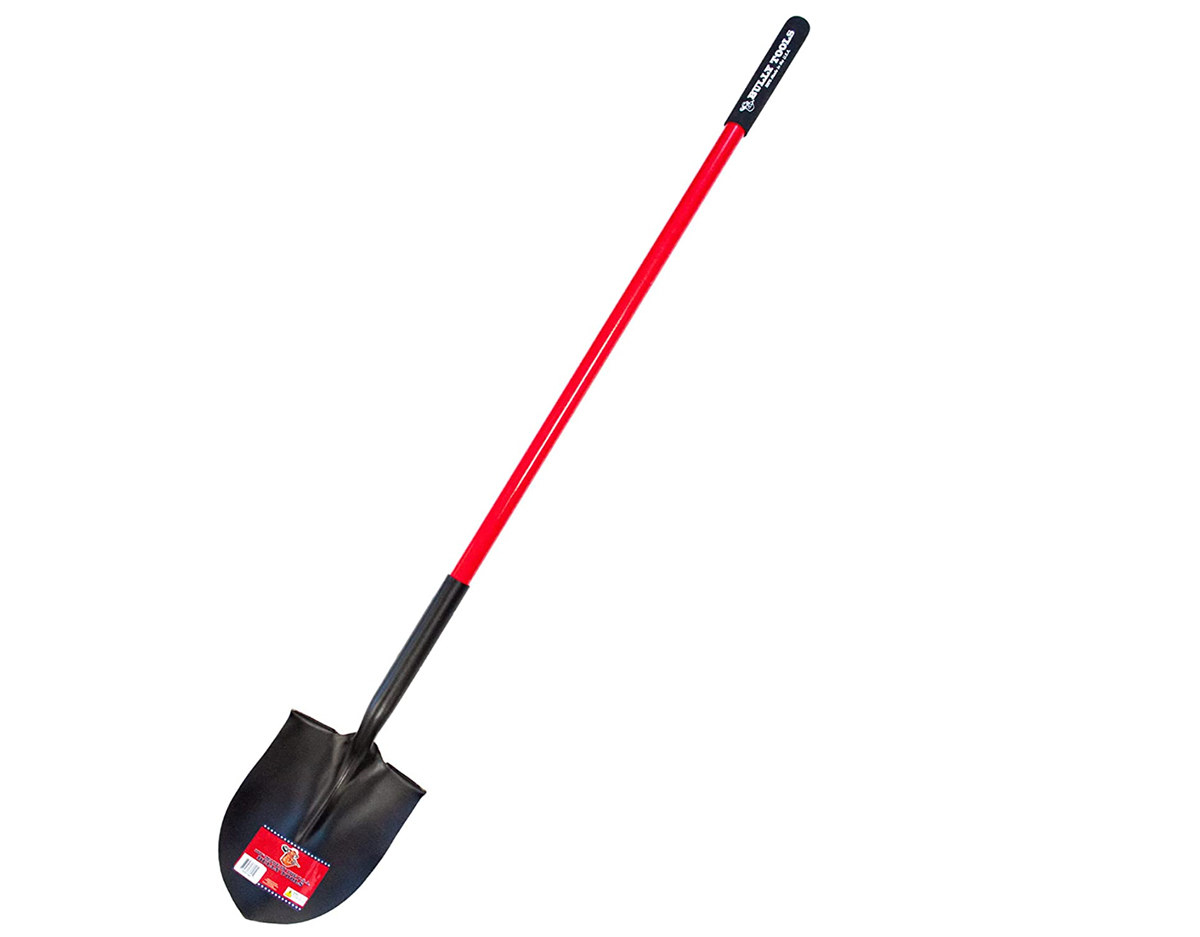 For shoveling, you want a longer handle and a sharper, more angled blade. You can get this one with a D-grip or a long handle depending on what's most comfortable for you.
Promising review: "If you are looking for a heavy-duty shovel, this will fulfill your needs." —Joseph L. Bradford
You can buy the Bully Tools 14-Gauge Round Point Shovel from Amazon for around $54.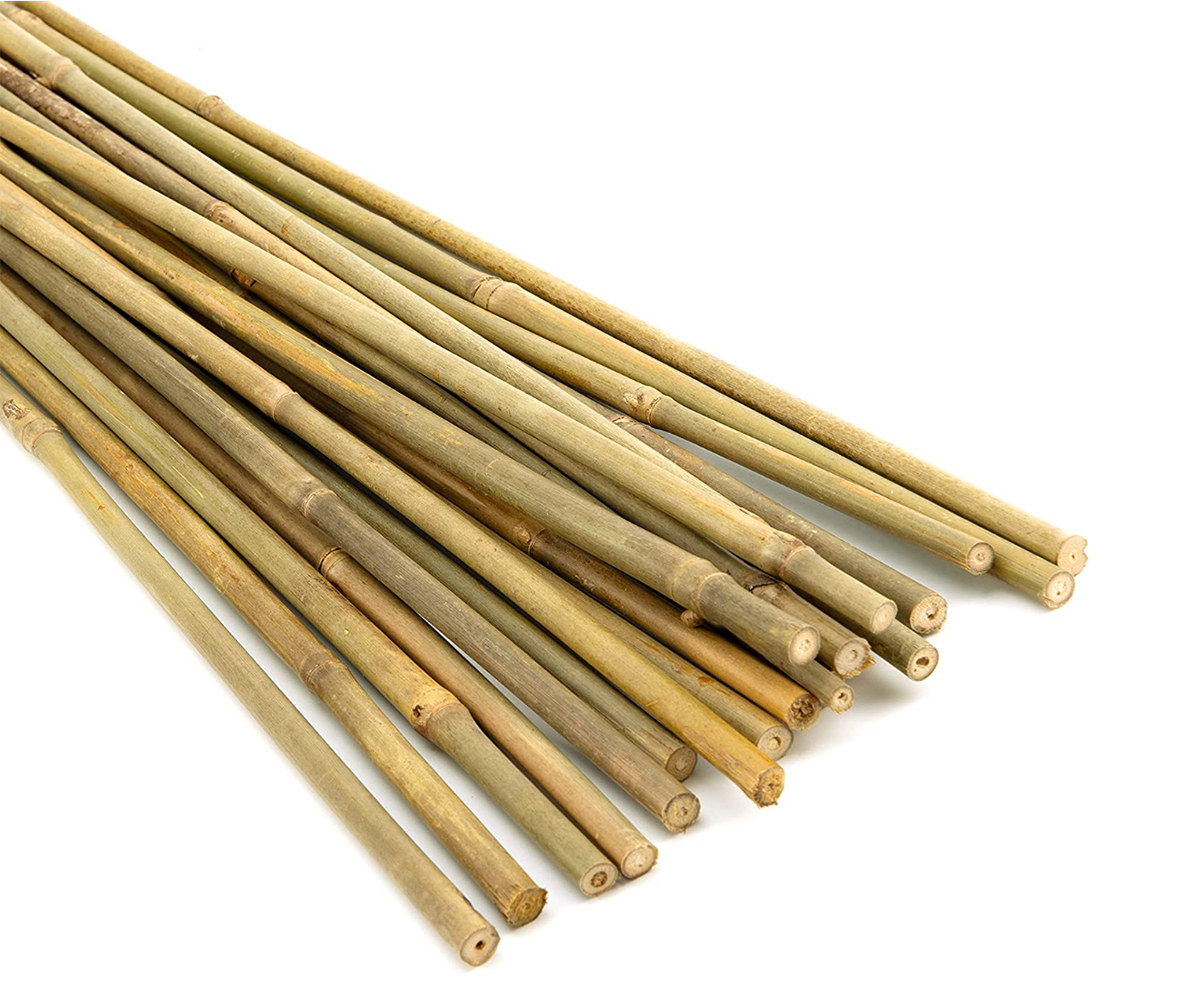 Fresh herbs and vegetables are some of the best perks of gardening, in my opinion. I would love to be able to grow some juicy tomatoes and fresh basil to pluck before dinner. If you or anyone you know is on the tomato train, one, I'll take any surplus, and two, some sort of stake or cage will be necessary to keep them on track.
Satch recommended both these bamboo stakes and tomato cages. Personally, I like the look of the bamboo stakes better, so if they're appropriate to use for what you're growing, I'd give them a shot.
Promising review: "They're straight, strong, and durable. Just what I needed. Good value for the money." —Robert D.
You can buy Natural Bamboo Stakes from Amazon for around $11.