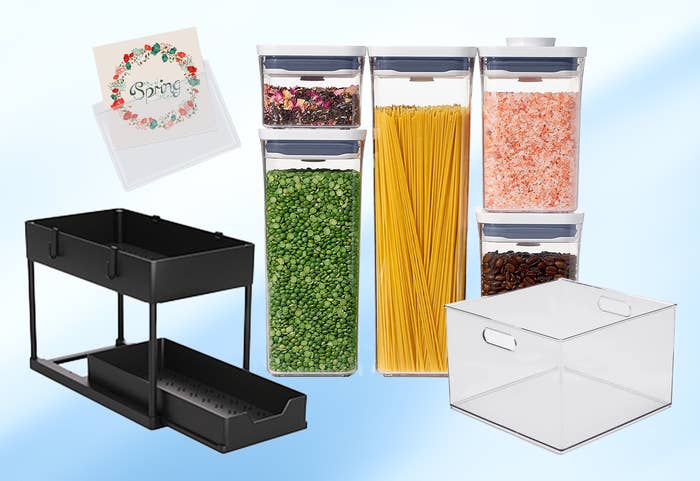 BuzzFeed may collect a share of sales or other compensation from the links on this page if you decide to shop from them. All products were independently selected by our editors, and the prices were accurate and items in stock at the time of publication.
Mess happens to the best of us. Sometimes we don't clean it up immediately, and the more clutter builds, the more we avoid even attempting to clean it. That's what spring cleaning is for, right?
The beginning of spring has become a cultural marker of reset; an opportunity to finally tackle those dirty windows and junk drawers, to rid our homes of things that are taking up precious space. Even the experts who create content about cleaning and organizing their homes on TikTok have some big hauls that they wait for spring cleaning to address.
"I think everyone, no matter how clean you are, or how organized you are, we tend to hold on to things that we may not have even used the past year, so I think spring cleaning definitely is for everybody," said TikTok cleaning guru Brianna Ancheta.
Danielle Bonney, also known as @momthatlovestoclean, admitted that she doesn't have a huge spring clean since she keeps her home tidy year-round, but there are definitely bigger, more time-consuming chores that she saves for spring, like cleaning chandeliers and light fixtures, scrubbing under the couch, and washing curtains and even the walls.
Break your spring cleaning down into smaller tasks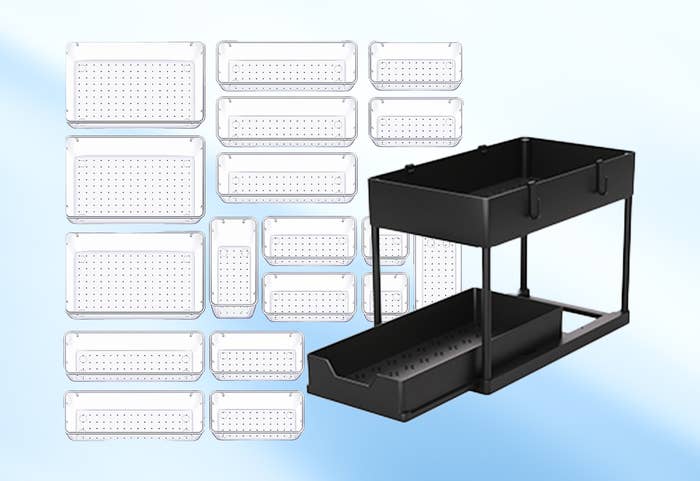 "When you get super overwhelmed, you quit and then you don't end up doing it," Bonney said about bigger cleaning projects. That's why she likes to break things down into smaller tasks that feel more manageable.
Her go-to plan is to get all of her spring cleaning done before Easter, so she starts weeks before and tackles it gradually. To make things easier, Bonney will often divide up those larger annual projects by room and add them to her usual weekly cleanup of that space. For example, when she's cleaning the kitchen during her spring cleaning period, she'll add in a sweep above the fridge, organize under the sink, and go through all of the kitchen drawers.
To keep her refrigerator and kitchen drawers organized, she uses these clear plastic organizers. And to keep things neat and easily accessible in the tricky space under the sink, she opts for these tiered sliding baskets.
You can buy this 25-piece drawer organizer set from Amazon for around $20.
You can buy two-tiered sliding cabinet baskets from Amazon for around $39.
Clear everything out before organizing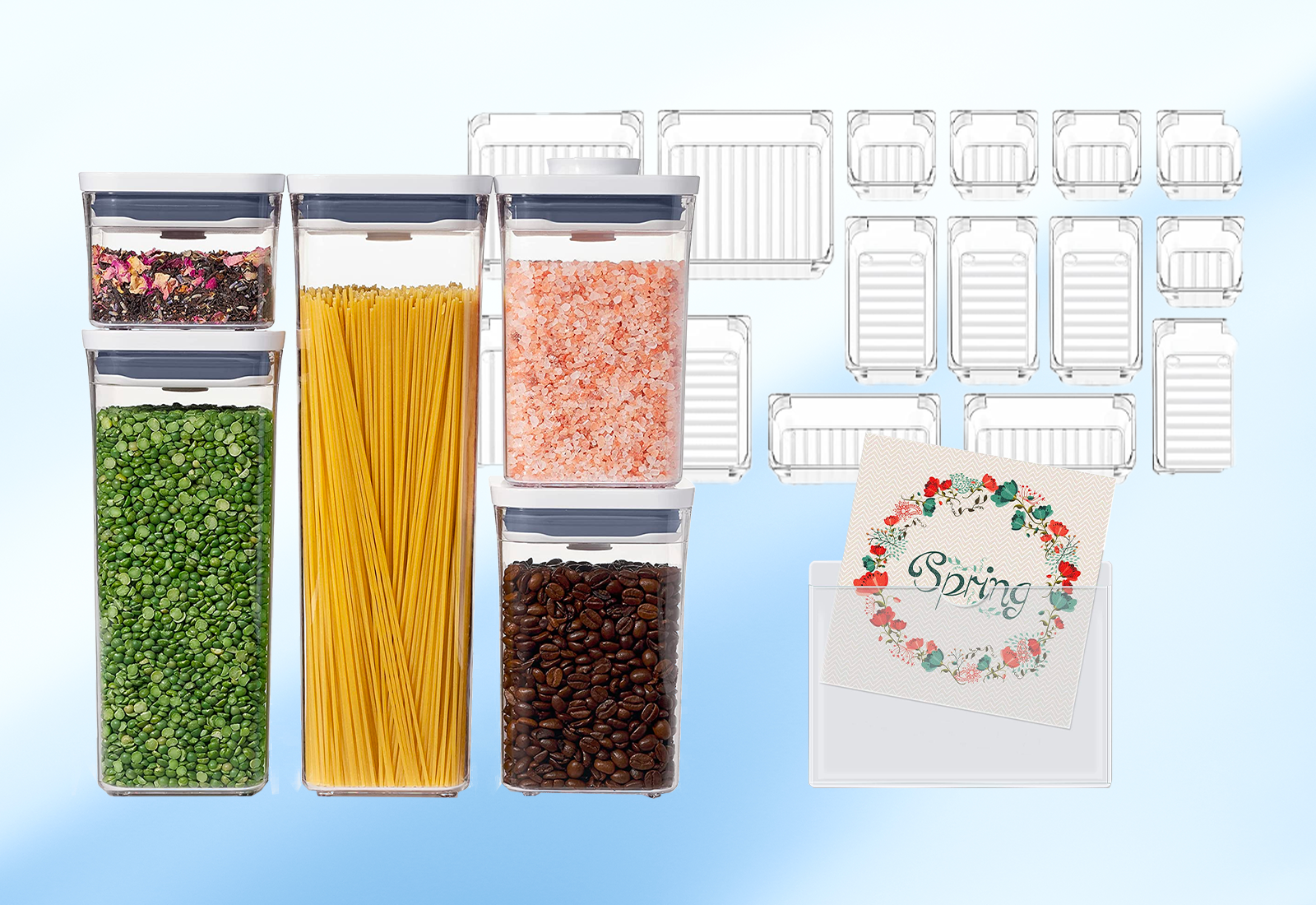 Ancheta admitted she has a couple of junk drawers — and doesn't want to get rid of them. Instead, she's going to try to organize her junk drawers as part of her spring cleaning this year using similar clear drawer organizers, because organized junk feels better than junk in disarray.
You can buy this 24-piece drawer organizer set from Amazon for around $22.
When it comes to organizing her drawers, closets, and pantry, Ancheta's number one tip is to first take everything out. Her first big spring clean this year was her pantry.
"I get super overstimulated and overwhelmed when I see a lot of things," she said. "So my first thing is, OK, everything's coming out, we're getting all the goods out and spreading them out on a table."
Once she can see what she's working with, she discards anything she hasn't used in the past year, and then categorizes or groups similar items in a way that makes sense. Seeing the empty space helps her decide what sort of storage containers will work best.
"I think it's a really good time to say, OK, what do I actually eat? Like on a weekly basis, and put that either at eye level in the pantry or closer up front. Then you can categorize back and use labels, use clear containers, because those packages take up so much space."
For her pantry specifically, she prefers the OXO Pop Containers. The only issue was that she loses the instructions and expiration dates when she gets rid of packaging, so she found sleeves that you can stick onto the containers, cut out anything you need from the packaging, and slip it right in.
You can buy a set of 5 OXO Good Grips Pop Containers from Amazon for around $55.
You can buy 30 self-adhesive pockets from Amazon for around $11.
Bins, bins, and more bins
Bonney also opts for bins for almost everything, including her pantry food storage.
"I love bins. I really do. Right now, I'm actually getting my spring clothes out and putting away my winter clothes. There's drawer bins that you can get on Amazon that are really, really great as well for putting everything in their place," she said.
You can buy this 24-pack of airtight food storage containers from Amazon for around $70.
You can buy six stacking storage drawers from Amazon for around $32.
As Ancheta mentioned, she tries to keep all of hers clear. She likes the Brightroom line from Target since they have affordable bins that you can use anywhere— pantry, medicine cabinet, or even closet.
She applies the same philosophy to decluttering and reorganizing her closet as she does to her pantry: She takes everything out, gets rid of anything she hasn't worn in the past year, and then conceptualizes her storage system.
You can buy six Brightroom small stackable bins from Target for around $60.
You can buy small or large Brightroom all-purpose storage bins for $6 and $12 respectively.
And with that, I wish a happy spring and happy cleaning to all who partake.