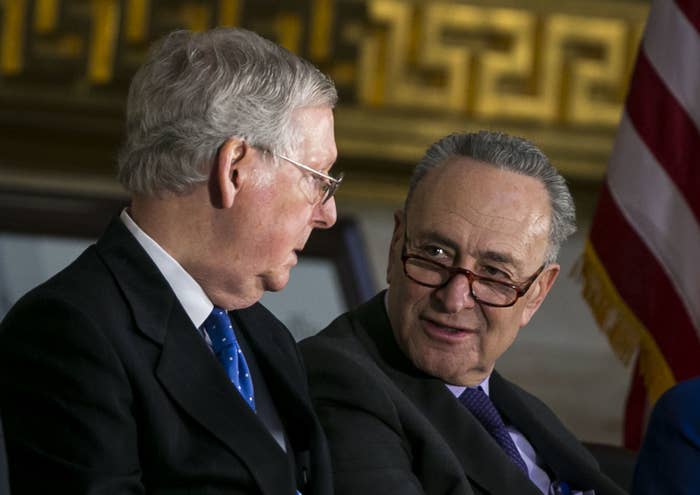 On the first anniversary of President Donald Trump's inauguration, the government has shut down and Congress is seemingly no closer to getting it back up and running, with both Republicans and Democrats refusing to blink in their staredown.
Lawmakers returned to the Capitol on Saturday for an uncertain day after they blew past the midnight deadline to keep the government funded. While Democrats and Republicans have spent the last several hours trying to foist the blame on each other for the shutdown, no clear plan on how to actually end it has emerged.
"There are various compromises being bandied about," Senate Minority Leader Chuck Schumer said at a press conference on Saturday afternoon. "I'm always willing to listen to compromises about how to get this done, but at this point we feel very, very strongly about the issues … and we feel the American people are on our side."
In the meantime, members of Congress are milling around the Hill with their hands in the air, searching for words to describe the situation. "It's ludicrous," said Rep. Jamie Raskin, a Democrat, as he left the House floor on Saturday.
The government shut down at midnight Saturday after the Senate failed to pass a spending bill that a majority of Democrats opposed. The stop-gap funding measure that would have kept the government running through Feb. 16 passed through the House on Thursday with largely Republican support. The bill also included a six-year reauthorization of the Children's Health Insurance Program, which provides health insurance for children of low-income families, in order to attract Democratic votes. But Democrats withheld their support, saying they would not help Republicans get the 60 votes they needed to move the bill forward unless Republicans agreed to negotiate on immigration, among other issues.
Specifically, Democrats want to tie whatever bill they use to re-open the government to a deal to save DACA — the Obama-era program that protects children of undocumented immigrants from deportation — which Trump has set to expire in March.
Schumer went to the White House before the government shut down on Friday to try to reach a deal with Trump himself. Schumer told reporters Saturday he had agreed to support even more funding for the military than the White House had requested and had put the president's long-promised southern border wall "on the table" at Trump's insistence. When pressed on the commitment, Schumer did not say how much he had agreed to consider spending on the wall.
"I reluctantly put his wall request for the southern border on the table; it was his request," Schumer said.
After the meeting, Schumer said they had made "progress," but there was no deal. Trump, meanwhile, has been pointing the finger at Democrats for the shutdown this weekend.
While no clear next step is evident, lawmakers have options. Republican Sen. Jeff Flake told BuzzFeed News on Saturday that Senate Republicans had committed to put a bipartisan DACA bill to a vote during last-minute Friday-night negotiations, regardless of whether President Trump says he supports it. Hypothetically, if House Speaker Paul Ryan makes the same commitment — which senators said he refused to do on Friday night — Democrats might support a shorter-term spending bill that would keep the government open until Feb. 8.

House Republicans emerged from an all-members meeting Saturday morning indicating they could support the three-week temporary funding bill proposed by Senate Majority Leader Mitch McConnell on Friday night. But they refused to tie any such continuing resolution to a commitment to consider legislation to protect DACA recipients.
The White House also said Saturday they would accept a three-week bill that expires on Feb. 8, but said that immigration should only be dealt with after federal funding is reinstated.
House Democratic leaders held their own press conference Saturday morning in which Minority Leader Nancy Pelosi reiterated that her caucus would support a continuing resolution if lawmakers came to an agreement on spending caps and immigration.