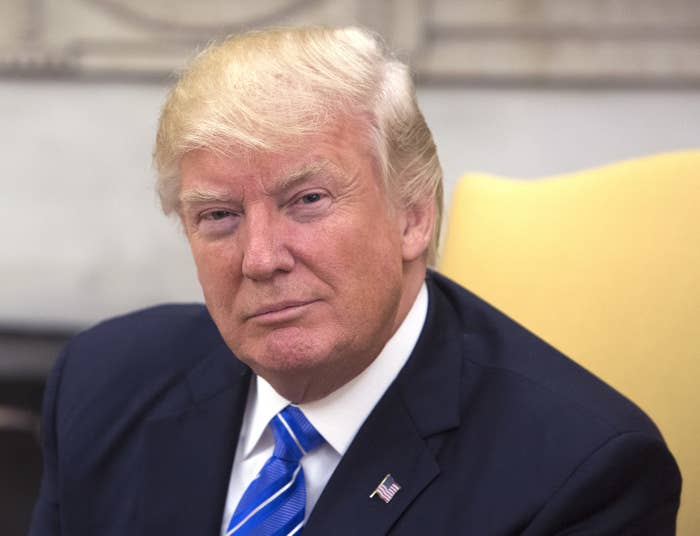 Washington Democrats are warming up to the idea of impeaching President Trump, as opposition to the president drowns out all other causes in the party.

Elected Democrats have to date shied away from progressive activists' demands that the party focus explicitly to removing the president. And Democrats, who are in the minority in both houses, can't actually impeach a president without significant Republican support.
But the Democrats gathered here Tuesday in the heart of the progressive establishment are beginning to speak openly about turning midterm elections into a referendum on whether Trump should finish his term.
"We don't have to be afraid to use the word 'impeachment.' We don't have to think that impeachment is out of our reach," Rep. Maxine Waters said, earning applause during a speech at the Center for American Progress convention, a major gathering of progressive thinkers and politicians, on Tuesday. "I don't know what's going to happen after today, when all of the questions have been raised about him… but I think this is going to put us a little bit further on our way to what I have been calling for for so long, and that is impeachment."
Waters herself, Texas Rep. Joaquin Castro, and other congressional Democrats had said previously that impeachment could come down the road, given more evidence, but as scandals have continued to plague the administration in the last few days the conversation has grown louder. On Monday, Texas Rep. Al Green became the first Democrat in Congress to explicitly call for impeachment, citing Trump's decision to fire former FBI director James Comey last week.
And that was all before news broke Tuesday evening in the New York Times that Trump told Comey to drop an investigation into former national security adviser Michael Flynn — according to a memo Comey wrote after the meeting and was shared with but not seen by reporters.
Rep. Filemon Vela, while not specifically calling for impeachment, said proof of that report would be enough to start the process. "If it's true that the president tried to pressure Comey into backing off his investigation of Flynn, I think there's no question more Democrats will ask for impeachment proceedings," he told BuzzFeed News.
A base united in opposition to Trump has been feeding into the impeachment narrative since the moment he entered the White House in January. Now, as the news gets worse and worse for Trump, progressives believe Democrats are going to have to start embracing the "i-word," especially if they want to do well in the 2018 midterm elections.
"I think that it's inevitable that impeachment is a 2018 issue. I mean, Donald Trump is adding to his impeachment counts every single day, and not even theoretical counts that need to be investigated. I mean, he's outright admitting to them on Twitter," Markos Moulitsas, founder and publisher of the progressive site Daily Kos, told BuzzFeed News. "There is going to be a demand amongst the base, and we're going to see it play out in primaries, and those Democrats who are aggressive in calling for impeachment are the ones that are going to get a lot of attention, are going to be seen as leaders within the party and are going to be able to raise a lot of money on those issues.
"I just think it's inevitable that health care and impeachment are going to be driving 2018."
"We have an out-of-control president who gives classified intelligence to the Russians. Time for Democrats to start using the 'i' word," Adam Jentleson, former Senate Democratic Leader Harry Reid's deputy chief of staff, tweeted Monday. Jentleson now works for the Center for American Progress Action Fund.
But the closer you get to the higher echelons of the Democratic Party in the US Capitol, the more hesitant people are to use the word.
The top two Democrats in Congress, Senate Minority Leader Chuck Schumer and House Minority Leader Nancy Pelosi, raised deep concerns about Trump's action — but avoided the topic of impeachment — in their statements responding to the news of Comey's memo Tuesday.
"At best, President Trump has committed a grave abuse of executive power. At worst, he has obstructed justice," Pelosi said, calling for an independent investigation.
"Concerns about our national security, the rule of law, the independence of our nation's highest law enforcement agencies are mounting. The country is being tested in unprecedented ways. I say to all of my colleagues in the Senate: History is watching."
(On Monday night, prior to the Times report on Comey, Pelosi told a CNN town hall audience that she was skeptical for now of impeachment talk. "What are the facts that you would make a case on?" she said. "What are the rules that he may have violated? If you don't have that case, you are just participating in more hearsay.")
When asked specifically about impeachment, many Democratic members, including Pelosi's number 2, House Democratic Whip Steny Hoyer, have said it is too early to go that far. Instead they have continued to call for more investigation.
"I think you have to look at all the evidence, and I think that's where a lot of us are," Minnesota Sen. Amy Klobuchar told BuzzFeed News, adding Congress needs to hear from Comey and Deputy Attorney General Rod Rosenstein. "I think right now the focus should be on getting the evidence and getting a special prosecutor appointed."
Oregon Sen. Jeff Merkley also avoided the topic when asked whether he thought there would be more calls for impeachment. "I think mostly right now, you're going to hear calls for a special prosecutor. We've got to get to the bottom of it," he told BuzzFeed News at the CAP conference Tuesday.
Even Democrats popular among progressives as potential 2020 candidates are not quite ready to say "impeachment."
"In this country no one is above the law – not even the president of the United States," Sen. Elizabeth Warren said at the CAP conference on Tuesday.
But when asked by an audience member when to "call a spade a spade" and call Trump out for obstruction of justice at the CAP conference on Tuesday, Warren demurred and said that she was calling for an independent investigation.
"If there's nothing there, so be it. If there is criminal activity there, then we're ready for the next step," she said.
Jentleson said he wasn't particularly surprised that members of Congress were hesitant to come out and say so. "The people who are going to be responsible for carrying that out are probably the ones who are most hesitant to talk about it because they don't want to look like they jumped the gun in running to that process," Jentleson said. "So folks at the state and local level, who aren't going to be involved in the process itself, probably feel a little freer to express themselves."
To wit, the Los Angeles City Council conducted a symbolic vote to support Trump's impeachment in a vote earlier this month.
"I think cities are talking about this everywhere, and Americans are concerned, rightfully so. And the representatives are responding to that," Los Angeles Mayor Eric Garcetti told BuzzFeed News, when asked if he expected the city council's idea to spread to other cities. "You know, we have a constitution, it's important to abide by it. We're seeing troubling things coming out of this White House, and we're not just playing defense, though, in LA."
Without the luxury of distance, congressional Democrats are remaining more cautious about whether it's time to invoke such a serious measure, something that they could not do without help from Republicans, who control both the House and Senate.
"If this were Hillary Clinton, impeachment articles would have been filed by now," Rep. Elijah Cummings, the top Democrat on the House Oversight and Government Reform Committee, told reporters on Tuesday. Cummings, whose committee has been investigating the White House's ties to Trump and will subpoena the Comey memo, has already helped introduce legislation calling for an independent commission to investigate how Russian interference in the election.
But when asked if Congress should begin the process of impeaching Trump, Cummings answered simply: "I don't know."
Alexis Levinson contributed to this report.