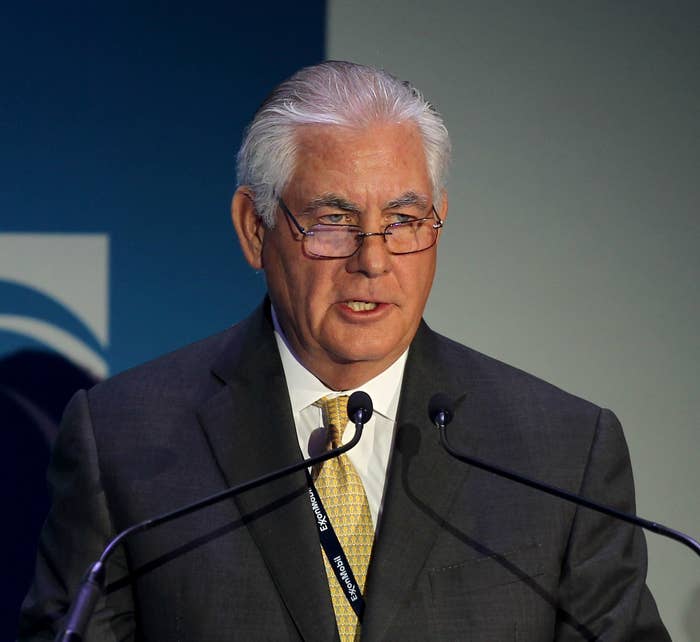 WASHINGTON — President-elect Donald Trump, who campaigned against the Trans-Pacific Partnership, may have decided to overlook how pro-trade Rex Tillerson, CEO of Exxon Mobil and Trump's nominee for Secretary of State, actually is.
The Exxon CEO has been described as pro-trade in recent weeks, citing comments he has made about the energy market and the TPP, as well. And he is even a member of the Emergency Committee for American Trade, an organization whose members "believe in and support measures designed to promote economic growth through the expansion of international trade and investment." Tillerson's membership in the group is mentioned in multiple official biographies.
ECAT supported passage of the Trans-Pacific Partnership, a trade deal supported by President Barack Obama that was attacked by virtually all of the dominant presidential candidates in this cycle.
"The TPP presents a market-opening opportunity that the United States cannot afford to miss," says a 2015 press release on ECAT's website. (The press release also states the TPP caused concerns among some of its members.)
The Trump transition team, Tillerson and ECAT could not immediately be reached for comment. But Tillerson himself has been known to give speeches praising the TPP, as the Daily Beast reported.
"In the years ahead, as the economy and energy landscape evolves worldwide, leaders in the United States and Asia will need to examine how their own policies can support international cooperation and energy trade," Tillerson said in a 2013 speech at the Asia Society Global Forum in Washington. "One of the most promising developments on this front is the ongoing effort for the Trans-Pacific Partnership."
Tillerson has been criticized for his close connections to Russia. Among the prominent Republicans who have called him out for his friendliness with the Kremlin are Sens. Marco Rubio, Lindsey Graham, and John McCain.
In order to get a vote from the full Senate, Tillerson would need to stay in the good graces of all 10 Republicans on the Senate Foreign Relations Committee, which has jurisdiction over Tillerson's nomination. Already, Rubio, who sits on the committee, has indicated that he's uneasy about Tillerson.