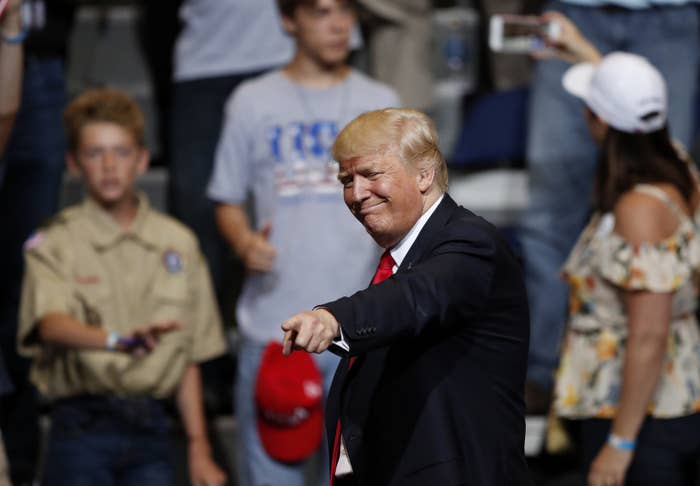 President Donald Trump revealed Wednesday that he has proposed a "solar wall" along the southern border, suggesting for the first time that the sun, and not Mexico, might pay for his signature campaign pledge.
Speaking at a rally in downtown Cedar Rapids, Trump declared that covering his planned border wall with solar panels would generate electricity and be "beautiful."
"We're talking about the southern border. Lots of sun, lots of heat," he told the crowd. "We're thinking about building the wall as a solar wall, so it creates energy and pays for itself."
"That way, Mexico will have to pay much less money, and that's good," he joked. "Is that good?"
It marked the first time Trump has publicly proposed using the border wall as a solar power source, an idea he reportedly suggested to Republican congressional leaders in a closed-door meeting earlier this month. At least one of the border wall designs submitted to the Trump administration includes solar panels, according to proposals obtained by the Associated Press.

"I mean, actually think of it," Trump said Wednesday. "The higher it goes, the more valuable it is. It's like pretty good imagination, right? My idea."
In front of the audience in Cedar Rapids, the idea raised a lot of questions, like what a solar border wall might look like and how much energy it would produce. Trump's supporters seemed to have different pictures in their minds about what exactly the president was proposing.
Still, despite the lack of clarity, many were all for it.
"In my mind I can't envision what he means by a solar wall, you know?" said Bonnie Parr, 60, of Hiawatha, Iowa. "But I suppose if that's the vision then he'll probably make it work somehow."
Tom Hoyt, of Cedar Rapids, said he was interested in the idea.
"I think it would be wonderful if it would work," the 54-year-old told BuzzFeed News. "But I have no idea what it's going to look like."
"I thought it was cool," echoed Marilyn Schneiderman, 68. "How inventive. Why not? Why not make it useful in a multitude of ways?"
The wall was just one of many issues Trump touched on in his 70-minute speech, winding from the Republican Party's special election victories to fake news, Democratic obstructionism, and his disappointment with China. All of it was well received by the crowd, which was made up largely of Trump's most ardent supporters, including some who had camped out overnight to get a spot near the stage.
And on the issue of funding Trump's promised border wall, his fans suggested they would be open to the United States footing the bill, giving the president an out from his campaign promise to make Mexico pay.
"I don't think he meant that when he originally said that, you know," said Mike Peters, 62, of North Liberty, Iowa. "The trouble is the people that don't understand Donald Trump take him too literally. A lot of the things that he says is kind of tongue-in-cheek, he means other things when he says it."