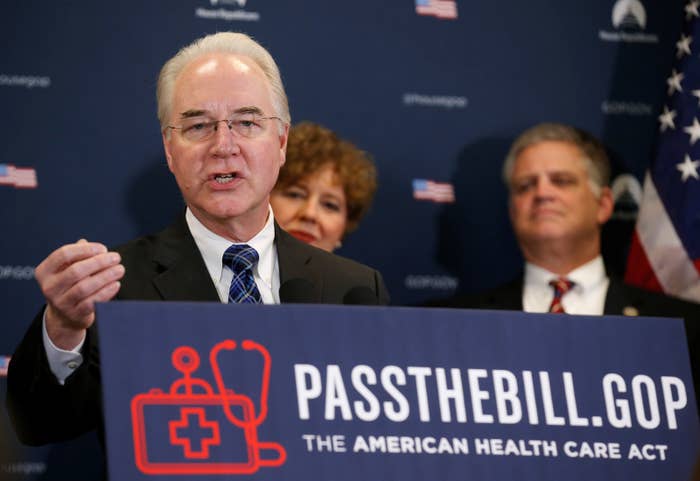 Tom Price's job as Health and Human Services Secretary appears to be in jeopardy over his use of $400,000 in taxpayer dollars for trips on private jets. Asked Wednesday whether he'd fire Price, President Donald Trump responded with a mere "We'll see."
But Republicans in Congress, where Price served for more than a decade, have been hesitant to criticize their former colleague, largely chalking up the scandal over the reported 26 trips he took on private jets to a momentary "lapse in judgment."
For now, Price's future is uncertain. In addition to leaving open the question of firing the Health secretary, Trump told reporters: "I am not happy about it and I let him know it."
But it was clear Wednesday that the Georgia Republican still has plenty of friends on the Hill. Republicans used measured tones to criticize Price, although some questioned his decision to use planes funded by taxpayers.
"Tom is an honorable guy. ... It's real easy to go back and question decisions in retrospect. I've never known Secretary Price to have lied to me on even one occasion, so I hold him in the highest regard. If it proves out that this was not a prudent decision, I'll chalk it up to a mistake," said North Carolina Rep. Mark Meadows, adding that Price wouldn't have done it "maliciously."
"I see no reason for him to leave his position."
Questions about Price's use of private planes began when Politico reported Price has taken at least 24 private charter plane flights since he joined the administration — a number that had since grown to 26 and includes at least two official trips to areas where he owns property and met with family and friends. The cost to taxpayers, according to the site, is over $400,000.
The reports sparked furor. Some Democrats in Congress are even calling on Price to resign.
Senate Republicans were reluctant to comment Wednesday on whether Price should be fired. While they did not condemn the amount of money Price has spent on chartered flights, some said he should have to answer for it.
"I've not talked to Secretary Price, but obviously the number of flights and that sort of thing raises questions. And he's going to have to answer them," said South Dakota Sen. John Thune, a member of Senate leadership.
Sen. Mike Rounds, also of South Dakota, said he is leaving it to the White House to determine whether Price broke the rules and should face punishment. "They have rules for their expenditures, just like we do here. And if he's violated the rules there's consequences for that," Rounds said.
In the House, Price was known as a fiscally conservative member, who served for a time as chairman of the House Budget Committee. Back in 2009 he slammed the use of government jets as "fiscal irresponsibility run amok." In 2010, Price criticized then-House speaker Nancy Pelosi for "flying over our country in a luxury jet."
"I think he's doing a great job as HHS secretary, and I consider him a good friend. But this was poor judgment, and I very much regret it," said Oklahoma Rep. Tom Cole, who served with Price on the House Budget Committee, where Price was chairman for two years. "There might be rare occasions when you would need to do that, but this was clearly excessive."
Cole went on to say it was "a lapse in judgment."
At least some of Price's former House colleagues have further questions about his private plane use. The House Oversight Committee sent letters to the White House and the heads of 24 federal agencies, including Price, on Tuesday seeking information related to using private planes for official business.
"The Committee is examining the extent to which non-career officials at federal departments and agencies either use government-owned aircraft for personal travel or private non-commercial aircraft for official travel," Reps. Trey Gowdy and Elijah Cummings, the top Republican and Democrat on the committee, wrote in the letter to Price.
They requested related information and documents and gave a deadline of Oct. 10.
"I want to get the facts," said Ohio Rep. Jim Jordan. "Tom Price is a good guy, and a guy that I worked with fairly closely when he was here in Congress. … I want to wait until we get all the facts and information."
Fellow Georgia Rep. Buddy Carter insisted the situation would get worked out.
"He's got a very busy schedule. And I know from experience — I'm not nearly as busy as he is — but I know it is very difficult to get to as many places as you need to be," Carter said.
"We need Tom Price where he's at."