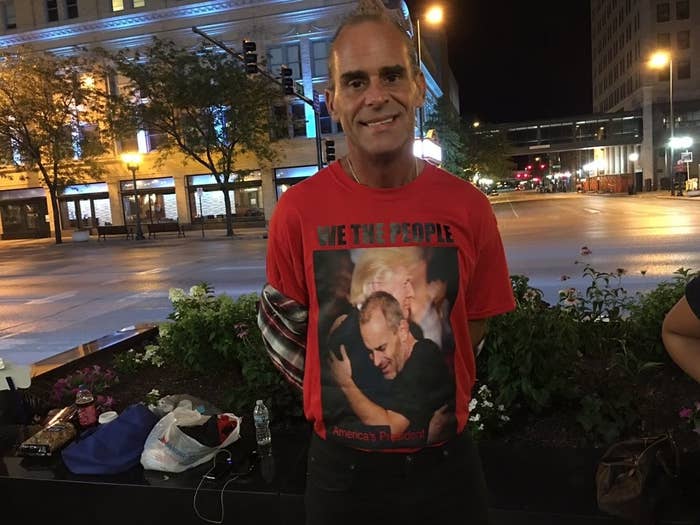 CEDAR RAPIDS, Iowa — On Tuesday night, more than 24 hours before President Donald Trump was scheduled to hold a rally in eastern Iowa, a crowd of die-hard supporters had already started to line up in front of the arena where the president is set to appear.
Most of the people gathered have become regulars at Trump rallies. Some arrived early to make sure they got into the arena, while others wanted a good position in the crowd, to better show Trump their appreciation. For many of them, the lead-up to the event is just as much a part of the experience as the rally itself.
"We've made, it seems like, lifelong friendships, from people that we've gotten to spend [time with] and hang out," said Nancy Pemberton, 24, a Nebraskan who said this will be her 12th Trump rally.
The connections they form allow these Trump fans to take shifts at the front of the line— grabbing a couple of hours of sleep at a hotel, or running to a car or the bathroom. When a supporter has made their presence known to the group, the rest recognize them and hold their spot.
"We just kind of give each other energy and encouragement, and just being with other supporters who have that positivity really helps, just gets us in the mood for the rally itself," said Becky Gee, 32, of Ohio. "This is just a whole event, even though we're just sitting out here, it looks like it would be boring, it's not. It's awesome. We love it."
These friendships sometimes go beyond that day's events.

"A lot of us are from other states. This is a great way where we can all meet up again and coordinate and see each other," Benjamin Hirschmann, 21, of Michigan, said, motioning to his friend, Meredith Wynne-Morton, 32, of Illinois. "We met seven months ago in Grand Rapids, and this is the first time I've seen her since."
Wynne-Morton and Hirschmann said they are regularly in touch on social media, and talk about everything from politics to their personal lives.
"We're bros," Wynne-Morton said. Hirschmann said some of the Trump supporters have plans to continue hanging out after the rally ends.
Most of the people in the initial line-up were not from the Cedar Rapids area, largely hailing from surrounding states. One man, Gene Huber, who drew attention to himself by jumping on stage at a Trump rally in Melbourne, Florida, earlier this year, had flown to Iowa from Florida for the event. He told BuzzFeed News that, since the Melbourne rally, he has taken to riding around Florida in a "Trumpmobile" whenever the president is in the state. Huber noted that Donald Trump Jr. tweeted a picture of the car just before Easter.

The atmosphere was festive in downtown Cedar Rapids, the second largest city in Iowa. One man wore a Trump banner wrapped around his shoulders, and someone had stuck American flags and spelled out "Trump" in party decoration on the side of the building. As police drove by patrolling the area, supporters would motion to them to keep driving on. One man said they had plans to hand out condoms to protesters, asking them "not to procreate."
And while many of the early birds were from out of state, the bulk of the crowd will be from Iowa, a state that rejected Trump in favor of Texas Senator Ted Cruz in the Republican caucus, but embraced him in the general election. Now that Trump is in office, his fans here continue to be thrilled with him. One Iowa woman told BuzzFeed News she started lining up at 3:30 p.m. on Tuesday — a solid 27 and a half hours before the event was scheduled to start.

Trump's Cedar Rapids event is scheduled to begin at 7 p.m. CT on Wednesday.

CORRECTION
Nancy Pemberton said this will be her 12th Trump rally. A previous version of this post misstated her name.