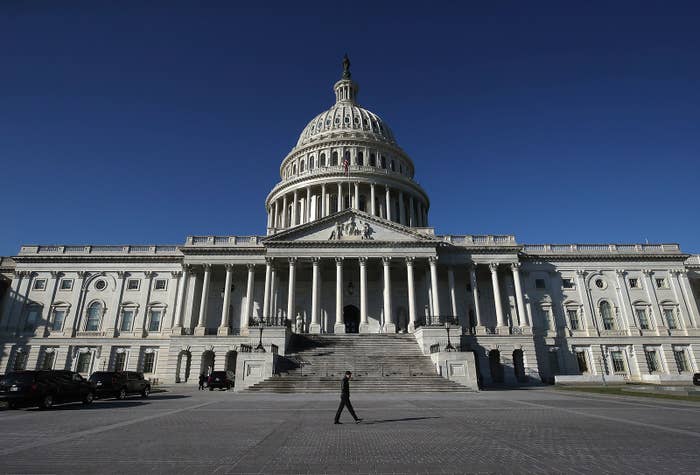 The House is nearing agreement on a bipartisan deal that would overhaul the way sexual harassment cases are dealt with on the Hill.
The legislation is expected to be introduced as early as next week with enough support to pass uncontroversially through the House within days. The Senate is still working on its own reforms.
"It is my goal that we can get this done next week," Rep. Gregg Harper, chair of the House Administration Committee, told BuzzFeed News on Thursday. "I'm hoping that we can file the bill Tuesday evening, do a markup on Wednesday, and then vote on it under suspension on either Thursday or Friday."
Harper, who left the room for last-minute changes to the deal, said the legislation would ensure that members would be financially responsible for any sexual harassment settlements that are made through the Office of Compliance, the secretive body that handles workplace complaints in Congress. "No way that taxpayers should be paying for this," Harper said.
The settlement payments became a major issue on Capitol Hill late last year, after BuzzFeed News first reported that then-Rep. John Conyers settled a wrongful dismissal claim alleging sexual harassment using funds from his office budget. Since then, lawmakers have sought to make some information about other settlements public, including releasing figures for the amounts paid to settle a variety of workplace misconduct (not solely sexual harassment) through the Office of Compliance process since fiscal year 2008.
Additionally, Harper told BuzzFeed News it would be made clear to members that they are not to use their office accounts — known as Members' Representational Allowance (MRA) — to make any sort of settlement payments. "Absolutely no member better use the MRA for any such claim, and that will be spelled out. How we'll do that is still something we're trying to be certain of," Harper said.
A spokesperson later clarified in an email to BuzzFeed News that they would be dealt with separately.
"Administrative reforms will be implemented in the House to work in concert with the Congressional Accountability Act (CAA) reform legislation. One of these reforms will be a ban on the use of MRAs for settlements. The Committee will release the administrative reforms along with the CAA reform legislation as early as next week," she said.
The legislation will be an amendment to the Congressional Accountability Act, a 1995 law that established the OOC and applied several national labor laws, like the Americans With Disabilities Act, to congressional employees. Members established five principles they hope the legislation will accomplish, which were provided to BuzzFeed News. They are:


"Clearer and fairer reporting and dispute resolution process for employees."

"Protections for employees who file claims under the Congressional Accountability Act."

"Increased transparency with respect to payment of awards and settlements, while protecting the victim's identity."
"Members will be personally accountable when settling claims of sexual harassment."

"New requirements for reporting cases, activities, and other reforms for the Office of Compliance's operations."


The House Administration Committee has held multiple hearings on sexual harassment in the congressional workplace as part of an ongoing investigation over the last few months. In the meantime, several members of Congress have been accused of sexual harassment and have either resigned or announced decisions not to run for reelection. They include Sen. Al Franken and Reps. Conyers, Ruben Kihuen, and Trent Franks. Rep. Blake Farenthold, who faced a lawsuit in 2014 brought by a former employee alleging ongoing sexual harassment, also recently announced his decision not to seek reelection, after Politico reported in December that he had quietly settled the case for $84,000 in taxpayer money.
Virginia Rep. Barbara Comstock, a Republican member of the House Administration Committee, told BuzzFeed News that she thinks everyone is working as quickly as possible to pass the legislation.
"We're all still, you know, working on it to get it. I think there's a lot of agreement on it. ... You know, I think, since we've had the hearings from beginning to end, we've all kind of come on a pretty good consensus on all of this," Comstock told BuzzFeed News.
Comstock also noted that the bill includes many aspects of the Member and Employee Training and Oversight On (ME TOO) Congress Act introduced by California Democratic Rep. Jackie Speier last year. Speier has been one of the leaders in the House on the issue of sexual harassment and a point person on this legislation. Although she is not on the House Administration Committee, Speier told BuzzFeed News earlier this week that she was pleased with the work Republicans working with her on the new legislation.
The pressure on lawmakers to address sexual harassment has built as more revelations about the Office of Compliance and the often secretive process through which members have settled allegations have come to light.
Members working on the issue said at this point there are no major sticking points for the new legislation. At a press conference on Thursday, House Minority Leader Nancy Pelosi also said members are putting the "finishing touches" on the bill and that she also expects it to come up next week. House Speaker Paul Ryan's office did not immediately respond to a request for comment.
"I'm not sure it's everything we need, but I think there are some big steps forward from the current situation," Rep. Zoe Lofgren, a Democrat on the House Administration Committee, told BuzzFeed News. She cited updates in the legislation that will address the mandatory "cooling-off period" required by the OOC in the process of reporting an incident, and added the mandatory mediation process would be voluntary on the part of the victim. She also said it would allow for people to work remotely so that after a complaint the accuser wouldn't need to work in the same environment as the person who harassed them.
She said she had only seen an outline of the legislation and also left room for changes.
"I do think that it is big improvements from where we are today," Lofgren said.