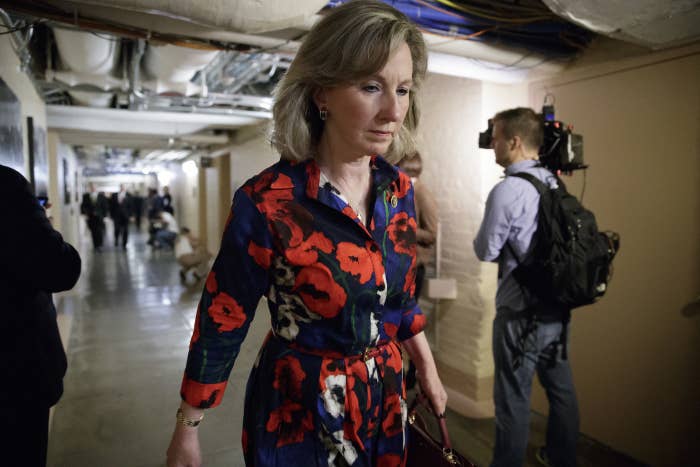 The House of Representatives passed a resolution Wednesday that requires all members and employees of the House to complete sexual harassment training every year.

The vote took place after weeks of growing discussion within Congress to change how it deals with sexual harassment in an environment that has little oversight. It also comes at a time when the House is grappling with how to respond to multiple sexual harassment allegations made against Rep. John Conyers, a high-profile Democrat, as first reported by BuzzFeed News last week.
"Today's bill is an important step in the right direction, but let's not fool ourselves, it is a baby step. … We are in the midst of cultural revolution," Democratic Rep. Jackie Speier, who cosponsored the resolution, said on the House floor just before the vote. "We are elected representatives of the American people and we must not hesitate to do what is needed to fix a broken system."
Republican Rep. Barbara Comstock, who cosponsored the bill with Speier, also called the legislation a first step, adding that Congress needs to take action to "make it easier for women to come forward," provide legal counsel for victims, prohibit "any kind of member-staff relationships," and end the use of taxpayer money to settle sexual harassment complaints.
"This is a bipartisan problem. ... It is bipartisan legislation because bad behavior transcends party labels," Comstock emphasized, calling this "a watershed moment."
The resolution will require all members and employees to complete training within 90 days of each session or the date they were hired. For the current Congress, House members and its employees have 180 days after the start of the new session begins in January 2018. Interns would also have to participate in the training.
The Senate has already passed a similar measure that will also require sexual harassment training for its members and employees annually. The Senate resolution, passed on Nov. 9, requires that all new hires and members go through the training within 60 days.

Other legislation has also been in the works to address sexual harassment, and it has growing bipartisan support. The "Me Too" Congress (Member and Employee Training and Oversight On Congress) Act is intended to overhaul the current complaints system and make it more victim friendly. The legislation gained several cosponsors in the House immediately following BuzzFeed News' report that Conyers made a secret settlement in 2015 regarding a wrongful dismissal complaint that alleged years of sexual harassment.
Conyers, who flew back to Michigan on Tuesday evening, was not present for the vote.
House Speaker Paul Ryan called Wednesday's vote an "important first step as we deal with this problem," noting that the House Administration Committee plans to hold a hearing next week to look at the issue of secretive settlements to cover up sexual harassment allegations in Congress.
"We're taking the issue of sexual harassment very seriously. We're going to continue to do that. But we need to have a comprehensive review of all of these things, so that we can have a comprehensive response," Ryan told reporters Wednesday morning.
Minority Leader Nancy Pelosi also called the bill a "first step," and urged the House to pass the Me Too Act as well, saying that Congress has a "moral duty to show real, effective leadership" on the issue of harassment.
Bipartisan support for mandatory harassment training grew in the weeks leading up to the Conyers reports, after several female members of Congress shared their stories of past harassment by staff and members.
Both Speier and Comstock shared stories they have heard from staff of past assaults and harassment on the House floor Wednesday. Speier said a woman recently told her that a member of Congress once assaulted her on the House floor late at night. "A member came up behind her, grinded himself up against her, and then put his tongue in her ear," Speier said, but did not name the member of Congress or say whether he is still serving in the House.
The House Administration Committee held a hearing midway through November about preventing sexual harassment in the congressional workplace, where members were supportive of implementing sexual harassment training.
Reps. Gregg Harper and Robert Brady, the chairman and leading Democrat on the House Administration Committee, respectively, also sponsored the resolution requiring sexual harassment training.