The House of Representatives voted Tuesday to overhaul the way Congress handles sexual harassment claims, in the wake of multiple allegations against members in the last few months.

The bipartisan effort to address sexual harassment on the Hill comes as members of both parties and both chambers of Congress have resigned or announced they will not seek reelection in light of sexual misconduct allegations, including former Michigan Rep. John Conyers, who resigned following BuzzFeed News' reporting that he made a secretive payment using office funds to settle a sexual harassment claim. Since then, Sen. Al Franken and Rep. Trent Franks have resigned over other harassment claims and Reps. Blake Farenthold, Ruben Kihuen, and Patrick Meehan have announced they will not run for reelection.
"Today, this bipartisan group of legislators is taking a historic step that has plagued this institution for generations. For years members of Congress have gotten away with truly egregious behavior by mistreating their staff," Democratic Rep. Jackie Speier, whose ME TOO Act laid the basis for the legislation passed Tuesday, said just before the vote. "Thanks to the Me Too movement, the American public has made it clear that they have had enough. They expect Congress to lead, and for once we are."
Significantly, the bill passed by a voice vote Tuesday would overhaul the Office of Compliance, the secretive body responsible for handling sexual harassment claims and other employment issues in Congress. The OOC has, for two decades, facilitated taxpayer-funded settlements for allegations against members of Congress and their offices, including sexual harassment.
It would, for the first time, require that all members of Congress reimburse taxpayers for any settlements they pay out for sexual harassment or other complaints against them within 90 days or face withheld amounts from their salary until the settlement is paid off. The Senate will now also have to address the legislation before it can head to the White House for President Donald Trump's signature.
The House also passed a separate measure, however, that will take effect within the House immediately. That resolution specifically prohibits House members from using their office funds, salary adjustments, title changes, or appointments to quietly fund settlements for claims against their offices. The move comes after BuzzFeed News first reported that Conyers settled a sexual harassment claim by rehiring the woman as a temporary employee for a job she was not expected to show up for, in order to pay her $27,000.

"When news broke that there had been a series of sexual harassment settlements paid for by tax dollars, I think a lot of Americans, even by the low standards they have for this body, were shocked to hear that," Republican Rep. Ron DeSantis said on the House floor just before the vote. "And it's almost as if the rules were set up to allow members to get away with this. ... Taxpayers should not bail members of Congress out for misconduct. And this bill fixes that and makes them personally liable."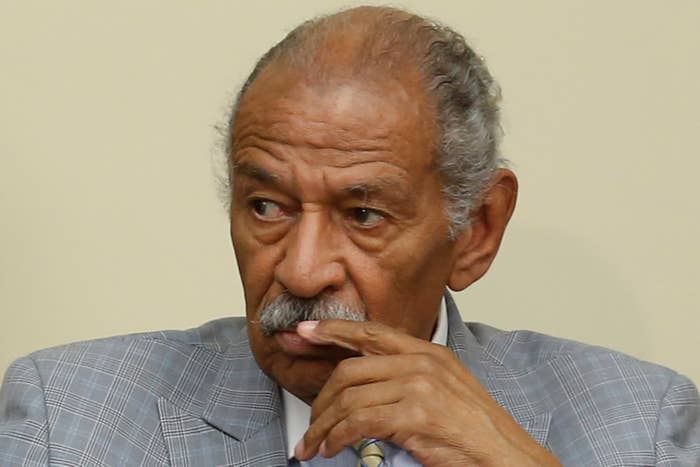 Republican Rep. Susan Brooks, who chairs the House Ethics Committee, also praised those changes on the floor Tuesday, saying that the process "that allowed for silencing of victims and spending taxpayer dollars to settle claims for members of Congress must be changed."

The resolution also adds two new points to the House Code of Conduct. It explicitly prohibits sexual relationships between members and employees who work under their supervision (with an exception made for married couples). And it adds, officially, that members "may not engage in unwelcome sexual advances or conduct" toward other members or House employees.
The resolution also requires House offices to adopt an anti-harassment, anti-discrimination policy and establishes the Office of Employment Advocacy. The latter is meant to provide guidance to employees on the House's procedures for handling employment issues after members flagged concerns that employees did not have anyone advocating for them in the process of filing complaints.
Meanwhile, the bill that still must pass the Senate makes more sweeping changes that will affect both chambers of Congress if passed into law.
While the current OOC complaint system has drawn criticism for requiring employees to sign a confidentiality agreement to move forward with their complaint, the legislation would allow employees pursuing complaints and the office accused to discuss the claims. It would also remove the requirement that complainants go through mediation before continuing with a claim through OOC, instead making it optional. And it would allow employees to work remotely while a complaint is pending and grant paid leave for employees whose responsibilities require them to work on site.
The legislation extends protections for House employees to unpaid staff, like interns. It would also rename the OOC and rebrand it as the Office of Congressional Workplace Rights.
The bill would take a step toward making the OOC more transparent, requiring the office to make public reports twice a year about complaints it received and settlements made. It would also create a climate survey that offices would take every other year.
Just before Tuesday's vote, several Democrats said they hoped the legislation would be a first step to members taking action on sexual harassment outside of Congress as well.
"I am committed to ensuring that Congress looks beyond itself to improve the lives of all workers in America," Speier said on the House floor. "Today we take a great step forward for the congressional workplace. We show that we can come together across party and geography. Tomorrow, let's continue to work to make sexual harassment and violence in all workplace settings a thing of the past."