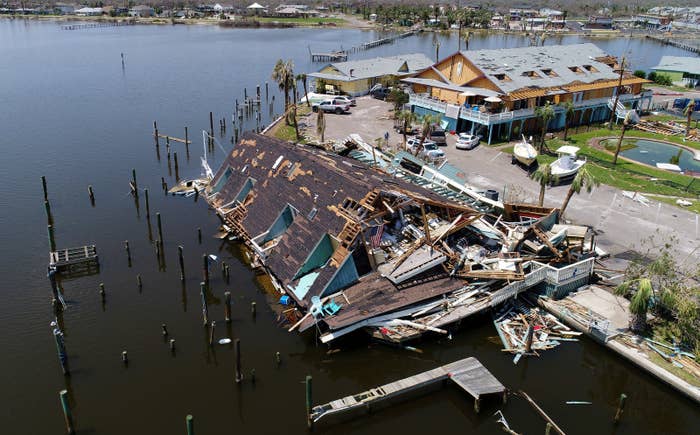 The House of Representatives passed a Hurricane Harvey relief-funding bill almost unanimously on Wednesday, drawing broad support from members on both sides of the aisle.
The $7.85 billion legislation marks the first step toward sending additional federal funding down to affected areas that were ravaged by Harvey and left many people and cities — including Houston — in dire situations. It passed the chamber Wednesday with a vote of 419–3.
Republican Reps. Justin Amash of Michigan, Andy Biggs of Arizona, Thomas Massie of Kentucky were the only three members to oppose the Harvey relief funds.
The bill now heads to the Senate, where it is also expected to pass. It's not immediately clear when the Senate will take up the bill, but it is expected to sometime this week.
The funding comes at a crucial moment, as FEMA is reportedly running out of cash as it continues to work on responding to Harvey and preparing for Hurricane Irma, a Category 5 storm, that is making its way toward Puerto Rico, the US Virgin Islands, and Florida. President Trump has already declared states of emergency in all three areas ahead of that storm.
The money fulfills Trump's initial request for aid, but the conversations around providing federal relief for Harvey are likely far from over. The affected areas may require far more by the time all damage is assessed. Texas Gov. Greg Abbott has estimated that as much as $180 billion may be needed to help recover from the storm, according to Reuters.
"Nothing can really capture just how big and wide this devastation is," House Speaker Paul Ryan said earlier Wednesday, of the storm that killed more than 50 people. "You hear a lot of numbers. Tens of thousands of people in shelters, hundreds of thousands of homes damaged. … The government will be there to respond to the needs of the people who will face this unprecedented devastation."

Republicans were committed to keeping relief funding a noncontroversial matter, unlike the months-long fight in Congress to secure federal funding after Hurricane Sandy, which hit the northeast in late 2012.
Republicans, who control both the House and the Senate, expected relief funding would be easy to pass. But it was unclear whether Harvey would be a wrench thrown into their agenda for the fall, which is packed with deadlines and an ambitious agenda. For now, the House has addressed the issue and passed it on to the Senate.
CORRECTION
Rep. Thomas Massie's name was misspelled in an earlier version of this post.