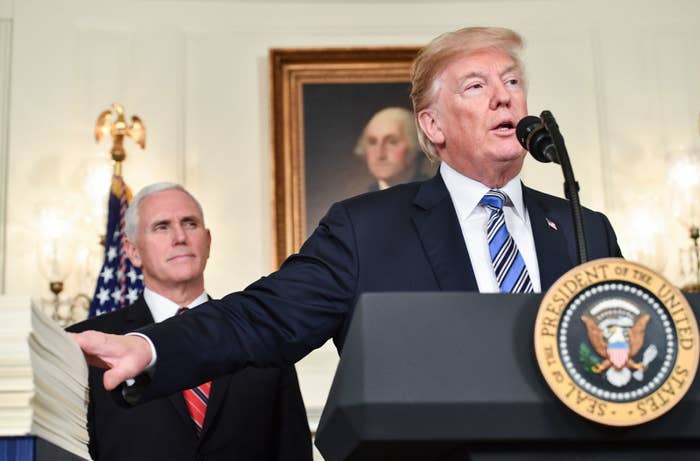 Congress voted to avoid another government shutdown — what would have been the third in three months — after the Senate passed a $1.3 trillion spending bill just after midnight.

President Donald Trump threatened to throw a wrench into that plan, tweeting Friday morning that he might veto the bill and force a shutdown anyway, despite multiple White House assurances in the last several days that he would sign it. A few hours later, Trump switched gears again, saying that he had signed it after all.
"There are a lot of things that I'm unhappy about in this bill. There are a lot of things that we shouldn't have had in this bill, but we were, in a sense, forced if we want to build our military. ... I say to Congress, I will never sign another bill like this again," Trump warned at a press conference Friday afternoon.
Trump insisted he had "looked very seriously" at vetoing the bill. "I was thinking about doing the veto. Because of the incredible gain that we've been able to make for the military, that overrode any of our thinking," he said.
Trump went on to ask Congress to pass legislation that would grant him line-item veto powers, which would allow him to strike any language he disapproves of in future spending bills. Congress passed similar legislation in 1996 under then-president Bill Clinton, but the Supreme Court found the law to be unconstitutional. Trump also, once again, asked the Senate to change its rules so that just 51 members would be needed to pass legislation; a change that would give Senate Republicans carte blanche to pass bills without any Democratic support.
Congress had made the first fiscal deadline this year with just under 24 hours to spare before Trump suggested he might veto the bill Friday morning. A shutdown was slated to begin at midnight.
If Trump had vetoed the bill, it would have been very difficult to avoid a shutdown at this point: Many members and senators left Washington early Friday for a two-week break.
The bipartisan legislation, which includes domestic and military funding, passed the Senate 65–32 just after midnight Friday morning. The bill also includes funding for some modest gun control measures, state-level election security, and new fencing along the US-Mexico border.
Trump himself had praised the bill in a tweet just the day before. In a briefing with reporters Thursday afternoon, Office of Management and Budget Director Mick Mulvaney said that the president would sign the bill. In his own press conference Thursday, House Speaker Paul Ryan said, "The president supports this bill, there's no two ways about it."

The bill is the last must-pass piece of legislation on Congress's to-do list through the fall. It will keep the federal government funded through the rest of the fiscal year, which ends Sept. 30, giving Congress a break from the mad rush to keep the government open that has dominated Capitol Hill every few weeks for the first months of 2018. That will also allow members to focus on campaigning for the midterm elections in November, as Democrats and Republicans fight for control of Congress.

Even before Trump's veto threat, passing the bill wasn't without its drama. Once again, Kentucky Sen. Rand Paul, who caused a brief shutdown in February by stalling a spending bill, kept the Senate from moving forward on a vote until late in the evening. On Thursday, he live-tweeted sections of the bill as he read it, largely objecting to the fact that lawmakers weren't given enough time to review it. He stopped tweeting just after 8 p.m. ET and then appeared on Fox News.
Just before 11 p.m., however, Paul agreed to allow a vote after discussing the issue with Majority Leader Mitch McConnell. But then it was Idaho Sen. Jim Risch's turn to stall over a section of a bill that would rename a section of wilderness in his home state after the late governor Cecil Andrus, a former political rival of Risch's. At his urging, the Senate passed an amendment to strike that language, but Sen. John Cornyn said the House wouldn't agree to it, so the name change will stay. After meeting with McConnell, Cornyn, and others, Risch eventually conceded.
Republicans and Democrats had touted different aspects of the omnibus. While Republicans claimed military funding and border security spending as wins on their side, Democrats pointed to investments in domestic programs like community health centers and affordable housing.

But the legislation left out several major agenda items for both parties, including provisions to protect DREAMers, bring down costs on the Obamacare markets, significantly alter gun control laws, and address sexual harassment, on Capitol Hill.

Democrats pushed for months, unsuccessfully, to include language that would address DACA, the Obama-era program that granted the children of undocumented immigrants the right to live and work in the US. Trump set the program to expire earlier this month, though it remains in place due to court injunctions. At one point, Democrats were willing to agree to $25 billion in border wall spending in exchange for a DACA deal.
But the omnibus doesn't contain any protections for DACA recipients. It does include $1.6 billion for fencing and border security technology, with limits on how the money can be spent, however. The bill does not allow for the construction of new concrete barriers, as Trump has proposed, for example. Regardless, Trump had promised his supporters on Twitter just Thursday that the "rest will be forthcoming."
Democrats had also hoped to use the omnibus as a vehicle to debate new gun control measures, following the school shooting in Parkland, Florida, last month. But that debate never happened. Instead, the bill contains two modest gun provisions that are designed to improve the federal background check registry and unshackle the Centers for Disease Control and Prevention to study gun violence.

For two decades, federal law has banned the CDC from using federal funds to "advocate or promote gun control." As a result, the agency has mostly avoided studying gun violence at all. But the new spending bill includes a clause stating "the CDC has the authority to conduct research on the cause of gun violence."
The bill also contains legislation from Texas Sen. John Cornyn, the No. 2 in Senate Republican leadership, to provide grants to state law enforcement to encourage them to contribute more information to the federal background check registry.
Republicans and Democrats had also worked for months to craft a bill to stabilize the Obamacare markets, but ultimately could not come to an agreement. The most recent Republican proposal was rebuffed by Democrats because it would have restricted insurance companies from providing abortion coverage.
The spending bill also does not address language that would overhaul how Congress handles sexual harassment — which has already passed the House — something that members of both parties had been pushing for. Senate Minority Leader Chuck Schumer assured reporters Thursday that after the spending bill passes, "we are going to get something done" on sexual harassment.
The bill does, however, include $380 million for election security measures that will be used to provide funding for states to upgrade voting machines to ensure that they create an auditable paper trail, in response to Russian meddling in the 2016 election. The funding comes from the bipartisan Secure Elections Act, sponsored by Oklahoma Sen. James Lankford and Minnesota Sen. Amy Klobuchar, which was folded into the omnibus bill this week after it gained the support of both leaders on the Senate Intelligence Committee.
"Although I object to this year's broken budget process, the funding in this omnibus appropriations bill will help states modernize their voting systems and ensure that auditable ballots can provide safeguards against manipulation and malicious cyber attack," Lankford said in a statement.
This legislation has been the center of attention in Washington this week, as people remained unsure whether Congress would be able to avoid another shutdown. The legislation, which is more than 2,200 pages, was not made public until late Wednesday evening, giving lawmakers little time to evaluate what was in it before beginning to vote to pass the bill Thursday.
Rep. Mark Meadows, who chairs the conservative Freedom Caucus, said it was "troubling" that the House had voted on a bill that spends $1.3 trillion, but no one had had the time to read. The Freedom Caucus formally opposed the bill.
"There's not a single member of Congress that read that bill before they voted on it. I made it to page 700. I can't imagine anyone made it to 2,200," Meadows said.
"Did the process take longer than we had hoped this week? Yes," House Speaker Paul Ryan said at a press conference Thursday, when asked if it was fair to put members in a position to vote on something they hadn't had time to read. "But it was a process where you had negotiations between Republicans and Democrats, House and the Senate. But we have a hard deadline that we're going up against."
Sen. Bob Corker, who is retiring at the end of the year, briefly took to the floor late Thursday night to question why the Senate had to stay and vote so late on a bill that would pass easily Friday. "Look, whatever's going on, I could care less, but finish by 10 or just start again in the morning at 8," Corker said after the vote. "And I work as hard as anybody around here, OK? It's just obnoxious to have a vote at 12:24."
UPDATE
This story was updated after President Trump announced that he had signed the spending bill to avoid a shutdown.