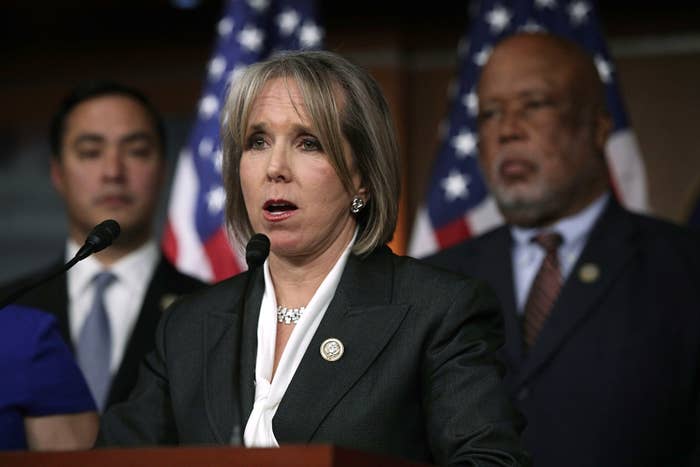 Members of the Congressional Hispanic Caucus, traditionally a group reserved only for Democrats, are weighing whether to allow Republican members to join, and the talks are growing increasingly heated.

A tense meeting in which one prospective Republican member allegedly accused the caucus's chairwoman of being insufficiently Hispanic may have derailed the former's chances, two members of the CHC told BuzzFeed News Thursday night.
Chairwoman Michelle Lujan Grisham told members about the interaction with Florida Rep. Carlos Curbelo, one of the Republicans hoping to join the caucus, at a caucus meeting earlier Thursday, the sources said. In addition to comments about her Hispanic credentials, Lujan Grisham told CHC members that Curbelo invaded her personal space, according to the two members, who spoke on background because of the sensitivity of the issue.
One of the members said that based on Lujan Grisham's version of events, Curbelo was "suggesting that he's more Hispanic than she is." Curbelo also allegedly made a comment about how he speaks Spanish to his children every day — an implicit dig at Lujan Grisham's lack of fluency, the member said.
"From what I understood, Curbelo ... did not take the conversation [with Lujan Grisham] well," the second CHC member said. "And at some point he probably got too close into her personal space, and she did not appreciate that either."
A spokesperson from Curbelo's office disputed the Democrats' account Thursday night and said he did not invade Lujan Grisham's personal space and remained seated during the meeting, adding that he only raised his voice after she did.
"This is a pathetic and dishonest attempt to deflect attention from the grotesque bigotry and discrimination being perpetrated by Ms. Lujan and some members of the Congressional Hispanic Caucus against a fellow Hispanic," Joanna Rodriguez, the spokesperson for Curbelo, told BuzzFeed News.
Rodriguez said it was a "closed-door meeting" in Curbelo's office that was also attended by two members of his staff and a member of Lujan Grisham's staff as well.
Asked for comment on the meeting Thursday night, Lujan Grisham gave BuzzFeed News a one-line statement: "I urge Rep. Curbelo to focus on the critical issues that are important to the Caucus moving forward."
Lujan Grisham's story of her encounter with Curbelo "was not taken very well" by the CHC on Thursday, one member said, noting the varying levels of Spanish fluency among members. "I don't think anyone appreciates in the caucus being told how Latino you are, how Latino you are not."
Curbelo has publicly expressed increasing frustration at the CHC's lengthy deliberation over his request to join the caucus; he asked to be the first Republican to join back in February and still has not gotten an answer.
As the process has drawn out, Curbelo has grown "huffy," one current CHC member said, adding that he risks losing the "damn vote" whenever it does come up because of the confrontation with Lujan Grisham.
Earlier Thursday, Lujan Grisham told BuzzFeed News that the caucus is finalizing letters to Curbelo and fellow Republican Rep. Ileana Ros-Lehtinen, both of whom have expressed interest in joining the caucus, that would formally invite them to apply.
After accepting the invitation, the caucus would vote on whether they can join. The vote could be as early as next Thursday, Lujan Grisham said.
"I can say that my sense is that a majority of the caucus really sees the value of having bipartisan work, particularly on immigration issues and [the] DREAM [Act], but I will tell you that there's a growing number of concerns about how do we do that strategically when we have been so value-divided between us and our Republican colleagues," Lujan Grisham said, when asked how many CHC members she believes would oppose or support a Republican joining the caucus. "I think that is likely to be a discussion that we'll continue to have right up until the time people make a decision to vote, so I think … people are conflicted by those two parallel efforts."
Asked if Curbelo still wanted to be in the caucus, Rodriguez said "yes" and pointed out that the Congressional Black Caucus is bipartisan. Utah Rep. Mia Love is the only current Republican in the CBC.