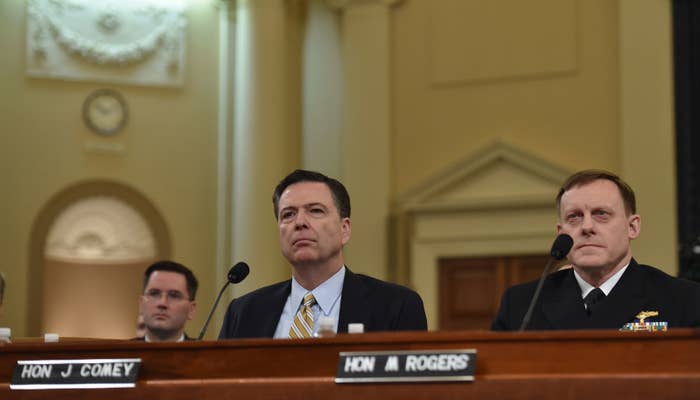 FBI Director James Comey said Monday that there's no evidence that former President Obama wiretapped President Trump at Trump Tower during the 2016 campaign — a long-awaited major revelation and a huge rebuke to the Trump, who made the accusation more than two weeks ago.
It was recently reported that Comey thought Trump's claim — made in a series of three tweets with no evidence — was bogus.
"With respect to his tweets, I have no information that supports those tweets," Comey said. Here's video of that moment.

In the weeks after Trump made the claim both he and his press secretary Sean Spicer frantically tried to backtrack on it. Both tried to suggest that Trump tweeted the word wiretap in quotation marks — he did that only once in three tweets — which implied it could mean any type of surveillance. Both also tried to blame the media — especially a dubious report from a Fox News commentator — as the reason Trump claimed the wiretapping happened.

The revelation came during an exchange with Rep. Adam Schiff, a Democrat from California who is the ranking member of the House Intelligence Committee, where the hearing took place.
Schiff read all three of Trump's tweets, including this one: "Terrible! Just found out that Obama had my "wires tapped" in Trump Tower just before the victory. Nothing found. This is McCarthyism!"
"As you understand the term McCarthyism, do you think president Obama or the FBI was engaged in such conduct?" Schiff asked.
"I will not try and characterize the tweets themselves," Comey said. "We have no information that supports them."
"Were you engaged in McCarthyism?" Schiff asked.
"I try not to engage in -isms of any kind," Comey responded.
When asked about the process of approving FISA warrants — which would permit a wiretap of an American citizen — Comey said, "no individual in the United States can direct electronic surveillance of anyone. It has to go through an application process. The judge can make the order."
"So President Obama could not unilaterally order a wiretap?" Schiff asked.
"No president could," Comey responded.
This is a developing story. Check back for updates and follow BuzzFeed News on Twitter.