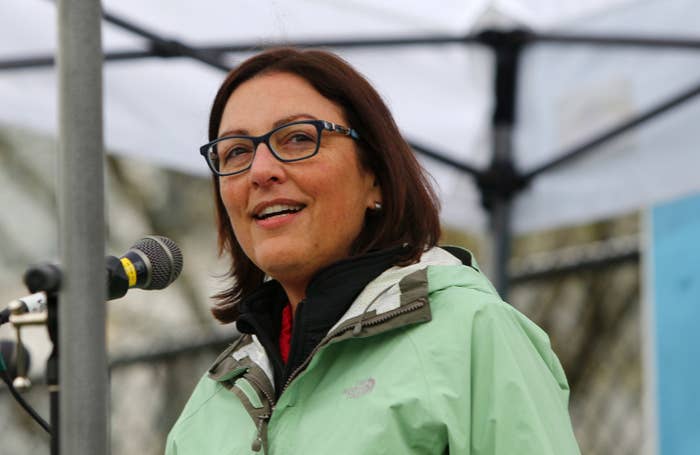 Washington Rep. Suzan DelBene announced Wednesday she will run to be the chair of the Democratic Congressional Campaign Committee for the 2020 cycle.

DelBene would only be the second woman lawmaker to serve in the position. She announced her intention to run in a letter to her fellow Democrats, which was obtained by BuzzFeed News, just a day after Democrats won the House. DelBene, who is little-known nationally, currently serves as a DCCC finance cochair.
"Thanks to our efforts, Democrats have won a majority in the House of Representatives, giving us the opportunity to implement an agenda that benefits hardworking Americans. I want to help lead the effort to ensure that we hold the House and expand the map for Democrats in 2020 and beyond," DelBene said in the letter.
DelBene is the first Democrat to announce a run for the job. At about the same time on Wednesday, Washington Rep. Denny Heck also announced he would also run for DCCC chair.
"I've been talking to a lot of my colleagues. A lot of conversations leading up to the election, a lot of conversations even today," DelBene told BuzzFeed News on Wednesday in a phone call.
DelBene said she had spoken with current DCCC chair Ben Ray Lujan about her interest in the position prior to the election. Asked if Lujan had told her he had any interest in remaining in the role, DelBene said Lujan has made it known he has "interest in other leadership positions."

Luján, the current DCCC chair who helped shepherd Democrats into the majority Tuesday night, has not announced whether he will seek to stay on in the position, but he has reportedly shown interest in a higher leadership position. (Luján also served in the position for the 2016 cycle, and stayed on despite a disappointing cycle for Democrats.)
Democrats have been jockeying for leadership spots for the last couple of months. With the midterms now over, more Democrats are sure to announce leadership bids.
Already on Wednesday, Colorado Rep. Diana DeGette announced a bid for Democratic whip, which would pit her against current Democratic Assistant Leader Jim Clyburn.
DelBene has served in Congress since 2012 and represents a northwest Washington district. She currently serves on the House Budget and Ways and Means committees. She is also a member of the New Democrat Coalition, a moderate group.