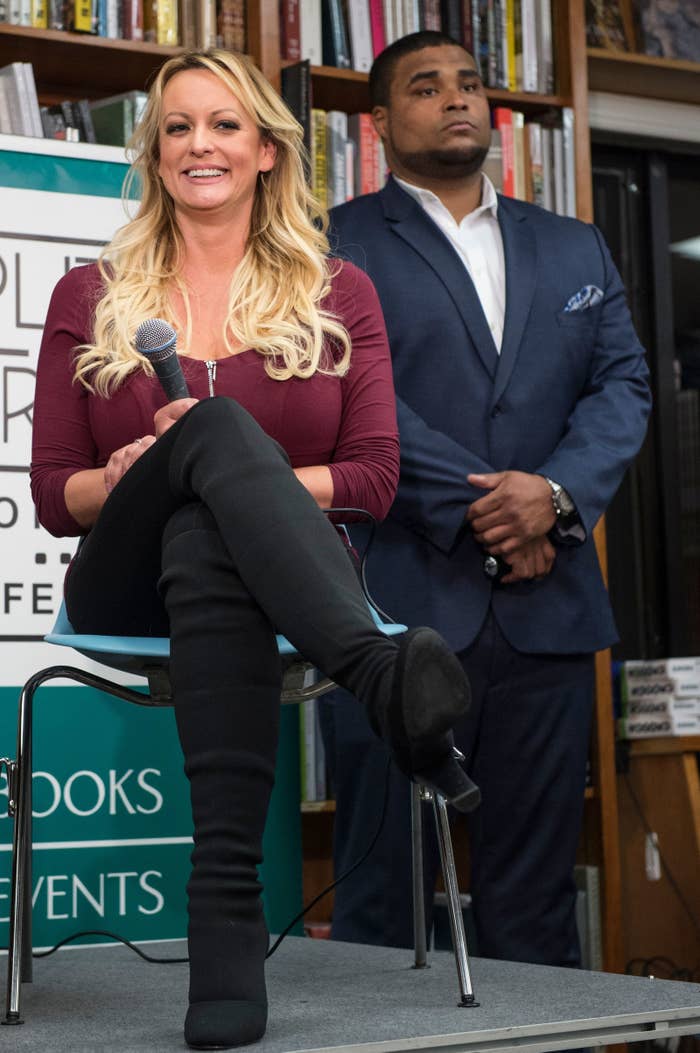 Every chair was full; people lined up along the bookshelves Monday evening.
It was a mob (women, older folks, predominantly white) who just wanted to see Stormy Daniels — the porn star who alleges she had sex with Donald Trump years before he became president — and wanted to see what would happen. What did she look like in real life? What would she wear to the Washington bookstore?
It wasn't your typical event at Politics and Prose, a standard stop for high-profile figures on a book tour, even if this one featured Washington Post columnist Sally Quinn and opened with a nod to the death of George H.W. Bush at the top of the hour. (It was an event for the book where Daniels goes into detail about Trump's dick.)
"I was thinking there must be some economist named Daniels. But I got here and it's someone else," said one man.
But by modern standards, it was a very quintessential DC event in the Trump era, hosted by Quinn, the enduring Washingtonian who upending the city's society coverage decades ago with real gossip. Daniels, flanked by two massive bodyguards, told one and all about the time the president's longtime lawyer, Michael Cohen, paid her hush money to stay silent about her claim that she and Trump once had sex.
"I've watched Stormy's porn. It's very good," said Quinn, 77. "She knows what she's doing."
Quinn and Daniels went back and forth in a lively, wide-ranging conversation before a rapt audience in a toasty room. (The only pause in the conversation came when someone in the back apparently fainted.) They talked about everything from filming porn while on her period, to Daniels' love of horses, to the serious topic of sexual abuse, which Daniels says in her book she experienced as a child — the kinds of things that usually don't make it into coverage of her. Porn, Daniels said, is "just like any other job."
The event was short, and Daniels didn't stick around to sign copies of the book. She had to get to another engagement, a one-night-only appearance at a strip club where, in fact, not much of the Politics and Prose crowd was likely to cross over.
But the audience still had questions. In a year of endless news, Daniels' most recent waves came when she accused her lawyer, Michael Avenatti, of suing Trump for defamation against her wishes. Monday's was the kind of crowd curious to hear what she made of Avenatti, a cable fixture who's been toying with running for president, and whether he's a good lawyer or, as one man put it to BuzzFeed News, an "ambulance chaser."
By Daniels' telling, she and Avenatti are cool again. She told the audience she had found out about a second crowdfunding account on Twitter, and she hates "finding shit out on Twitter."
"He sent me the accounting, and it looks good, but sometimes people just need a swift kick in the ass," Daniels said.
Before she let her go, Quinn pointed out to Daniels that she, a porn star, was "the only person that [she] can think of that Donald Trump is afraid of," who had managed to turn the tables around on Trump in a conversation about what's right and wrong.
Replied Daniels, "How fucked up is that, yo?"