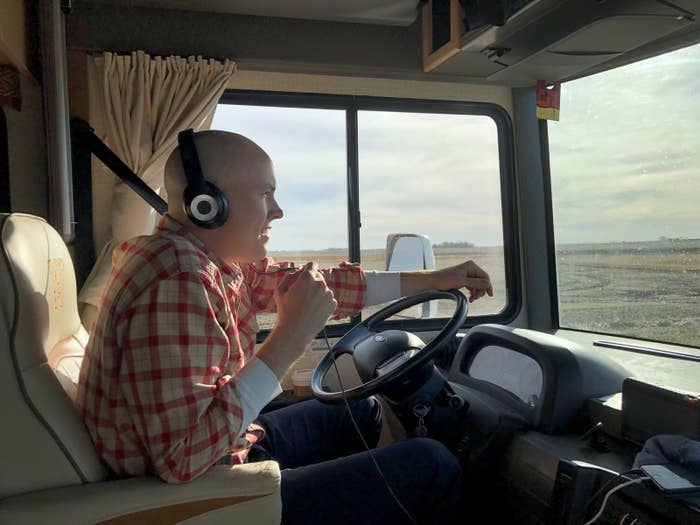 WEBSTER CITY, Iowa — Steve King, the Iowa congressman known nationally for his racism, has been pretty absent during this year's reelection campaign, and so it was his opponent, J.D. Scholten, who found himself screaming at a man at the Kossuth County Fair while on a campaign stop.
He was chatting with the man when the conversation turned to national politics and the voter started spouting racial slurs.
"I just lost it," Scholten recalled during an interview Wednesday from the back of the Winnebago he's driving around the sprawling Northwest Iowa district. "I probably said a few words I shouldn't have said. But I got directly in his face, and I go, listen:
"'You may not vote for me, and that's fine. But I'm going to beat Steve King, and when I do, I'm going to come back to this … Kossuth County Fair and I'm going to look you in the eyes when I talk about issues. You cannot say that about Steve King.'"
"I don't think I'll get his vote," Scholten added.
It's a strange time out here in Iowa, which is still in harvest season as the election quickly approaches. Reading Twitter, you'd get the sense that King is burning crosses in the cornfields. In fact, King is largely absent. He's only going up with his first TV ad on Friday. He's less a local politician than a global celebrity of the far right, and the outrages that tipped some of his own party's leadership against him were international: an interview with a far-right Austrian journalist in which he talked about "the Great Replacement" of "our babies" with "somebody else's babies"; his endorsement of the anti-Semite third-place finisher in the race for mayor of...Toronto.
Scholten doesn't talk about that much. Like many of the congressional races this year, the wrenching national conversation here is a dull background roar — one that only just became audible after a poll this week showed the race close, and some Republicans and King donors started to pull their support, especially after this past weekend's anti-Semitic attack in Pittsburgh.
"There's a lot of little things that add up to right now, and [King's] notoriety is one of them," Scholten said. "And that has worked in his advantage in almost every other race until now because what we used to hear was, 'Oh, that's just Steve being Steve,' like that weird uncle. You don't hear that anymore. You hear enough's enough. And I think that's the big difference between earlier cycles and this."
Altogether, the new attention — from the Anti-Defamation League, from national reporters, from polls and poll-watchers, from Sen. Bernie Sanders, who was here last week to campaign and play basketball — is what Scholten refers to as the "bump."
"My version of the bump is from 11 p.m. on Monday night when that poll went out showing that we were within one. There was noise about King as a result of the horrific event in Pittsburgh … I think that's how eyes were on us, but … fundraising, being on national media, being on statewide media, and being in the papers every day now, that's the bump. And that started as a result of Monday night."
It's sort of hard to picture Scholten as mad. He's a 6-foot-6, affable, 38-year-old former minor league baseball player making his way around the 39 counties in Iowa's 4th District in a Winnebago that serves as a mobile campaign billboard. The kind of guy that women who meet for coffee group at Hy-Vee in the morning try to set up with their daughters when they find out he isn't married.
This week, Scholten is spending a couple of days doing a "highway a day" tour across the district. There's no real structure to it, and it's very fluid. He came up with the idea last week.
"I said, let's just go down a highway, we don't have to plan anything except kind of generically what the times are going to be," Scholten said. "There's a lot of unknown, and so I said, worst-case scenario, I just get in there, be seen in these counties, and if anyone has a last-minute question, let's do it."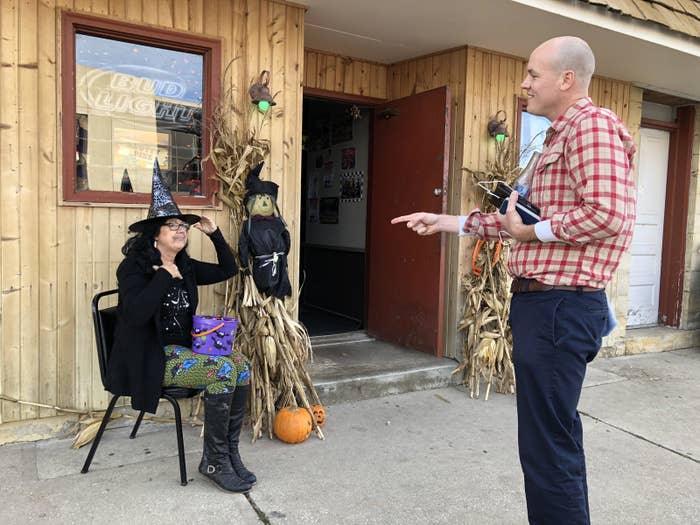 He's been spending a lot of time in the Winnebago, actually. He bought it used, sight unseen a while back and thinks they'll have added 25,000 miles to it by Election Day. "It's not necessarily made for that, but it's holding up pretty well," he said. As he drives, he keeps a lookout for yard signs in support of him, and gives the Iowa wave to oncoming drivers. He's been traveling with just one staffer.
Scholten has a house, but he estimates that lately he's slept way more — probably a 3-to-1 ratio — on the bed that powers down from above the driver and passenger seats in the Winnebago. He often parks at fairgrounds or Walmart parking lots overnight. The line between the Winnebago and his house is so blurred he's not entirely sure where all of his clothing is, and, in fact, he's not quite sure how much clean laundry he's toting around.
"I could run out of underwear tomorrow," he said.
But the Winnebago, named Sioux City Sue, truly is what he thinks got people to notice him coming and going from their towns.
"Like, I don't know how many Democrats out there are willing to sleep in a Winnebago. Could somebody else do it? Absolutely. But this is my pathway, and this is how I did it. Baseball, I wasn't ever that good, but I worked my tail off and was a grinder, and I'm just using that same mentality in this campaign."
The district is the most Republican-leaning in Iowa, and Republicans still expect King to win. Scholten knows that's a lot to overcome, but he thinks he's making a strong case.
"I happen to have a D by my name, which is a turnoff to a lot of people in this district, but they know I'm going to work my tail off and I'll show up and hold town halls every year I'm in office, and do those things, and that eases them and say, you know what, I can vote for a Democrat once in my life. And those are the type of people that are going to change this election."
On Wednesday, the highway for the day was Highway 3 and included a stop in Humboldt. The Winnebago was parked prominently in front of the US Bank on the town's main street, and Scholten sauntered along a couple of blocks, popping into businesses and introducing himself to folks on the sidewalk.
It was a hopping time to be there, given that downtown Halloween trick-or-treating was happening from 3 to 5 p.m.
And yeah, he was going up to people to engage them in conversation, but noticeably, people were coming up to him. That only recently started happening, he said.
One woman came up and asked him if they had any more yard signs, but they were all out. He turned to her daughter, though, and complimented her brightly dyed hair. "I'm jealous," he said, gesturing to his own bald head.
Another man came up to him and told him excitedly that Scholten followed him on Twitter the other day. "I'm pleased with what you're doing," the man said.
"Good time to hit the main street," said a woman at the Iowa State University extension office, a reference to all the adults out with their kids wearing chicken, mermaid, and witch costumes.
King didn't come up very much.
"A lot of people just aren't that in tune into politics," Scholten said. "Especially when you have people like, how does the 4th District keep on reelecting him? A lot of people just — that stuff doesn't break into here as much."
"Am I completely disgusted with who Steve King is and his stances and tweeting about a mayoral race in Canada? Absolutely. I'm completely disgusted by it. But what's going to win me this election is who we are, and what my campaign's about — getting out there to the people, proving we're trustworthy, proving we're going to fight for the people of this district — and holding him accountable for not being a leader in things that are directly reflected in this district."
Scholten said the 2016 election had a lot to do with getting him to run for Congress, but at the time, he was living out of state, in Washington state.
When his grandmother died late that year, he returned to Iowa for the funeral.
"Giving the eulogy at that rural church, I felt that pull to come back home. So then fast forward another month, the inauguration happened. And I went to the Women's March in Seattle. And I was so moved by the raw power and energy of that day, I knew I wanted to get active," Scholten said. "I knew there was a fire that started to burn there."
And so, now here he is. A couple of days out from Election Day and driving to Pocahontas to do an interview for Anderson Cooper.
He pulled up to a gas station, a Casey's. (He estimates he's eaten more than 300 pieces of Casey's pizza since the campaign started.) Fred Hubbell, the Democratic gubernatorial candidate, pulled up nose-to-nose in his own bus, and the two laughed at the coincidence of running across each other while campaigning, since the district is largely rural. Someone yelled "Go King!" in the parking lot.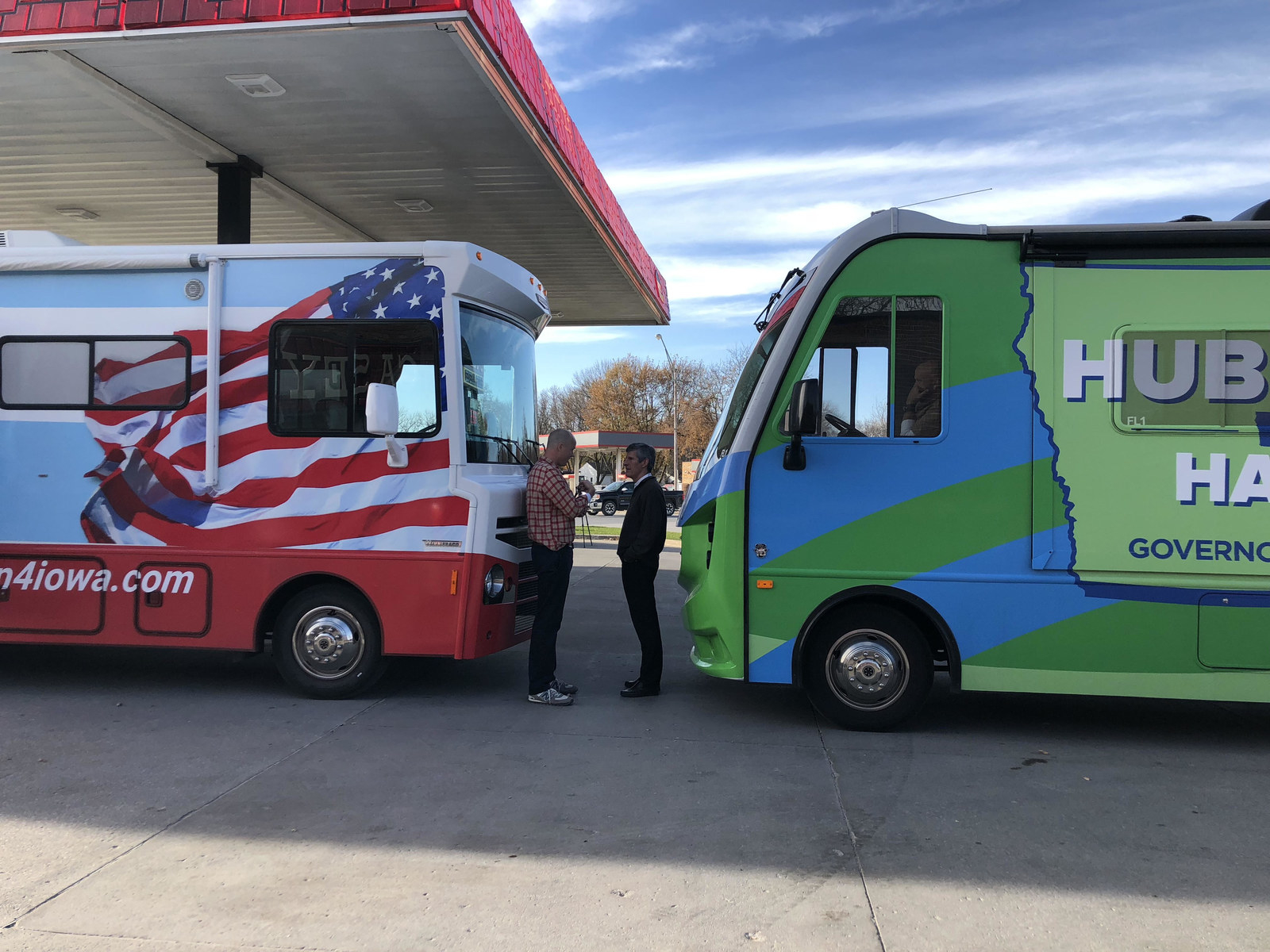 For the most part, Scholten's been running against an absent opponent. No debates. It's getting to the point where Scholten wonders if King's trolling him.
He met King once, last week, at a ribbon cutting and shook his hand. He wanted to introduce himself. But that's all.
"He's giving us every opportunity to win. … Seriously. … What is he doing?" Scholten said with a laugh. "There's this weird notion I have that he's going to call me up to have a beer and say, J.D., I've been trying to lose this seat for 14 years … I don't know, some weird thing like that. Like, it's weird. What the heck is he doing?"