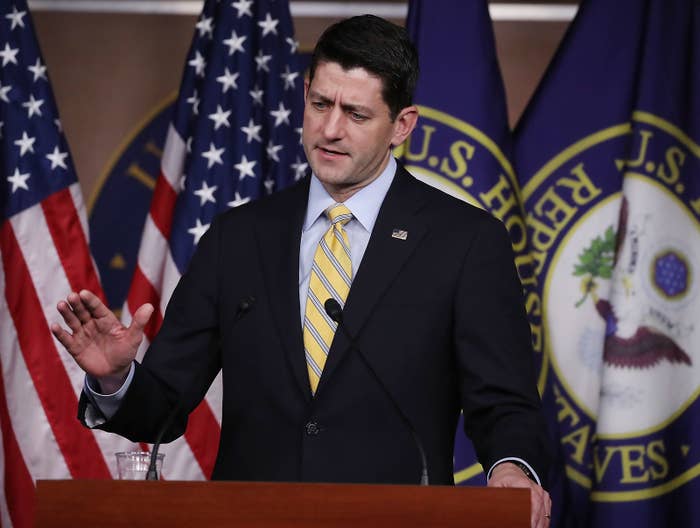 WASHINGTON — House Speaker Paul Ryan said Thursday that the House will vote to defund Planned Parenthood this year in the same reconciliation bill they'll use to repeal Obamacare. That means Republicans will need just a simple majority of members to pass both measures.
"Planned Parenthood legislation would be in our reconciliation bill," Ryan said to reporters at a press conference, when asked "how and when" the House will pass legislation to defund the organization.
"I think the 2015 bill we passed will make it into reconciliation and be part of it," said Rep. Mark Meadows said. "Nothing in Washington, D.C. is 100 percent, but I do believe there is a high probability that it happens."
Republicans across the spectrum of conservatism, from moderates to far right members, are now lined up and prepared to support that bill and strip Planned Parenthood of federal funding.
That commitment that is not new to Capitol Hill, where Republicans have pushed since 2015 to defund the organization in response to secretly recorded videos of abortion doctors discussing the use of fetal tissue, which were deceptively edited. House Republicans passed a defunding bill in 2015, but the bill never got a vote in the Senate.
"I think we've reached a milestone where I can say, we will defund Planned Parenthood and the president will sign it," Rep. Steve King told BuzzFeed News.
King added that now that defunding Planned Parenthood looks to be in Republicans' favor, he thinks there could be room to do more.
"I would say, why would we limit it to Planned Parenthood? Why wouldn't we include any organization that provides the things they call abortion services or pro-abortion counseling?"
Ryan's comment comes after the House adopted rules this week that effectively ended the investigation on Planned Parenthood by not including language to reauthorize the Select Investigative Panel of the Energy and Commerce Committee.
The panel's official demise came after the House voted to increase its budget at the end of last year.
But the end of the panel means little to Democrats, who have been vocal about the continued threat to Planned Parenthood and its funding, despite the panel not being reauthorized.
"My sense is this is the end [of the investigative panel]. What we're concerned about right now is that they're going to do a repeal of Obamacare through reconciliation," Illinois Democratic Rep. Jan Schakowsky told BuzzFeed News last week, adding that she believed defunding Planned Parenthood would be attached to that bill. "I think the anti-choice movement sees smooth sailing."
On Thursday, Democrats held a press conference with Planned Parenthood president Cecile Richards to show their support. The event, which featured the chairs of the Congressional Pro-Choice Caucus, Reps. Diana DeGette and Louise Slaughter and Democratic Leader Nancy Pelosi, focused on "threats facing women under a Trump Administration and Republican Congress," according to a press release.
A final report on Planned Parenthood, that is hundreds of pages long, was released this week by the Select Investigative Panel of the Energy and Commerce Committee, but two Democrats who served on the panel told BuzzFeed News there was never a full-committee vote on the report.
Speaking to BuzzFeed News about the recommendations made in the report, Rep. Jerrold Nadler said, "It reads like a wish list of anti-choice people to simply make abortion as difficult as possible."
Paul McLeod contributed to this report.