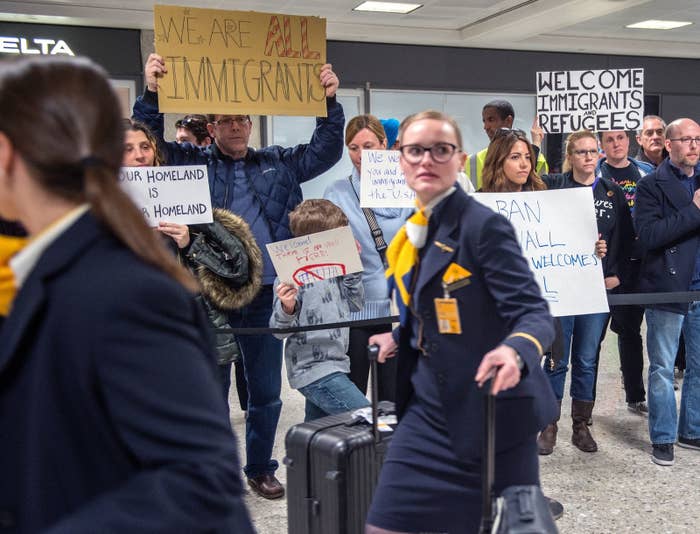 DULLES, Virginia — Hundreds of people gathered Saturday at Washington Dulles International Airport to protest President Donald Trump and welcome people arriving at the terminal.
Many people went out of their way to attend the rally at the airport, which is just outside of Washington. And Dulles was just one of the many places people gathered to protest Trump's order blocking travelers from several Muslim-majority countries from entering the United States.
But a couple who could not make it themselves called in an order of pizza for their friends to hand out at the airport.
Here are Sarib Mahmood and Nusra Alam handing out the pizza, which did not last very long.
Alam told BuzzFeed News she had been livestreaming the protest, and her friends, who moved to North Carolina, saw it and wanted to get involved.

"When we saw the crowd gathering at JFK first, and then at Dulles, it was really heartwarming," the man who ordered the pizza told BuzzFeed News. He preferred to remain anonymous.
"We just wanted to show our appreciation for those people who are standing in support of immigrants and refugees," he said.
He added that it was definitely his wife's idea to order the pizza. But the story didn't end when all of the pizza was handed out.
Instead of letting the boxes go to waste, they were recycled into protest signs. Below is Ammara Chaudhry working on her sign.
Here is Chaudhry, who told BuzzFeed news she ditched a work event to attend the rally, with the final product.
People were also pretty impressed with the pizza gesture.