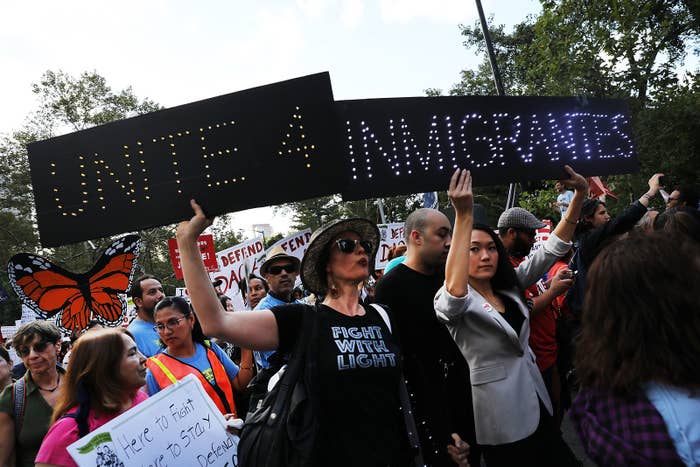 Like everyone else, members of Congress are in wait-and-see mode on what President Trump will do about the Obama-era program that protects young undocumented immigrants who entered the United States as children from being deported: whether Trump stalls on a decision, decides to keep the program, changes it significantly, or kills it entirely.
The White House on Friday afternoon said a decision on the Deferred Action for Childhood Arrivals program will come on Tuesday. "We love the DREAMers," Trump said earlier in the day. "We love everybody."
If Trump decides to end DACA, congressional leadership will have to decide next week if they want to add another item — one that is expected to face a tough road to passage — to their already packed legislative agenda.
House Speaker Paul Ryan said in a radio interview Friday that Congress has to act on legislation to protect the 740,000 young immigrants, or "DREAMers," who were granted temporary protection against deportation through a 2012 executive order from then-president Barack Obama.
"I believe that this is something that Congress has to fix," Ryan said, adding that although Obama should not have written a "law out of thin air," "these are kids who know no other country."
"I really do believe there needs to be a legislative solution," he added. "That's one we're working on, and I think we want to give people peace of mind."
Obama created DACA by executive order after months of pressure from immigrant advocates, with the hope that by doing so he'd force Congress into action to deliver a permanent fix. A bipartisan immigration bill that included a DREAMer provision passed the Senate in 2013 but was never taken up in the Republican-controlled House.
Some of the senators behind that failed effort have been working to preserve DACA's protections now.
In December, South Carolina GOP Sen. Lindsey Graham joined Illinois Democratic Sen. Dick Durbin to cosponsor the BRIDGE Act, which would provide "provisional protected presence" for three years to young immigrants if they register with the government, pay the required processing fee, and pass a criminal background check.
The two senators reintroduced the measure this year and made getting Republican senators on board with the the legislation a priority. But so far — about nine months later — only two have signed on as cosponsors: Sens. Lisa Murkowski of Alaska and Jeff Flake of Arizona.
Graham, Durbin, and Flake were part of the Senate's "Gang of Eight," the group of senators that pushed comprehensive immigration reform through the Senate in 2013.
"I think if President Trump says, 'This is a good solution to a hard problem.' Here's what you've got to ask Republicans and Democrats: What do you do with these kids?," Graham told reporters at the time. "Now, I'm not going to be part of a Republican Party that will take 700,000-plus young people who've done nothing on their own — they came here as small kids, they lived their life in America, they have no place else to go — and just ruin their lives."
But Senate Majority Leader Mitch McConnell has not yet signaled if he will bring legislation addressing DREAMers to the floor. "I'll be sure to pass along any statement the leader makes on this," a spokesman for McConnell told BuzzFeed News Friday.
The prospects are no simpler in the House. Ryan, who has long supported immigration reform, might not be able to rely on Democrats for votes to get a bill through his chamber, and he'd have to face the grueling task of getting wide-scale support from his GOP caucus, which helped doom a broad immigration overhaul effort in 2013. While running for speaker in 2015, the Wisconsin Republican reportedly promised conservatives and immigration hardliners in the House that he would only bring an immigration-related bill to the floor if it had the majority of support from within his caucus.
Ryan's office did not respond to a request for comment Friday regarding whether the speaker was still committed to bringing such a bill to the floor only with majority GOP support.
Conservative website Breitbart, which calls the DACA program "amnesty," is already attacking Ryan for his Friday comments — a sign of how tough it could be for the speaker to get support from the various factions within the GOP caucus.
House Republicans have already sponsored a few different measures to deal with DACA, and one vulnerable Republican in a swing district is pushing for swift action to protect DREAMers.
Colorado Rep. Mike Coffman said he would file a discharge petition upon his return to Washington next week, which, if passed, would force the House to take up the BRIDGE Act legislation in a vote. The petition needs 218 votes to pass, meaning Coffman would rely heavily on Democrats for support.
"This really put me off guard. I thought that nothing would occur until the fifth of September," Coffman told BuzzFeed News of the potential for an imminent White House decision on the program. "I was very surprised … to hear that the administration very well may go forward, and they haven't denied it."
If Trump decides to end DACA, Coffman said he hopes the president will send a "clear message" to Congress that he would be willing to sign legislation on the matter.
Coffman said he gave Ryan's office a heads-up on his intent, but he added that it was a "courtesy" call — "I wasn't seeking permission," he said. He added that he has yet to communicate with Democratic leadership, but he is waiting to see what Trump decides.
He's not the only Republican in the conference who wants to defend the DREAMers. Several Republicans urged Trump in an August letter to keep DACA in place.
"It is in the best interest of the nation to continue DACA until we can pass a permanent legislative solution," the Republicans wrote.
Democratic and Republican members of Congress have introduced 16 amendments to appropriation bills related to the program, a majority of them in an attempt to protect DACA recipients should the program be terminated. The proposals ranged from barring funds from being used to deport DREAMers to outright prohibiting the Department of Justice from repealing DACA.
However, those amendments aren't likely to pass, one Democratic congressional aide told BuzzFeed News.
"It's slim to none," the aide said of their chances. "Introducing them is part of an overarching strategy to show DREAMers and advocates they have support and draw the line for where Democrats stand."
With Republicans in control of the House, and its Rules Committee, it's highly unlikely Democrats' immigration amendments would be allowed to reach the floor for a vote.
But Democrats are gearing up for a fight. The House Democratic caucus held a call Friday and pledged to keep pressure on Republicans over DREAMers. A source on the call said the Congressional Hispanic Caucus plans to ask Ryan for a meeting to put a bill on the floor to address DACA. A CHC source confirmed the caucus will ask for a vote regardless of what Trump does in the coming days.
Senate Republicans who support protections for DREAMers were sounding the alarm Friday.
Flake, seemingly responding to news reports of an imminent White House decision, reiterated his commitment to dealing with young undocumented immigrants through congressional action. "Congress needs to take immediate action to protect #DACA kids," he tweeted.
And Utah Sen. Orrin Hatch joined in calling for "workable, permanent solution for individuals who entered our country unlawfully as children through no fault of their own."
Based on how the Trump administration acts on the issue, Republicans are expecting Graham to take the lead in the Senate in trying to push a DACA-related measure through, according to Senate aides.
And although McConnell has been quiet on the issue so far, Senate Majority Whip John Cornyn — the No. 2 Republican in the Senate — has indicated interest in pushing for a legislative fix to DACA.
"Congress needs to address this, and I'm eager to do that," Cornyn, who represents a state with a large DREAMer population, said last month. "That's how I think it should be resolved."

Adolfo Flores contributed to this report.