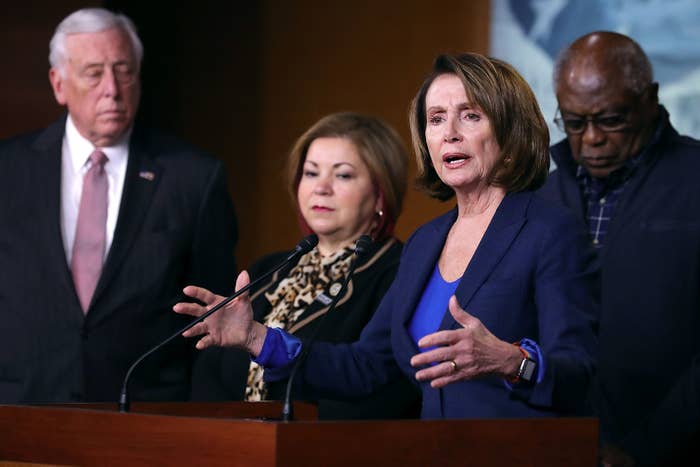 Rep. Joe Crowley's primary loss Tuesday night is already blowing open fractures within the Democratic caucus, increasing calls for fresh blood in a leadership that has held power for years.
A day after 28-year-old Alexandria Ocasio-Cortez upset the New York incumbent and number four member of House Democratic leadership, members were shocked, thinking through what the loss of a member of leadership to a young progressive means for their caucus and, more widely, for the party. Crowley was seen as a potential successor to House Minority Leader Nancy Pelosi.
"I wouldn't take anything for granted if I were in leadership now," Kentucky Rep. John Yarmuth told reporters Wednesday morning.
As it became clear that Crowley would lose Tuesday night, one House Democrat told BuzzFeed News, "I think this may help open doors for the younger generation of Democrats in the House of Representatives."
By Wednesday morning, House Democrats were grappling with Crowley's surprise defeat, questioning whether the rest of their leadership, who are all in their seventies, can stay — even if they manage to take back the House after the midterms.
"I think it's just yet another wake-up call that the country is ready for progressives, for folks of color, for leadership that understands that anger that is across the country about where people's future's lie," Washington Rep. Pramila Jayapal, a first-term progressive lawmaker, said Wednesday morning. "It's a call for a different way of doing business."
Within the caucus, Jayapal said, "I think everything is up in the air. … I'm thinking there will be a shake-up, and, if not right now, then certainly after November."
The shock among Democrats on Capitol Hill in the last 24 hours has been palpable. On Tuesday night as results poured in, Yarmuth said his text chain with more than 20 other House Democrats, including Crowley himself, "blew up" with members stunned at their colleague's loss. (Crowley, who reportedly spent the day with his family rather than returning to the Hill on Wednesday, didn't participate much in the chat, Yarmuth said.)
Asked if Crowley's loss makes leadership a free-for-all, Rep. Seth Moulton, who often criticizes his party's leadership, said, "It opens up the possibilities. We have such talented people in our party right now."
Leadership insisted Wednesday, however, that they aren't going anywhere. In a press conference that was nominally about health care, House Minority Leader Nancy Pelosi fielded several questions about how much longer she and her remaining leadership team can hold onto their posts.
"I'm female, I'm progressive. What's your problem?"
Asked whether the leadership should reflect an increasingly diverse, young, female, and progressive Democratic caucus, Pelosi argued, "Well I'm female, I'm progressive. What's your problem?"

Pressed on the results of last night's election, in which voters rejected a current member of leadership for a younger, more progressive woman, Pelosi became terse. "Yeah, they did. They made a choice in one district. So let's not let yourself get carried away on demographics and the rest of that within the caucus or outside of the caucus," she said.
Just as in other years, members will decide who their leadership is, she added. But, as Yarmuth noted Wednesday, that membership will include new voices. "I think new members like Alexandria and others, if they are successful in the fall, are certainly going to have a voice in leadership and determining who the next leaders are," he told reporters.
Arizona Rep. Ruben Gallego said that Pelosi's leadership team could still make arguments that could appeal to the caucus, saying that members shouldn't necessarily "discount" their current leadership "because they're older."
But, he added, those arguments may not fly with newly elected Democrats next year. "I think the mode of winning in the past was, you know, I have seniority. I've done this, and I've raised this type of money. And I think that's not going to fly with these incoming members of Congress, and a lot of them are going to want to actually ask, what are you actually going to do right now?" he said.
Still, other Democrats pumped the brakes on the idea that Crowley's loss was indicative of bigger problems for Democratic leaders.
Rep. Linda Sánchez, a Latina and the fifth-ranking Democrat in the House just behind Crowley who is also seen as a potential replacement, warned reporters not to read too much into his election. "I don't think that we can predict any trend or make any blanket statements, because every district is fundamentally very different from every other district," Sánchez said Wednesday morning, adding that she was "still trying to process" the results.
Her comments were reminiscent of what Pelosi said on the subject. "The fact that in a very progressive district in New York [voters] went more progressive … is about that district. It is not to be viewed as something that stands for everything else," Pelosi said.
House Minority Whip Steny Hoyer, Pelosi's second in command, acknowledged that there is a generational shift with the House Democratic caucus, but said he didn't know what Crowley's race, specifically, meant for the rest of leadership during a sit-down with reporters Wednesday.
Asked what lesson leadership should take from Crowley's loss, Hoyer said it was about staying connected with voters back home. "I think that we ought to all be very cognizant that we are in a very, very keen environment of voter awareness, and we need to appeal to them and set forth our positions and keep in close contact with them," he said. "It's not a new lesson necessarily, but every once in a while you get reminded of that lesson, sometimes in stark terms."
As for the vacancy Crowley will leave behind, some Democrats who have been mentioned as potential future leaders for the party said Wednesday that it was too soon to discuss it.
Sánchez has previously expressed interest in running for a higher-leadership post herself and recently told C-SPAN that it's "time to pass the torch to a new generation of leaders" in the caucus. Asked Wednesday morning if she would consider replacing Crowley, Sánchez said she thought she would "be a good caucus chair," but was not ready to make any announcements.
Yarmuth, who was there when Sánchez was asked, jumped in to say, "all of us are a little bit sensitive about, you know, jumping over Joe's body, because we all love Joe and share the disappointment." But he added that if Sánchez chose to pursue the position, she would have "broad support in the caucus."
Illinois Rep. Cheri Bustos, whose name also comes up in conversations about future leadership, told reporters that a few colleagues have already reached out to her about running for a higher-leadership slot next year. But Bustos didn't say if she will run for the spot.
"I think it's worth noting this is about a half day old right now. Very unexpected outcome. … You just never know what's going to happen in politics or when there are openings, and I think it's a matter of, you know, when opportunity knocks, are you wearing your bathrobe or are you wearing your prom dress? Are you ready for it?" she said. "And, you know, I think there are many people in our caucus who will be ready to step up, and now there's going to be an opportunity to do that."
Asked whether the Democratic caucus has done enough to build up younger talent to replace their leadership someday, Washington Rep. Adam Smith said Wednesday morning he felt confident there is "a wealth of talent" for future leadership in the Democratic caucus.
"You can never picture the next leader until they're there," Smith said. "It's like you never picture your kids driving until they actually do."