Sheryl Crow Is Tired Of How Long This Election Has Been
The singer-songwriter started a petition recently to "limit the campaign season."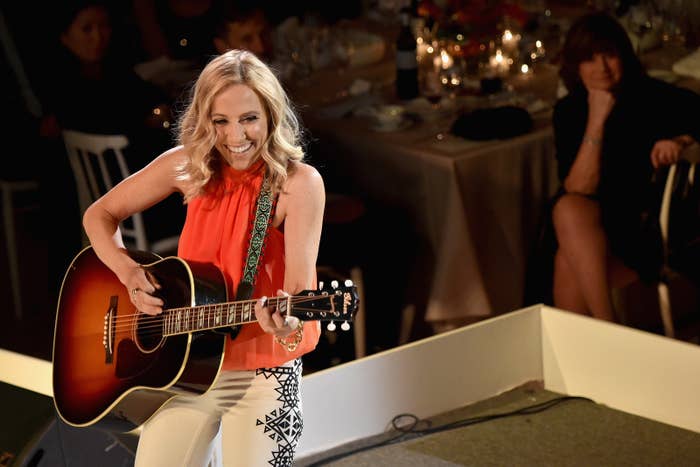 WASHINGTON — It's been a star-spangled election season with big names throwing their weight behind both presidential candidates, but singer and songwriter Sheryl Crow has taken up a different political cause.
Crow made a late appearance on the political scene this election season with a petition asking that American election cycles be made shorter. Turns out Crow is just as sick of the election as the rest of the country.
A Change.org petition spearheaded by Crow calls on the Democratic and Republican national committees to "limit the campaign season" through reform. Specifically, the short petition calls for a shakeup in the primary calendar, and currently has over 55,000 signatures.
Crow has been spreading the message far and wide, making appearances from Fox News to CNN.
"While this petition isn't going to change Citizens United, it's not going to change the quality of our candidates, it is a step toward making a change," Crow told BuzzFeed News.
Crow readily admits she is not a policymaker and would like to see a conversation that would result in other thoughtful changes that would shorten the election season in addition to "tweaking" the primary calendar like her petition suggests.
Crow said she decided to move forward with the petition even though Election Day is looming because she felt people would not want to hear the word "election" after Nov. 8.
"I'm in it for the long haul, and I'm going to push this thing until we have enough signatures to really make a change," Crow told BuzzFeed in a Monday interview, adding that she hopes to see the petition get to half a million signatures.
Crow has said that as a mother she has felt the need to protect her children from the political atmosphere Americans reside in, and she has fully embraced the cause on Twitter.
Crow, a Democrat, declined to share who she voted for, emphasizing that the petition is nonpartisan. She added some have taken issue with it based on how they feel about her, but she quoted Taylor Swift in the way she responds to them: "Haters gonna hate."
"There are people that are going to not want to sign the petition because they don't want to align with me for whatever their belief system is about me," Crow said. "I always tell people, it's not my petition. I may be the one that put it up, but it's a petition that's signed by a lot of people."
The Grammy winner is not new to advocacy. Crow went on a climate change awareness tour in 2007 with Laurie David, wife of comedian Larry David, where Crow's suggestion that people only use one square of toilet paper received widespread attention. Crow said the comment was a part of a skit full of "ridiculous ideas" that was taken seriously and the attention it garnered "discredited" her.
Crow, 54, is known for several hits including "Soak Up the Sun" and "If It Makes You Happy."