The Finland Stabbing Attacker Appeared To Target Women, Police Say
The attack took place in Turku, a city about 100 miles west of Helsinki, on Friday. Police shot and arrested one suspect, and later arrested four more men. The incident is being investigated as terrorism.
A knife attack that killed two people and injured eight others in southern Finland is being investigated as a terrorist incident.
The attack took place on Friday in Turku, a city about 100 miles west of Helsinki, the capital. Monday, a Finnish court identified the suspect in the stabbings as Abderrahman Mechkah, an 18-year-old Moroccan citizen, the Associated Press reported. Police are detaining Mechkah on suspicion of murder, attempted murder, and terrorism.
Officials have also arrested four other men who, according to a Finnish court, "are suspected of participation in the murders and attempted murders committed with a terrorist intent," the AP also reported.
One international search warrant was issued for another suspect.
On Saturday, intelligence agency investigator Pekka Hiltunen told reporters that "it's likely at this moment that we're dealing with a terror attack." He also said investigators were looking into Mechkah's connections to ISIS because the terror organization "has previously encouraged this kind of behavior."
Reuters reported the attacks — which left two women dead — appeared targeted.
"It seems that the suspect chose women as his targets, because the men who were wounded were injured when they tried to help, or prevent the attacks," Crista Granroth, from the National Bureau of Investigation, said during a press conference, according to Reuters.
Six of the eight people injured were also female, Reuters reported.
The deceased victims were Finnish, while police said the injured included an Italian and a Swede. Police had said earlier two Swedes were injured but later clarified that one was actually a UK citizen.
The attack happened on the heels of two terrorist attacks in Spain on Thursday, and investigators are still trying to determine if there was a connection between the incidents.
Mechkah was shot in the thigh and arrested shortly after the attack occurred, police confirmed. He was hospitalized.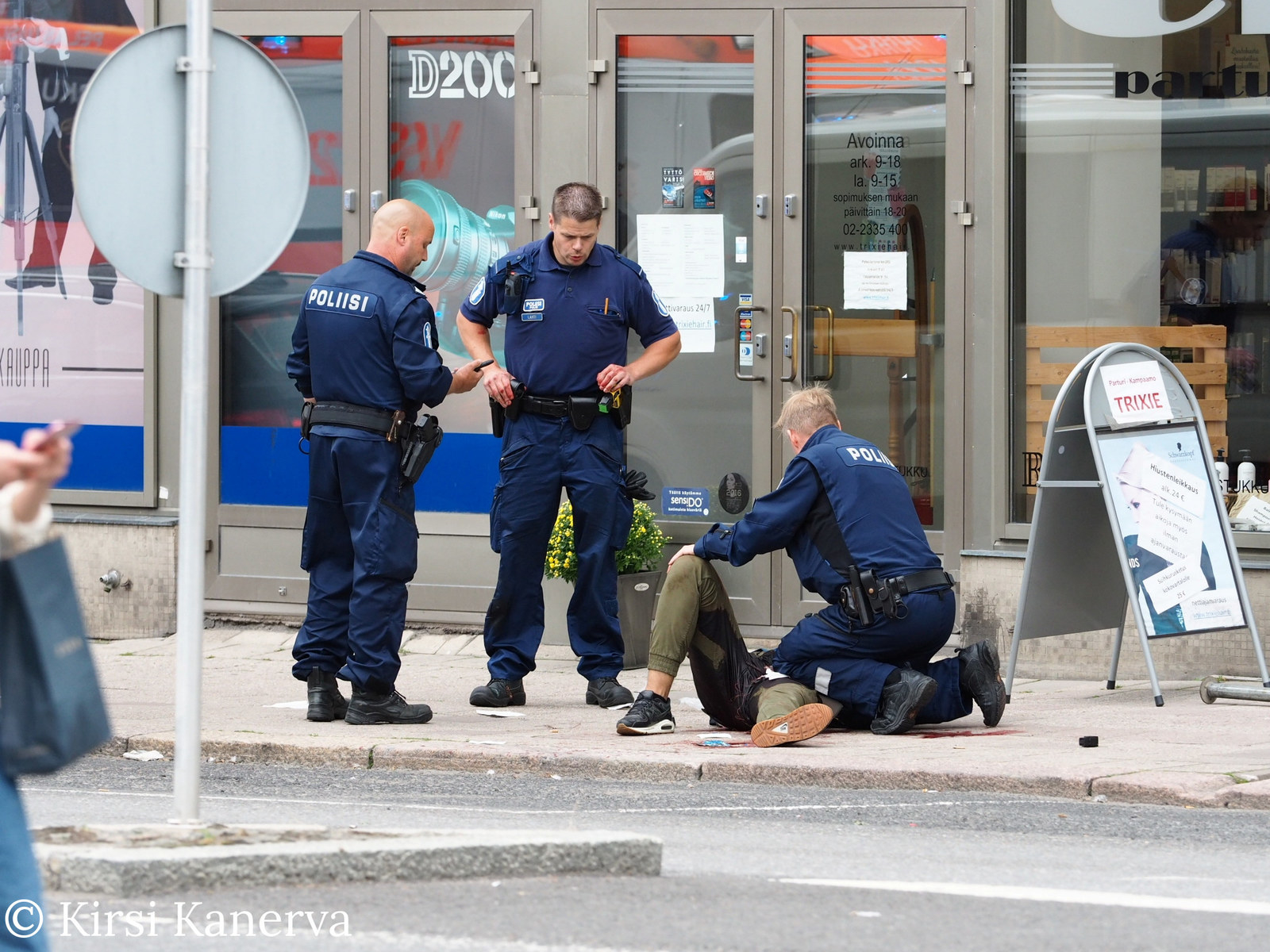 Finnish President Sauli Niinisto visited Turku Friday and called the stabbing a "shocking and cowardly act," according to the AP. He also said officials are working "so that all Finns are able to feel safe."

The AP reported Finland's interior minister, Paula Risikko, announced security is increasing across the nation. Police asked the public to remain vigilant, particularly in airports and at train stations.
Early local reports showed video of what appeared to be a covered body behind police tape.
Following the attack, a video emerged on Twitter that purported to show the attacker and other people running.

Some initially reported that the attacker could be heard shouting "Allahu ackbar," but others pointed out that it's actually someone shouting "varo, varokaa," Finnish for "watch out."