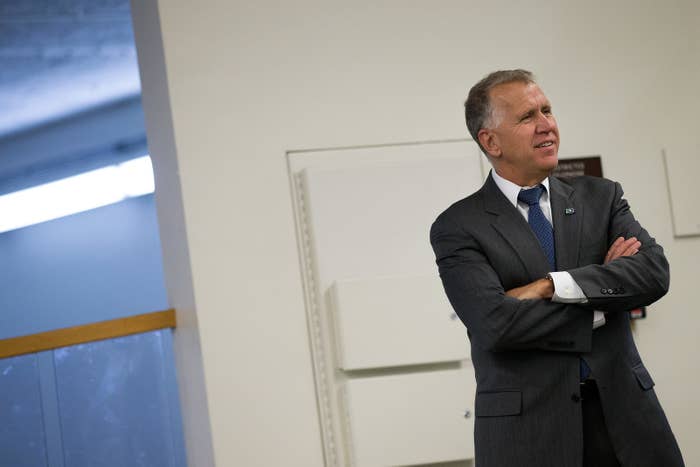 WASHINGTON — There's been an unprecedented number of calls flooding the Senate switchboard — Senate Minority Leader Chuck Schumer's office says it estimates around 1.5 million calls per day — in response to just about anything President Donald Trump has done since he took office, from his refugee ban to his pick for education secretary Betsy DeVos.
But on the receiving end of those phone calls are senators complaining that their actual constituents can't get through.
"We're getting calls from all over the country, so it makes it difficult. Lots of calls coming from every place but Arizona, and that doesn't usually happen," Sen. John McCain said. When asked what subjects people had been talking about, McCain answered, "Everything."
McCain's Arizona colleague Jeff Flake, has reportedly experienced the same kind of phone traffic jam, which prompted him to notify his constituents that he is also available via email.
"I think it also shows a new level of mobilization from activist organizations," Sen. Thom Tillis of North Carolina told BuzzFeed News. "If you look at it, probably two-thirds of them are effectively coordinated denial-of-service attacks from a handful of activist organizations. The other ones are just constituents wanting to reach out, and we welcome those calls."
Tillis said his office is "worried" about the calls potentially affecting constituents' abilities to get through, saying on Monday that in the last 24 hours his office had 30,000 voicemails despite having staff on phones. Republican Sen. Tim Scott said he has taken to answering some calls himself mostly in regards to the DeVos nomination, hoping to explain "the truth" to his angry constituents. Sen. Richard Burr, another Republican, said that even his wife and son have received calls on their cell phones.
A spokesperson with Iowa Sen. Chuck Grassley's office, which has also seen an increase in calls, said there are signs that many of the calls are coordinated. Grassley's spokesperson pointed to similar language used by the callers as a strong indication of coordination, despite the office not knowing who was behind the efforts.
Some organizations have made a point of targeting specific senators on specific topics, making it easy for people to do so by listing the number to a senator's office. The pressure extends to both sides of aisle. For example, Club for Growth Action tweeted and asked people to call Sen. Joe Manchin of West Virginia in support of DeVos. Manchin, a Democrat who will be up for reelection in 2018, voted no on DeVos. The Center for American Progress was incredibly active in coordinating calls to Republican offices.
Missouri Sen. Claire McCaskill's office told BuzzFeed News in an email statement that her office "has gotten several tens of thousands of emails and calls." McCaskill, like Manchin, is a Democrat in a red state.
Not everyone is upset about the number of calls. Instead, they see them as a valid way of expressing the discontent in the electorate.
"This is the cost of doing business," said Scott Mulhauser, a longtime senior Democratic aide. "When people don't like what's happening, they're going to make their voices heard."
In the wake of the election, where Trump won the electoral college but lost the popular vote to Hillary Clinton, the liberal and Democratic base has been energized, exhibited through protests that have sprung up through out the country and the calls coming into Capitol Hill, strategists for the party say.
"The reality that most are seeing is a record volume of outrage from constituents," said Jesse Ferguson, a Democratic strategist and former spokesperson for Clinton.

Senators are now inundated with the feedback, regardless of what side of the aisle they sit on.
"In many cases, people are very sincerely concerned," Sen. Bob Corker of Tennessee said last week, adding —as he scrolled through his phone looking for an email to give reporters a taste of what was in his inbox— that there were many bot-generated emails in with the mix.

Corker told reporters his office is fielding a lot of calls about the nominees and some about the Affordable Care Act, which Republicans have promised to repeal and replace.
According to Vermont Sen. Bernie Sanders' office, calls came into his office at a rate of 1.5 a minute for eight consecutive hours every day the office was open last month. New Jersey Sen. Cory Booker's office put it another way, confirming it has gotten anywhere between 10 to 20 times the typical call volume.
"There was literally never one minute when the phones were not ringing for the entire month of January," a Sanders spokesman told BuzzFeed News in an email.
Offices said DeVos caused a large number of the calls, since she was a controversial pick for education secretary over questions of her qualifications for the role. Grassley's spokesperson called the spike in calls over DeVos "noteworthy." The Senate confirmed her on Tuesday.
"This has generated more outreach to my office than anything during the entire time I've been in the Senate, including the government shutdown," said Virginia Sen. Tim Kaine of DeVos' nomination. "We're answering calls nonstop and still an awful lot of calls are going... into voice message."
Republican Sen. Lisa Murkowski referenced the number of calls she got as part of her reasoning for voting with Democrats against DeVos, but many of the other issues people are calling about likely are not ones that calls will cause senators to change their minds on, especially in a town where most senators vote consistently with their parties.

For at least some senators, the levels of engagement were not a surprise.
"I think that's to be expected with a new president, and I think that the nominees for the cabinet and for the Supreme Court have kind of stirred that up," West Virginia Sen. Shelley Moore Capito told BuzzFeed News about the increase of people reaching out. "I think people are engaged, and I think that's a good thing."
On the House side, where members do not have any say on Trump's cabinet nominees, multiple members told BuzzFeed News they are not experiencing the same flood of calls.
"There's a lot of activity out there right now, but it hasn't been obtrusive for us," said Arizona Rep. Trent Franks. "There is certainly an increased activity, but I think that makes sense."
CORRECTION
Although Sen. Susan Collins' office has received a high volume of calls, she did not cite them as part of her reasoning for voting no on the DeVos nomination. An earlier version of this story said that she had referenced those calls in announcing her opposition.