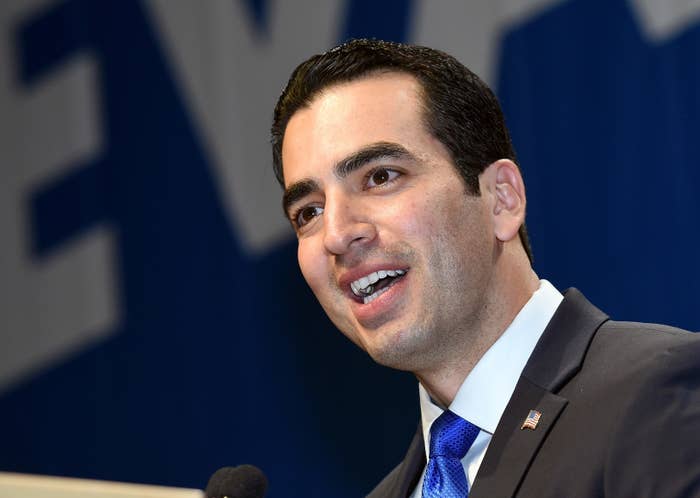 WASHINGTON — The House Ethics Committee reprimanded outgoing Nevada Rep. Ruben Kihuen on Friday for making "persistent and unwanted advances" toward women required to interact with him for work, but did not recommend any disciplinary action against him.

Kihuen was accused by multiple women of sexual harassment starting last year when BuzzFeed News first reported on allegations of one woman, Sam, who said she left her job working as Kihuen's campaign finance director because of his repeated harassment.
Because of the allegations, the congressman — once seen as a rising star in the Democratic Caucus — chose not to run for reelection. The allegations led to the Ethics Committee investigation, but its report, which includes a decision to "reprove" Kihuen, was not made public until Friday.
Reproval by the committee is "intended to be a clear public statement of rebuke of a Member's conduct issued by a body of that Member's peers." The report states that the could have "sought harsher sanctions" but found reproval to be the "appropriate" step. The committee would have lost jurisdiction over Kihuen when he is officially no longer a member of Congress.
In the course of its investigation of the allegations against Kihuen, the committee interviewed three women who said he sexually harassed them, including Sam.
"I definitely feel very relieved because, I mean, I probably shouldn't have done this, but I read comments that people posted online," Sam told BuzzFeed News on Friday after the Ethics Committee's report came out. She added some of the comments had questioned whether she was telling the truth. "I think it's important for the Ethics Committee to say, yes we believe these women, and no, we don't think this behavior is OK."
"I mostly just feel very relieved."
Sam said that the Ethics Committee had not reached out to her to let her know the investigation had reached its conclusion and that she first learned about it from BuzzFeed News.
The committee's report on Kihuen noted similarities in the allegations "[bolstered] the credibility of the complainants." None of the women were named in the report, but Sam, who was identified as "Campaign Staffer," and another woman identified as a "Nevada Lobbyist" both testified that Kihuen touched their thighs while in a car with him, according to the report.
Among the report's other findings:
Sam and a "DC Firm Employee" testified that Kihuen asked them if they would ever cheat on their partner.
Sam and the "Nevada Lobbyist" testified that Kihuen grabbed their thighs or buttocks while alone with Kihuen in an office.



The "DC Firm Employee" and "Nevada Lobbyist" testified "and/or produced evidence" that Kihuen brought up their work and career advancement while making sexual advances.
In a statement Friday after the report was made public, Kihuen said he recognized that "regardless of the fact that I never intended to make anyone feel uncomfortable or disrespected, what matters is how my actions were perceived by the women who came forward. It saddens me greatly to think I made any woman feel that way due to my own immaturity and overconfidence. I extend my sincere apologies to each of these women."
He went on to say that he does "not agree with aspects of the Report."