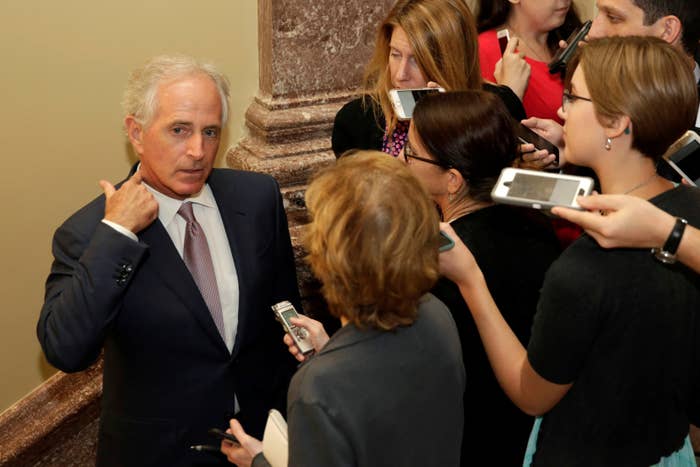 Just before leaving Washington for a monthlong break, Republicans in Congress found themselves pushing back on another tweet from President Donald Trump — this time refuting his claim that Congress is to blame for the adversarial relationship between the United States and Russia.
Trump tweeted on Thursday morning that America's relationship with Russia is "at an all-time & very dangerous low," blaming Congress, "the same people that can't even give us [health care]."
Presumably, the president was referencing nearly unanimous votes in the House and Senate last week to implement new sanctions against Russia, as well as against North Korea and Iran. Trump signed the bill earlier this week, which will require him to get congressional approval before making changes to sanctions toward Russia, despite calling it "seriously flawed" in a statement.
Senate Republicans, about to head home for a delayed August recess on Thursday after trying and failing for months to repeal and replace the Affordable Care Act, were having none of it, saying in tweets and conversations with reporters that Trump should be pointing his finger at Russia, not Congress, as the source of the problem.
"Look, the relationship that we have with Russia is solely because of Putin," said Sen. Bob Corker, the chairman of the Foreign Relations Committee.
At a press conference about the Palestinian Authority, Corker went on a riff about Russian offenses, including interference in the 2016 US presidential election. "What he's done is an affront to the American people," Corker said of Putin. "To try to have an effect on the election outcomes here had to be spoken to. I think we did it in a very appropriate manner, I'm proud of the legislation."
In a tweet with the hashtag #ChecksAndBalances, Illinois Rep. Adam Kinzinger of the House Committee on Foreign Affairs argued that Trump's anger was misplaced. "If only that outrage was directed at Putin, the murderous dictator who attacked our democracy," he wrote.
Corker on Wednesday pointed to the sanctions bill as a "major accomplishment" for Congress, during a seven-month period in which it has struggled to pass significant legislation. On Thursday, he added that he believed Congress had acted in the "national interest" by passing the sanctions.
All of this comes during an FBI and multiple congressional investigations into Russia's interference in the 2016 election, and whether Trump's campaign colluded with Russia.
"Look, Russia is to blame for Russia's problems. Violation after violation of international law, the fact that it refuses to get out of Ukraine, the fact that it has violated any number of international norms with its behavior on cyberattacks, plain and simple," Colorado Sen. Cory Gardner, a member of the Foreign Relations Committee, said.
"I think Russia is to blame for Russia's relationship. I think, they're, you know they're intervening and trying to intervene in our elections and they're, you know, invasion of Crimea and Ukraine… I think that's what's to blame," Arizona Sen. Jeff Flake, another Foreign Relations member, said.
Republicans also took issue with Trump's claim that the US–Russia relationship is at an "all-time low." The United States and Russia have long had a chilled relationship, notably during the Cold War. While tensions have increased as more revelations about Russian influence on the last US election have become public, arguing the current climate is worse is historically inaccurate.
"When I was growing up we were doing drills for nuclear war, so it was probably a lower point at that point," Wisconsin Sen. Ron Johnson, who also sits on the Senate Foreign Relations Committee, said. "But no, this is Putin's fault. ... Putin is to blame for our bad relationship."
"We've had tension with Russia, I guess since 1970 all the way down. I guess there's a lot of blame to go around, but most of it probably starts in Russia," Alabama Sen. Richard Shelby said.
As far as tying foreign policy and sanctions to the failure on health care, an entirely domestic dispute, at least one senator thought it was unnecessary.
"I think this is a place where Congress needs to stand side by side with the administration to ensure that Congress' prerogatives are also adhered to, so I'm proud of the legislation," Corker said. "I know there's some frustration, I get it. I know [South Carolina Sen.] Lindsey [Graham] and I are both frustrated about the health care issue. We would have liked to have an outcome. There's no reason to tie the two together."
Ema O'Connor contributed to this report.