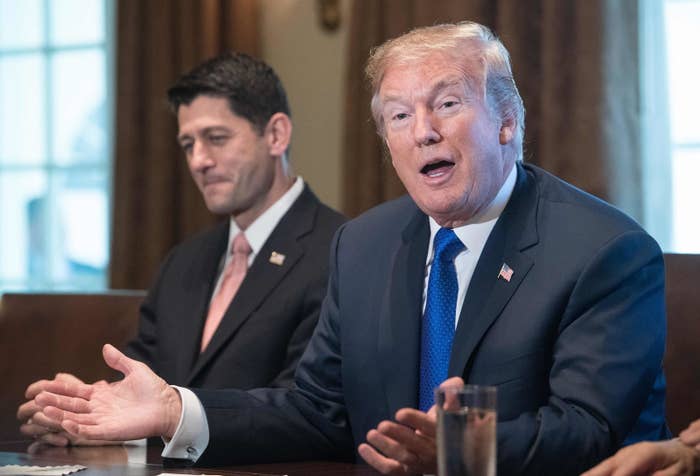 A growing number of Republicans are pushing back on President Donald Trump's claim that the FBI placed a "spy" in his campaign.
The president's comments about what he has labeled "spygate" began late last month, following a flood of reports about the early stages of the FBI's investigation into Russian interference during the 2016 election. What's been reported so far is that an FBI informant met with Trump campaign aides for brief meetings. Although there is no public information indicating that the FBI placed a spy in the campaign, the president has repeatedly stated as much and pitched it as potentially "one of the biggest political scandals in history!"
Republicans were largely silent about Trump's claims, but after Justice Department and FBI officials met with members of Congress in late May to review classified material related to the FBI informant, House Oversight Committee Chair Trey Gowdy took to Fox News to push back on the president's claims.
"The FBI is doing what he told them to do," Gowdy said in response to Trump's claims, adding, "I am even more convinced that the FBI did exactly what my fellow citizens would want them to do when they got the information they got, and that it has nothing to do with Donald Trump."
This week, House Speaker Paul Ryan backed Gowdy up.
"I think Chairman Gowdy's initial assessment is accurate, but we have some more digging to do," Ryan said Wednesday, adding that they're waiting on some document requests. "I have seen no evidence to the contrary of the initial assessment that Chairman Gowdy has made, but I want to make sure that we run every lead down and make sure we get the final answers to these questions."
While Ryan doesn't always lead a unified Republican conference, his comment suggested the door is open for more Republicans to distance themselves from Trump's claims.
Later Wednesday, Rep. Tom Rooney, another Republican on the House Intelligence Committee, also refuted the president's claims.
"What is the point of saying that there was a spy in the campaign when there was none?" Rooney told Politico. "You know what I'm saying? It's like, 'Let's create this thing to tweet about knowing that it's not true.' … Maybe it's just to create more chaos, but it doesn't really help the case."
Rep. Elise Stefanik, a New York Republican who sits on the House Intelligence Committee, also said she is also skeptical of Trump's claims. "I don't agree with his characterization," Stefanik told BuzzFeed News on Thursday. But she also noted that "only certain members have been able to review the documents in reference, and I wasn't part of that small group, with the Speaker and Chairman Gowdy and Chairman Nunes, so I haven't seen the latest from the documents."
Rep. Ileana Ros-Lehtinen told BuzzFeed News she was reluctant to comment on intelligence matters because "then I get embroiled in a lot of fights," but added, "I think that what Speaker Ryan and Trey Gowdy were saying makes sense."
On the Senate side, Sen. Richard Burr, the head of the Senate Intelligence Committee, also told CNN Wednesday that Gowdy's "description of the process was correct."
In addition to Republicans Ryan, Nunes, and Gowdy, members of the so-called Gang of Eight — which includes leadership from both parties in the House and Senate as well as intelligence committee heads — received classified briefings from DOJ and the FBI related to the FBI informant. Following those briefings, Democrats came out saying there was "no evidence" to support Trump's claims.
A senior DOJ official said the Department of Justice will extend an invitation to the Gang of Eight on Thursday for a follow-up briefing on the same issue. The meeting is expected to take place next week.
Despite the pushback from some members, the president is short of allies in the House. One group of Republicans introduced a House resolution last month calling on DOJ to appoint another special counsel to investigate how the Trump-Russia probe started, saying that the DOJ or FBI (or both) "planted" at least one person to "infiltrate and surveil" Trump's campaign.
Nunes, for his part, has been largely silent on the "spygate" affair. BuzzFeed News asked him Thursday morning what he made of the president's comments. His response: "I don't talk about intel stuff."
Zoe Tillman contributed reporting.
UPDATE
This story was updated with comment from Rep. Ileana Ros-Lehtinen