Iowa Governor Offered Post As US Ambassador To China
Gov. Terry Branstad has a long, positive relationship with China and President Xi Jinping, that could help Trump to improve his standing with the nation he often criticized on the campaign trail.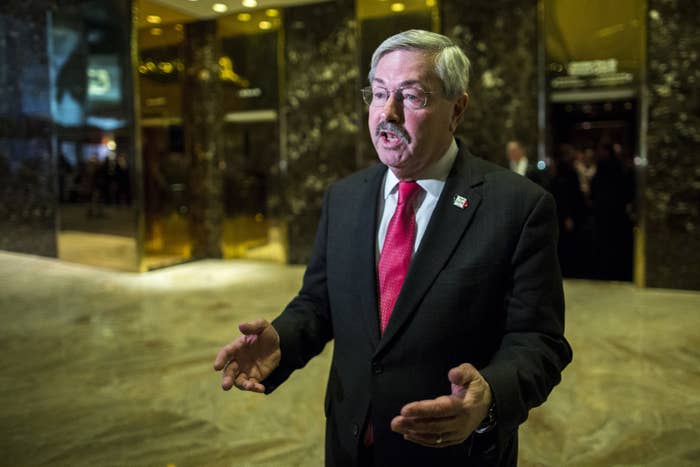 WASHINGTON — President-elect Donald Trump has offered Iowa Gov. Terry Branstad the position of being US ambassador to China, a Trump transition spokesman confirmed to reporters Wednesday morning. The move was first reported by Bloomberg.
The pick is by no means an arbitrary one: Iowa and China have a long relationship, and much of it has to do with Branstad and his friendship with Chinese president Xi Jinping, which goes back to long before he took office.

"Governor Branstad's decades of experience in public service and long-time relationship with President Xi Jinping and other Chinese leaders make him the ideal choice to serve as America's Ambassador to China," Trump said in a statement.

For his part, Branstad said in a statement he was "honored and humbled" to accept the nomination. He will need to be confirmed by the Senate.
"Their relationship has been a long time in the making," said Tim Albrecht, a former Branstad spokesperson, in an interview with BuzzFeed News.
Xi has visited Iowa twice, first in 1985 and again in 2012. Iowa and China are major trade partners, especially when it comes to agricultural products and both visits had an agricultural emphasis. Republicans say Xi never forgot the hospitality Iowa provided him. Branstad has in turn visited China multiple times.
Trump and Branstad met on Tuesday to discuss the position as well as the recent election. A statement from Branstad said he had no announcements to make at that time. But China warmed to the idea of him taking on the role: Foreign Ministry spokesman Lu Kang called him an "old friend of the Chinese people" when asked about reports that Branstad could take the job.

In Beijing, there was cautious optimism about the pick a week after Trump incensed the country by firing off critical tweets and spoke on the phone with Taiwanese President Tsai Ing-wen.
"I think he will be good for US-China relations, but what can I say — he's just one person, " said Jia Qingguo, a professor at Peking University and one of the country's top scholars on the US. "If Trump chooses to go through with 45% tariffs on Chinese goods and hardline policies on the East and South China Seas, there will be obstacles and hardships ahead."
Branstad, who is well-liked by other Republicans, is considered to be of moderate temperament, a striking juxtaposition next to Trump, who is well-known for his anti-China rhetoric and frequently criticized the nation on the campaign trail.
"I think that our governor, Terry Branstad, would excel at whatever duties he might have, whether he continues on as governor, whether he is considered for another position. He is very well-versed in China-US relations," Iowa Sen. Joni Ernst told BuzzFeed News on Tuesday.
China's state-run Global Times, known for its hawkish op-ed page, characterized the appointment as a positive development in an editorial that largely slammed Trump's views on China.
"There may be another dimension to Trump's desire to maintain communications and friendliness with China," the editorial said of Branstad.
The governor also has a strong relationship with Trump. His son, Eric, was the Iowa state director for the Trump campaign.
If Branstad is confirmed by the Senate, Lt. Gov. Kim Reynolds would fill the gubernatorial vacancy he leaves behind. She would be up for reelection in 2018, and Iowa Democrats are clearly eyeing the race for the governor's mansion, which Branstad has held for a total of nearly 22 years.
"I think that right now Iowa Democrats are looking with great eagerness to the 2018 gubernatorial race," said Kurt Meyer, a Democrat activist running for chair of the Iowa Democratic Party. "This is a race we have been anticipating for quite a long time."
While Meyer said it is too early to speculate who Democrats would run against Republicans in the gubernatorial race, he said a lot of names have been tossed around.
On the Republican side, Reynolds would be a force to be reckoned with, particularly having the advantage of a year in office to fill out Branstad's term.
"Kim Reynolds would electrify and excite Republicans up and down the ticket," Albrecht said. "She would undoubtedly be the top contender for the Republican nomination in 2018."
Iowa, a swing state, has recently been almost completely under Republican control and Branstad, who is the longest-serving governor in US history, is a popular politician in the state.
Trump will be visiting Iowa on Thursday as part of his thank-you tour. Despite losing the state during the Iowa caucuses to Sen. Ted Cruz, he carried the state during the general election. Branstad is scheduled to be at the rally.
CORRECTION: Terry Branstad has spent 22 years as the governor of Iowa. An earlier version of this story misstated the number of years he has served in office due to an editing error.