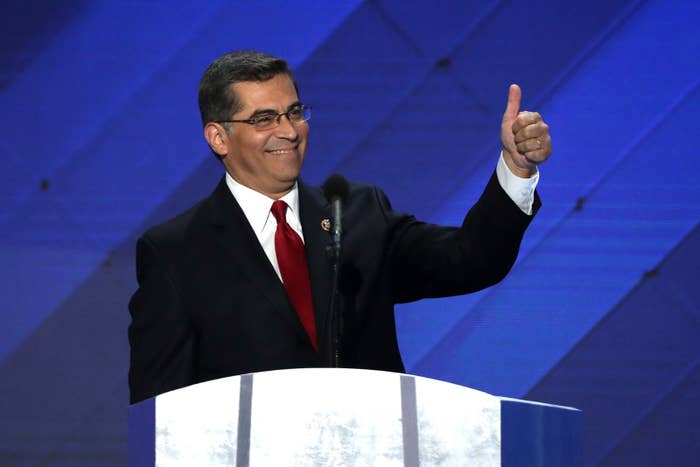 California Rep. Xavier Becerra has accepted the nomination to serve as his home state's attorney general, according to a press release from Becerra's office on Thursday.
The new attorney general will exit Congress shortly after his reelection to a thirteenth term, representing California's 34th District, to replace incoming US Sen. Kamala Harris.
"Governor Brown has presented me with an opportunity I cannot refuse — to serve as Attorney General of my home state," Becerra said in the statement. "As a former deputy attorney general, I relished the chance to be our state's chief law enforcement officer to protect consumers, advance criminal justice reform and, of course, keep our families safe."

Most recently, Becerra served as the Chairman of the House Democratic Caucus, but he was prohibited by term limits from serving in that leadership position again this year.

According to the Los Angeles Times, Becerra is the highest-ranking Latino in Congress and will be California's first Latino attorney general.
To fill the position, however, Becerra will need to be confirmed by the California state legislature. After that, Gov. Jerry Brown would have two weeks to call for a special election to replace Becerra in Congress.
According to a press release from Brown's office, Becerra's nomination will not be submitted until Harris formally resigns. Harris will be sworn-in as a senator in January.
Becerra, 58, has served in Congress since 1992. He was the first Latino to serve on the Ways and Means committee, according to his website. Prior to his time in the US Congress, Becerra also served a term in California's legislature.
"Xavier has been an outstanding public servant – in the State Legislature, the U.S. Congress and as a deputy attorney general," Brown said in the statement. "I'm confident he will be a champion for all Californians and help our state aggressively combat climate change."
On the Hill, Becerra's Democratic colleagues praised him. House Democratic leader Nancy Pelosi, who was reelected to her leadership post on Wednesday, released a statement congratulating him on the appointment. California Sens. Barbara Boxer and Dianne Feinstein also said Becerra, who served as a deputy attorney general at the California of Justice, would do well in the role.
Boxer noted that Becerra's long career in the House could give him a leg up as attorney general, saying that he comes in with an understanding of how laws are created and how executive orders are put in place. And those skills could help him to combat the Trump administration from the state level.
"I'm sure that Xavier would understand how, legally, he can take a stand and how he can fight back, if there's unfair action by Trump," said Boxer, noting that it's unclear what the president elect will do when he's inaugurated next month. "If he says there's a religious test or we're rounding up people who never did anything violent, these are the things that if he does them, I think it will be great to have Xavier."
In a conference call with reporters on Thursday afternoon, Becerra also seemed open at time to sparring over ideology with a Trump administration if needed.
"We are a state that knows who it is, what it's good at, and we're going to continue to do that ," Becerra said. "We know the true value of diversity, and we're going to fight for what we believe in."