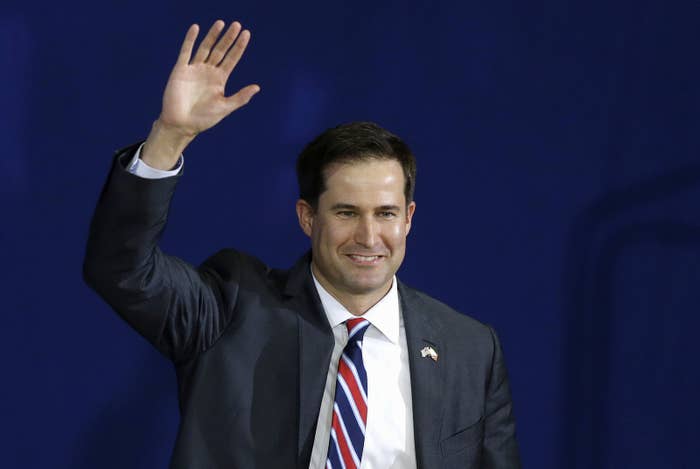 Massachusetts Rep. Seth Moulton, a Democrat, accused his party of failing to show "leadership" in response to sexual harassment allegations made against their own members.

Moulton's comments come as two of his House Democratic colleagues, Reps. John Conyers and Ruben Kihuen, face allegations of harassing female staffers and calls for their resignations. Both cases were first reported by BuzzFeed News.
Moulton, an outspoken critic of House Minority Leader Nancy Pelosi, was asked about her response to the allegations on BuzzFeed News' Twitter morning show AM to DM on Monday.
"I mean, at the end of the day this just wasn't leadership that we saw from our Democratic party leaders, and that's why I'm calling for a new generation of leaders in our party," Moulton said.
Pelosi's response to reports about Conyers, the longest-serving member of the House of Representatives, were widely criticized after she made an appearance on Meet the Press the weekend after Thanksgiving in which she called Conyers an "icon" and did not call for him to resign.

Last Thursday, more than a week after BuzzFeed News first reported that Conyers had secretly settled with a staffer who alleged he sexually harassed her for years, Pelosi said he should resign.
After BuzzFeed News first reported sexual harassment allegations made against Kihuen on Friday, Pelosi was much quicker to respond and called for him to step aside the same day the reports became public.
When asked directly if he thought Conyers and Kihuen should resign, Moulton said "they probably should," but would not discuss the specific cases.
"I'm not going to get into, like, the details of these individual cases because it distracts from the larger issue, which is that we have a rampant problem not just in Congress, but across the United States," Moulton said.
Drew Hammill, a spokesperson for Pelosi, reached out to BuzzFeed News in response to Moulton's comments, noting that Moulton didn't directly call on either Conyers or Kihuen to resign in his interview.
"Being a strong leader means making tough calls like asking your colleagues to leave Congress. Hurling petty insults in order to get booked on TV isn't leadership at all," Hammill said in an email.
Moulton, who visited Iowa earlier this year, has been the subject of 2020 presidential rumors. But in a subsequent interview Monday, Moulton called the speculation about a White House run "crazy."
"I'm not running for president," Moulton said. But he didn't rule out running against fellow Democratic Sen. Ed Markey in 2020.

On AM to DM, Moulton said he and other members were "shocked" by the secretive process by which Conyers and others in Congress have settled accusations of sexual harassment and other discrimination. He said he had not been the subject of a complaint with Congress's Office of Compliance himself.

"I have not. I didn't even know this crazy system existed," Moulton said.

"The United States Congress should be setting the tone, setting the example for the country, instead we're like a century behind with this crazy system where we just pay off, apparently, you know, victims," Moulton said.
Moulton noted that he is a cosponsor of the ME TOO (Member and Employee Training and Oversight on Congress) Act, which is designed to overhaul the complaint process. The bill has received growing support in the wake of BuzzFeed News' reporting on Conyers.

Moulton was critical of leadership in general Monday, calling for a new guard of younger members. "[There's] this sense that it's more important to protect people in their positions or give people positions because of seniority or power … rather than giving, you know, good people leadership because they've earned it," he said.
UPDATE
This post has been updated with a comment from a spokesman for Pelosi.