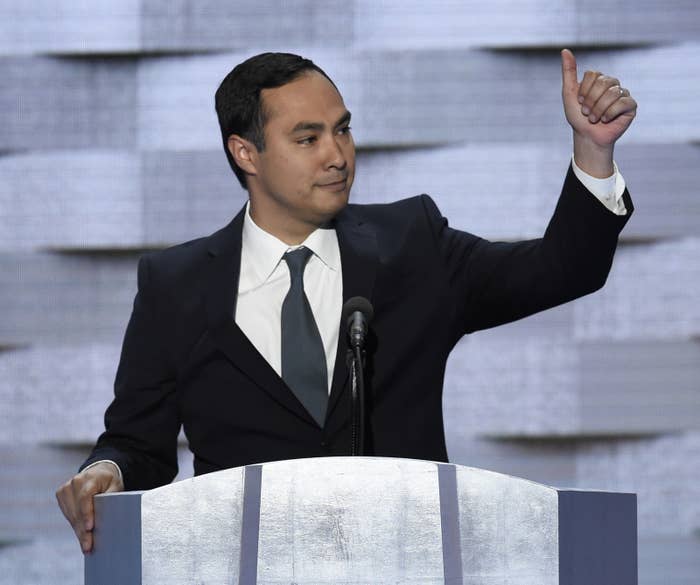 Rep. Joaquin Castro announced Monday that he will not run to try to oust Sen. Ted Cruz in 2018, an idea he has publicly toyed with for months.
In a statement to supporters announcing his decision, Castro took a shot at Cruz, saying that many Texans had told him that they want a senator "who will stand up for their families; not stand down to Donald Trump." Back in January, when he still considering a run, Castro told BuzzFeed News that Cruz "really has not done much for the people of Texas."
But on Monday, Castro said that he ultimately decided that with the "threats posed by Russia and North Korea and "the reckless behavior" of the Trump administration, he should focus on his work on the House Foreign Affairs and Intelligence Committees, rather than running a year-long campaign for higher office.
Castro is "probably" running for reelection for his current seat in the House in 2018 instead, a source familiar with the decision-making process told BuzzFeed News, but added that the congressman is "leaving a crack in the door for 2018 in case circumstances change."

Castro, who represents Texas's 20th District, is seen as one of the rising stars of the Democratic Party. His reputation has grown alongside that of his identical brother, former secretary of Housing and Urban Development Julian Castro, who has said he wouldn't rule out a presidential run in 2020. The young Castro brothers, who have given well-received speeches at the last two Democratic National Conventions, have long been looked to as saviors of the Texas Democratic party, which has struggled to gain footing in such a large, conservative state.
A Texas Lyceum poll released last month actually showed Castro with a slight lead over Cruz, 35-31 percent, in a hypothetical 2018 Senate race.
Despite Democrats' general enthusiasm, some remained hesitant about Castro running for the Senate and walking away from his seat Congress, where he has a reputation and position some would rather not see him risk.
"It would be a big risk for [Joaquin] to run, and there are a lot of us who think, hey man, just wait," Colin Strother, a Democratic strategist in Texas, told BuzzFeed News. "As Texas Democrats, we see so much hope and promise in the twins that we'd like for our brighter future to start now. But the reality is that it doesn't appear yet that we're ready."
With Castro now saying he won't run, Democrat Rep. Beto O'Rourke is now the biggest Democratic name in the race for Cruz's Senate seat. The same Lyceum poll showed O'Rourke and Cruz tied at 30 percent.
O'Rourke praised Castro as "an extraordinary member of Congress," in a statement on Monday evening, noting that the two had spoken. "[I] told him that I understand his decision and wish him the best going forward. I know that we will continue to work together for a long time to come and I am grateful for that," O'Rourke said.
The two Democrats have a lot in common on policy, but while Castro has long been groomed for higher office, the idea of O'Rourke as a US senator is a relatively new concept for Democrats, strategists say.
"I don't think ideologically those two are all that far apart," a Democratic operative in Texas, who did not want to comment on the record about O'Rourke and Castro's positions, said.
And O'Rourke is likely to bring a different style to the Senate race than Castro would have.
"He's not beloved by the Democratic establishment [the way Castro is]," a Texas Republican consultant said of O'Rourke. "Beto can play more of a maverick-y kind of game… assuming he's able to raise money."
For Texas Democrats, it's all about timing. The party hasn't won a statewide election since 1994 — the longest drought for the party in any state in the country. And they've been waiting for years to turn their state blue, but they have been hesitant to risk candidates like Castro in elections that they do not stand a chance in; doing so would be like leading lambs to the slaughter.
"The thing about Texas that's challenging… is we don't know how to win statewide. We haven't done it in 25 years. There's no recipe book," Colin Strother, a Democratic strategist in Texas, told BuzzFeed News.
Even with the threat of a primary against a popular House Democrat out of the way, a race against Cruz will be tough given how well-known he is across the state, his popularity among conservatives, his national fundraising base leftover from his presidential campaign, and the Democratic Party's issues in gaining traction in Texas.
Though it will still be a very tough race for Democrats, some in the party believe the circumstances have created the perfect storm that could finally get them a statewide win.
"There's a lot of opportunity for us in 2018. And they stem from a lot of different occurrences that we've seen probably in the last year. First and foremost is this whole Trump phenomenon that we're seeing is having an effect on the Democratic base, not just in Texas but all across America," Gilberto Hinojosa, the chairman of the Texas Democratic Party, told BuzzFeed News.
President Donald Trump's popularity is flagging nationwide, the Democratic base is fired up, the state's Republican attorney general is under indictment and Democrats continue to say the demographics —including a rise in Hispanics— will benefit their party.
"I think they're full of shit," said a Texas Republican consultant. "They have been saying for decades that the demographics are changing in their favor, and I'm waiting for that day."
One major problem for any Democrat running in Texas is the need to "raise ungodly amounts of money," a campaign operative who worked on Wendy Davis's failed gubernatorial campaign told BuzzFeed News. No matter how you look at it, a statewide race in Texas is expensive. "It costs so much money to advertise there that it was like throwing petals into the Mississippi."
There's also a lack of experience among Democrats in the state in general, with few operatives who know how to navigate the politics of such a big state. "The state has changed dramatically in these 20 years," Manny Garcia, deputy executive director for the Texas Democratic Party, told BuzzFeed News. "Any of the old playbook, it doesn't necessarily work."
Castro sounded optimistic back in January that Democrats could finally win statewide in 2018, whether he decided to run or not, though he acknowledged that it won't be easy.
"Obviously if you're going to run in Texas, it's a large state, you need a lot of money and a lot of time to mount a serious campaign," Castro told BuzzFeed News at the time. "But I do think that there's going to be a real opportunity for Democrats in Texas and across the nation, really, because Donald Trump is leading the country in the wrong direction."
As for the prospects of a Democrat winning statewide office in the near future, Castro said that while it is "very tough" the party is moving closer to being competitive. "I do think it's possible," he said.