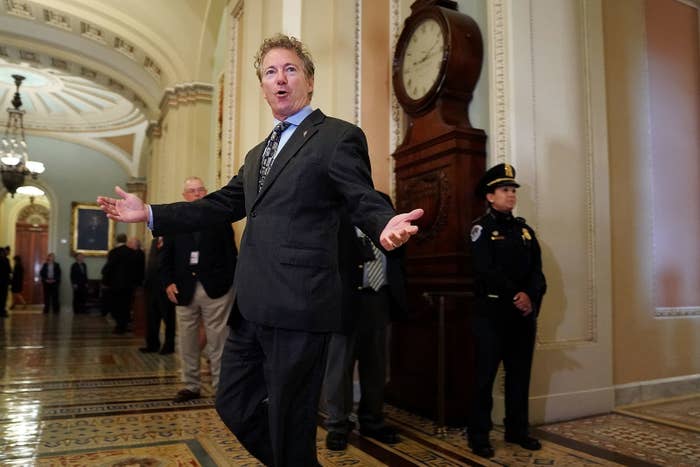 Congress passed a massive bipartisan deal early Friday morning, ending a brief government shutdown that began and ended before most realities of a shutdown set in.
Both the House and Senate passed the deal that will keep the government open through March 23 with bipartisan support, after Sen. Rand Paul blocked the vote late Thursday night, which ultimately led to the shutdown that began at midnight Friday morning.
The House voted 240-186 to end the shutdown just after 5:30 a.m. EST.
The deal — which will keep the government open for 6 weeks and also includes a two-year budget agreement and funding for a number of other programs — was signed by President Donald Trump on Friday morning. Congress pushed to get their votes done so that Trump can sign the bill before federal employees needed to show up to work on Friday, staving off the real effects of a shutdown.
The government will now remain funded at its current levels through March 23, giving lawmakers time to write new spending bills that will prevent future shutdown threats through the end of September.
Paul had stalled the bill in the Senate past the deadline to keep the government open Thursday night. The Kentucky Republican argued that the deal would add too much to the nation's deficit and that no one had had time to read the massive bill (which spans hundreds of pages) since it was introduced Wednesday night.
But Paul took issue with the much larger budget deal attached to that agreement, which would raise spending for both defense and non-defense programs over the next two years. It also includes $6 billion for fighting the opioid epidemic, disaster-relief money, funding to repair VA clinics, $20 billion for infrastructure programs, and enough funding for the Children's Health Insurance Program to tide it over for a decade.
Like Paul, conservatives in the House have balked at the spending increases in the deal, leaving Republicans in need of Democratic support. Ultimately 73 Democrats supported the bill, allowing it to pass.
"It was pretty much a smorgasbord of spending and policy that got added to this, and so, you know, normally people who eat at smorgasbords all the time are not the healthiest," Rep. Mark Meadows, the chairman of the conservative House Freedom Caucus, said Thursday. His caucus has formally opposed the deal.
Reps. Justin Amash and Thomas Massie both joined Paul on the Senate side of the Capitol late Thursday night into Friday morning to cheer him on. "I think with Rand drawing attention to this, there's more no's on the Republican side in the House than there were before," Massie said.
House Democrats did not appear to have a cohesive strategy going into the vote. While some members argued that this is a good deal that meets a lot of Democratic priorities, others would not support it because it does not address the Deferred Action for Childhood Arrivals program, which allows undocumented children of immigrants to avoid deportation. President Donald Trump, who moved to end the Obama-era program last year, has left Congress with a March 5 deadline to come up with a fix.
While House Minority Leader Nancy Pelosi and others on her leadership team came out against the deal, they said they would not pressure their members to to join them in opposition. Pelosi's message to Democrats was "vote the way you have to vote," Kentucky Rep. John Yarmuth said.
The discussions around immigration in Congress have not changed much since the last shutdown in January, when a majority of Senate Democrats voted to force a government shutdown, trying to get a concession from Majority Leader Mitch McConnell to promise a vote on DACA. After a three-day shutdown, McConnell and Minority Leader Chuck Schumer cut a deal to do so.
Immediately after the Senate passed its bill to reopen the government just after 1 a.m. Friday morning, McConnell began to set up the process for a vote on DACA in the Senate next week. But House Democrats said they still had not gotten satisfactory assurances from Speaker Paul Ryan.
Ryan said Tuesday he "share[s]" a commitment to solving the issue. "To anyone who doubts my intention to solve this problem and bring up a DACA and immigration reform bill, do not," Ryan said on Thursday. "We will bring a solution to the floor, one the president will sign. We must pass this budget agreement first, though, so that we can get on to that."
This time around, the shutdown had little to do with immigration, at least at its outset. All senators needed to agree to move forward with the funding bill in order to get it done before Friday's deadline, but Paul said he would not give his consent and repeatedly asked for a vote on his own amendment that would maintain current caps on government spending.
"What I've been arguing for is an open debate," Paul said minutes before 8 p.m. EST Thursday, as he held the floor asking leadership for a vote on his amendment. They declined.
Senate Majority Whip John Cornyn and Paul had a lengthy back-and-forth on the Senate floor later Thursday evening, in which Cornyn repeatedly asked Paul to agree to a vote and Paul continued to object.
After more than half a dozen attempts, Cornyn said that Paul was going to shut down the government "for no real reason."
"I know he wants to make a point, he has that right. I agree with many of his concerns about the deficit and debt, but this is an emergency situation," Cornyn said, citing the need to keep the military funded and provide the Pentagon with a long-term budget blueprint.
Unable to come to a deal with Paul, the Senate took an hour break just before 11 p.m., letting the deadline pass.
Schumer appeared to be sympathetic to Paul's argument earlier Thursday, but he argued that it was difficult to give Paul his amendment and not do the same for other senators, pointing out that time was running out and the House still needed to vote.
"It's hard to make an argument that if one person gets an amendment, that everybody else won't want an amendment, and then we'll be here for a very long time," Schumer said.
Exiting the Senate chamber at 2 a.m. Friday morning, Republican Sen. John Kennedy of Louisiana told reporters he was so tired he may need to skip watching Frasier when he got home.
UPDATE
This post was updated with the results of the House's vote to end a shutdown Friday morning.
CORRECTION
The government could reopen early Friday morning. An earlier version of this post misstated the earliest it could reopen.