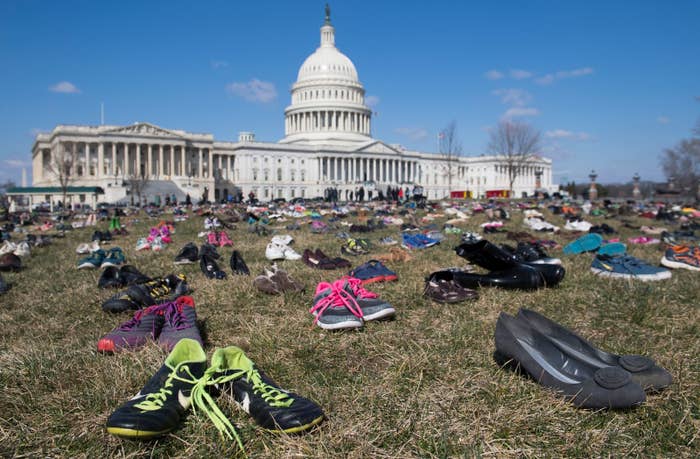 Protesters left 7,000 pairs of shoes on the lawn outside the US Capitol on Tuesday morning, symbolizing the lives of children lost to gun violence since the shooting at Sandy Hook Elementary in December 2012.
The protest was put together by Avaaz, a global advocacy group, to push Congress to pass gun control legislation following the shooting in Parkland, Florida, last month that killed 17 people.
Some of the shoes displayed on the Capitol lawn belonged to victims themselves, a spokesperson told BuzzFeed News.
"Shoes from family members of victims as well celebrities and citizens across the country will be displayed from early morning. Just before the March for our Lives, Avaaz will bring the heartbreak of gun violence to Congress' doorstep," the group wrote in a press release announcing the protest.

The March for Our Lives, organized by survivors of the Parkland shooting at Stoneman Douglas High School, is scheduled for March 24.
Tom Mauser, whose 15-year-old son Daniel was killed in the 1999 Columbine shooting, attended the protest with a pair of his son's shoes Tuesday.
"I'll be traveling to DC literally wearing my son Daniel's shoes, the ones he wore the day he died at Columbine," Mauser said in a press release before the event. "I think this kind of event with shoes offers a very powerful metaphor both for how we miss the victims who once filled those shoes, and also for how we see ourselves wanting to walk in their place, seeking change, so that others don't have to walk this painful journey."
Some members of Congress went outside to look at the display, including Democratic Reps. Raúl Grijalva of Arizona and Jim Himes of Connecticut. "It's too much for the heart to handle," Himes wrote on his official Instagram. "We must act."

"I visited the #NotOneMore display today and left a pair of shoes to honor the 7000 young lives lost to gun violence since Sandy Hook," Grijalva wrote on his Instagram account. "I'm tired of the inaction and the chokehold that NRA lobbyists have on Congress. Passing common sense gun safety legislation that protects our kids shouldn't be this difficult. #EndGunViolence."
Avaaz said it decided to display 7,000 shoes to represent children's lives lost due to guns since Sandy Hook based on figures from an American Academy of Pediatrics study that found that an average of 1,300 children are killed by guns every year. The study is based, in part, on statistics from the Centers for Disease Control and Prevention.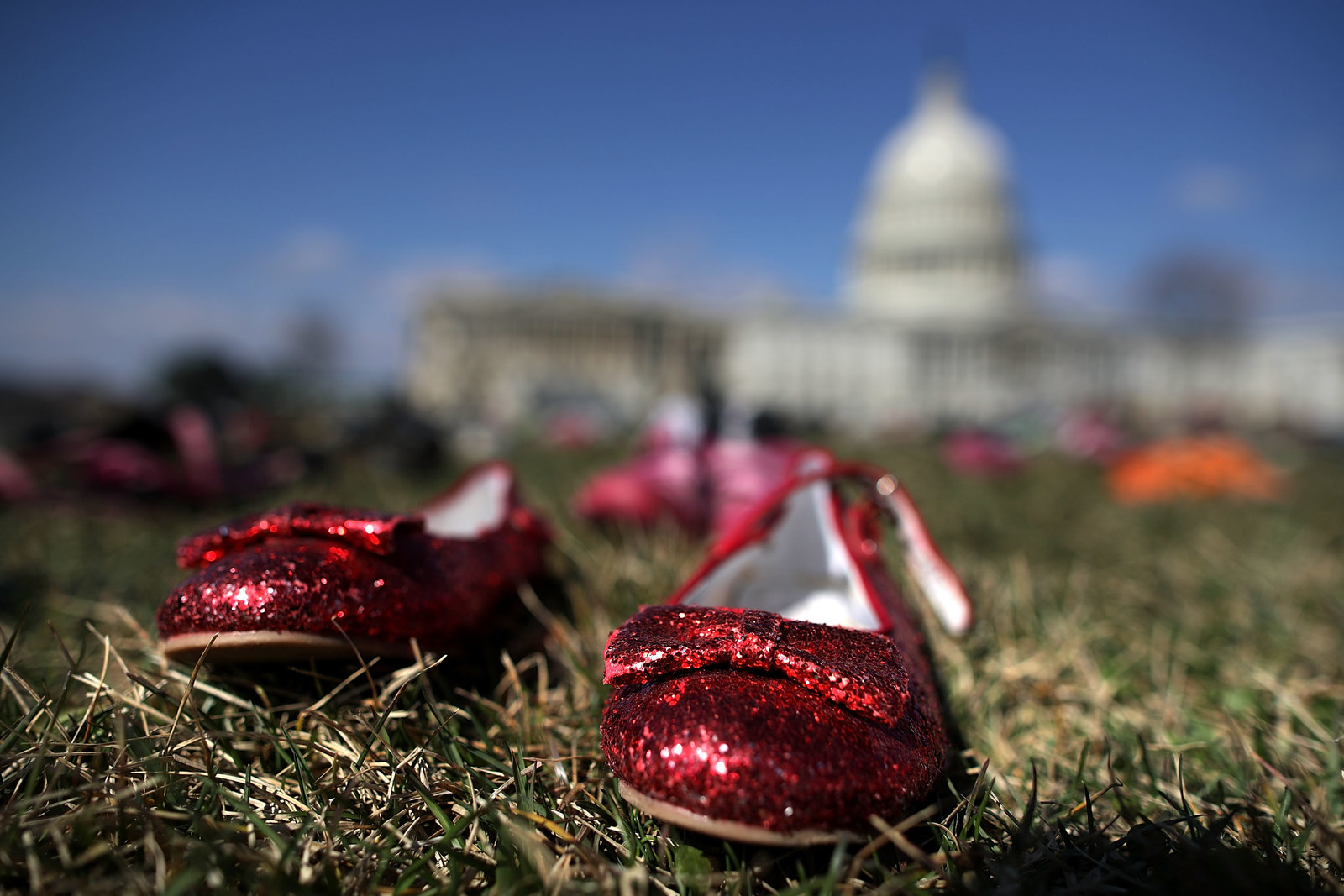 "This installations was really about giving the 7,000 kids … a voice," Emma Ruby-Sachs, the deputy director of Avaaz, told BuzzFeed News. "These kids, they don't get to be there because we didn't pass gun control fast enough for them."
Ruby-Sachs said a number of Democratic members of the House stopped by, and she estimated hundreds saw the display, including "school groups" that were walking by and stopped over. One of the members was Rep. Ted Deutch, the Democrat who represents the district Parkland is in. Ruby-Sachs said he cried "and he talked about what it means to him to see all these shoes on the lawn."
Ruby-Sachs said the shoes were all donated and, now that the installation is over, will be donated to homeless shelters across the country.
"This action was really about a human connection, not a political one."