People In DC Watched The Comey Hearing At Bars Like It Was The Goddamn Super Bowl
DC is such a weird place to live, you guys.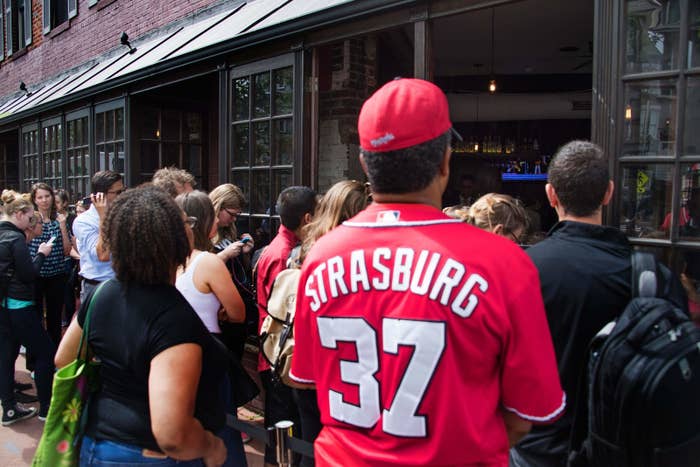 Former FBI director James Comey, who accused President Donald Trump of encouraging him to drop at least one aspect of the Russia investigation, is finally testifying in Congress. So obviously, DC residents hung out at bars to watch it together.

Hundreds gathered at Shaw's Tavern and Union Pub in Washington to watch the Comey hearing Thursday morning.
Shaw's Tavern opened early to show the hearing and offer "Comey Covfefe specials." The line was down the block before the hearing started at 10 a.m.

The bar offered drink and breakfast specials themed around the hearing, but sadly didn't start serving alcohol until 11 a.m., an hour into the event.
Here's the Covfefe Coffee:
And an FBI sandwich.
A lot of people at Shaw's Tavern, both in line and outside, tried to get some work done while they waited for the hearing to pick up. Many people brought laptops to the event, hoping to work remotely. It is, after all, a Thursday morning.

A woman trying to get work done at the bar told BuzzFeed News she came because she was interested in watching the "political theater" unfolding.

"I feel like it's a dark time in this country and the world and I feel like this is DC's way of coming together and watching democracy work. It's a historic moment," said Samantha Feinstein, who lives in DC. (She noted that her last name is pronounced differently than that of Sen. Dianne Feinstein, who is grilling Comey this morning).

Feinstein sat at a table where she didn't know everyone. "I think it's important that we share these experiences together."
An hour and a half into the hearing, people were still lined up outside, waiting to get in. Approximately 150 were in the building, not counting those seated outside and waiting in line. A woman who has worked at Shaw's Tavern for a few years told BuzzFeed News she'd only seen the bar that full a few times.
Meanwhile, over at Union Pub...
Union Pub, which is just a few blocks from the Senate hearing room where Comey was testifying, was also pretty packed.

People at Union Pub were starting to get pretty annoyed as the hearing went on. The bar had offered free beer for every tweet that Trump sent during the hearing —and almost two and a half hours in, he still hadn't tweeted.

"The one time he decides to shut the fuck up on Twitter, it's costing me free beer," one man, who asked not to be identified, said.
By the time the hearing ended, just before 1pm, Trump still hadn't tweeted.