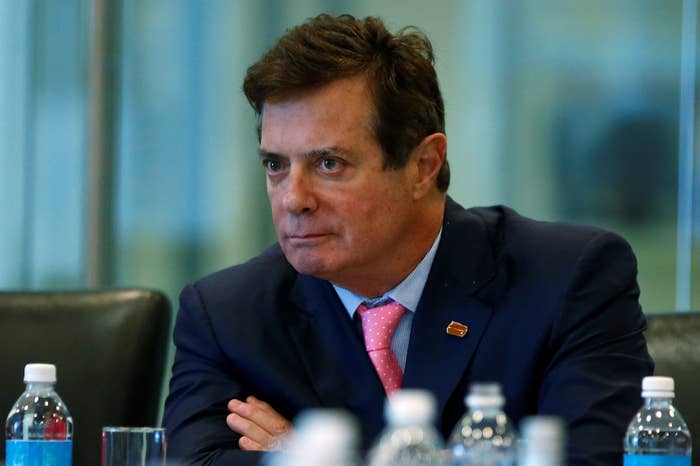 WASHINGTON — Paul Manafort's counsel has offered the House Intelligence committee the opportunity to interview his client in the midst of its Russia investigation, committee chairman Devin Nunes said in an unexpected press conference Friday morning.

The offer comes just days after an Associated Press report revealed that Manafort signed a contract as early as 2005 with a Russian billionaire to help influence politics and media coverage to favor Russian President Vladimir Putin.
Manafort resigned from the Trump campaign last August, amid growing scrutiny over his ties to Russia and Ukraine. His connections with those countries are part of an ongoing investigation into links between Russia and both the Trump campaign and administration.
Nunes said Friday the committee appreciated Manafort's offer, which came yesterday, and encouraged others with knowledge on these issues to volunteer as well. Rep. Adam Schiff, the committee's top Democrat, also said Manafort is "welcome" before the committee.

Nunes has been in the news a lot this week after he announced Wednesday he had new information suggesting that the Trump team had been surveilled and that it's "possible" that their personal information had been picked up in incidental collection. Nunes said Friday, however, that Manafort's name did not appear in the information he had viewed.
Nunes came under fire for briefing reporters and the White House on the information he obtained (from sources he would not name) before alerting other members of the committee, an unprecedented move that has raised questions about the committee's ability to properly investigate the matter.
Additionally, Nunes told reporters the committee will ask FBI director James Comey and NSA Director Mike Rogers, who testified at the committee's first open hearing on Monday, to return for further questioning in a closed-door session with members.
"Yesterday, Ranking Member Schiff and I agreed to request that the FBI brief the full committee on information regarding the ongoing ... investigation that had been previously limited to Mr. Schiff and myself," Nunes said.

"There are just questions that we have for Director Comey and Admiral Rogers probably that they just couldn't answer in a public setting, but it's necessary to get both of them back down here before we move on to other interviews," Nunes said, adding they were not being called back in relation to the new information Nunes received this week since the first hearing.
Nunes also said it is possible the committee will receive more information related to their investigation from the NSA today, but does not expect the entirety of it to come in today.

In the meantime, the committee's second public hearing on the issue is still up in the air. Nunes' office said Friday that the hearing had merely been postponed, but Schiff has interpreted that as "cancelled."
"I don't think anyone should have any question about what is really going on here," Schiff told reporters. "This is not a desire to have them come back in closed session and somehow that's at conflict with having an open hearing that is already scheduled, witnesses who have already agreed to appear. That is at most a dodge."
Schiff said he believes there was likely pushback from the White House on the nature of Monday's hearing and "clearly" the decision had something to do with the events of this week.
Schiff added that Democrats have asked Republicans to reconsider holding the hearing and that the witnesses, including former acting attorney general Sally Yates, have indicated to the committee that they are still available.
Sarah Mimms contributed to this report.