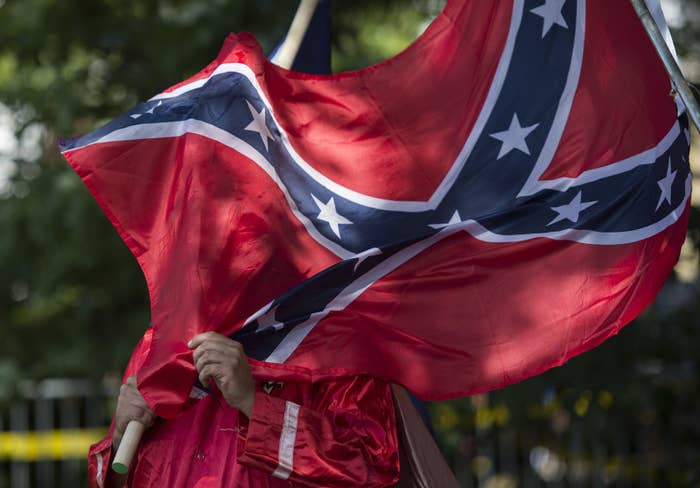 One of the speakers featured at the white supremacist rally in Charlottesville, Virginia last weekend announced Tuesday that he's running for the US Senate as a Republican.
Augustus Sol Invictus, a Florida man whose given name is reportedly Austin Gillespie, announced his second bid for the Senate on Tuesday in a livestream outside of what appeared to be Democratic Sen. Bill Nelson's Washington office. In his announcement, Invictus defended the rally that turned deadly on Saturday, blaming violence on the liberal counterprotesters.
"The left has been physically attacking patriot gatherings, free speech rallies, and protests of the destruction of our heritage in the south. They have waged a campaign of terror from coast to coast and all across Europe for well over two years now," Invictus said, in a dramatic Southern drawl.
Invictus went on to accuse the Charlottesville City Council of setting a "trap" for people attending the "Unite the Right" rally and blamed police for "push[ing]" them into a "leftist riot."
"We now enter a new age of American history, and the question to be answered is this: Will we restore the republic our forefathers created, or will we allow it to be annihilated by those who hate America, its history, and all it stands for?" Invictus said in the video. "A reckoning has come. God wills it."
A spokesperson for Nelson told BuzzFeed News the office was not aware Invictus would be livestreaming in front of the senator's office, and that he did not enter the office or interact with any staff.
"This looks like a nonstarter," one Republican campaign operative said when asked about Invictus.
Invictus ran for Senate in 2016 as a Libertarian candidate running for Sen. Marco Rubio's seat. Invictus lost in the Libertarian primary, earning just over 1,000 votes.
Back then, Invictus earned headlines for saying that he had walked from central Florida to the Mojave Desert to fast and pray. When he returned, he said he killed a goat and drank its blood as part of a pagan ritual.
"I did sacrifice a goat. I know that's probably a quibble in the mind of most Americans," Invictus said, the Orlando Sentinel reported in 2015. "I sacrificed an animal to the god of the wilderness. ... Yes, I drank the goat's blood."
The Sentinel also reported that Invictus admitted to being investigated by law enforcement, including the FBI.
Adrian Wyllie, the former chair of Florida's Libertarian Party, resigned from the position in 2015 in protest over Invictus's candidacy as a Libertarian.
"I resigned to draw attention to this, as a protest. I did this as a preemptive strike. I don't want anyone to think this guy represents Libertarians. He doesn't," Wyllie told Politico at the time.
According to his Facebook page, Invictus lives in Orlando and is a lawyer. He is listed as the publisher of The Revolutionary Conservative, a website that says its objective is to write commentary in "the defense of the West, starting with the restoration of the American republic." The Federal Election Commission's website doesn't show records of any 2017 filings by Invictus, a step he would have to take to make his candidacy official and start raising money for a campaign.
The National Republican Senatorial Committee declined to comment. BuzzFeed News reached out to Invictus and the Republican Party of Florida for comment, neither of whom responded.
Nelson will be defending a Democratic seat in a state President Donald Trump narrowly won in the 2016 election.
Several high-profile Republicans have been considering jumping into the race, though none have yet officially entered. One Republican's chatter is about Florida Gov. Rick Scott, who has not ruled out a Senate run. The Washington Post reported in May that Scott said people have been calling him to jump into the race, but that he didn't "feel any pressure" to make a decision so early.