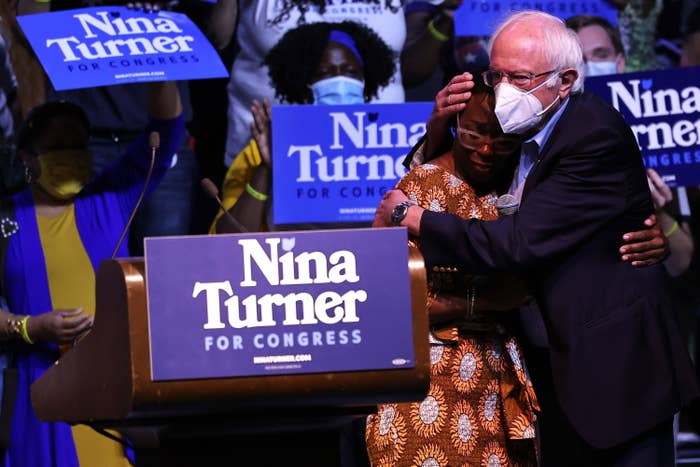 Democrats in the middle of Tuesday's congressional special primary election in Ohio insist the race is not what it looks like: another round of national progressives versus the party establishment. They argue that narrative is lazy, or at least not the whole of it. But the leading camps in the contest to replace a representative-turned-Biden cabinet member have largely lined up behind expected battle lines — across the same fissure that has haunted the party since the 2016 presidential primary between Hillary Clinton and Bernie Sanders.
No matter how inconvenient it may be for a party currently holding Congress and the White House, the echo of the race that ended with Donald Trump as president is still there.
On one side is Nina Turner, a former Ohio state senator and close Sanders ally who has long been considered the top contender for the seat vacated by Rep. Marcia Fudge. On the other is Shontel Brown, the Cuyahoga County Democrat chair and Cuyahoga County Council member who is backed by Clinton. Both are well-known Democrats with local ties, vying for the position in a race that tightened and turned negative as Aug. 3 approached.
"We've taken that narrative and really have been able to gain some exposure in that way," Brown told BuzzFeed News. "That was never the goal, but we knew that the other candidate in this race would draw national attention, right, and so we've been able to capitalize on that because many people were pleased to know that there was an alternative choice."
Toward the end of the phone interview, when asked if there was anything she wanted to add, Brown yielded to her campaign manager. He highlighted that Brown had been driving a lot of their campaign's communication because of her familiarity with the district. "We feel like that is a very strong contrast to Nina Turner, who's been running around the country with Bernie Sanders, talking shit on Democrats," he said.
Since the 2016 primary, when the Sanders campaign gave Clinton an unexpectedly tough fight and opened a chasm in how Democratic politics operates, the party has seen a growing progressive movement that has continued pushing it to the left. Though moderate Democrats are currently the center of gravity for the party (as evidenced by Joe Biden prevailing in the 2020 presidential primary) and though the party is now fixed on wrangling the support of centrist senators to move its agenda forward, the tension within the party and the fight for what its future should look like remains. In the Ohio special election primary, it is now playing an outsize role.
Special elections are nothing special this year. They say little about what may happen in the midterms, which are still over a year away, and voting looks different in an off year, especially ahead of redistricting. Still, the 11th district race currently holds the title for most expensive congressional race this year, according to OpenSecrets, and big names in national Democratic politics are invested. The district encompasses much of the Cleveland area and extends into Akron, with a large Black constituency. And the district is solidly Democrat, with Cuyahoga County going for Biden by more than 30 points in 2020, meaning the winner of the primary will all but determine who will hold the seat.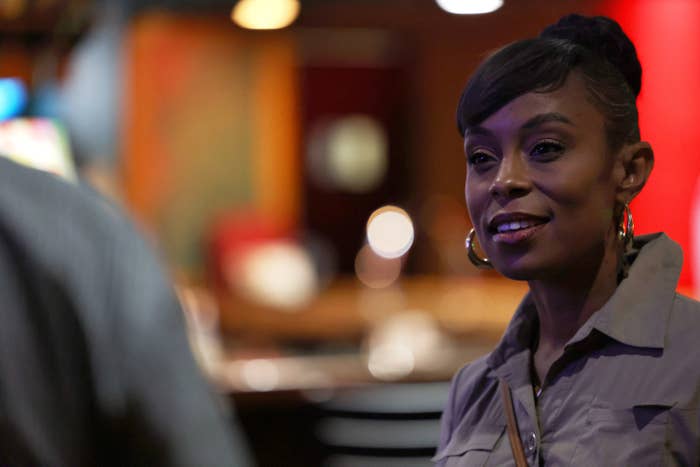 Who will be better able to advance Democrats' priorities in Washington has been an ongoing narrative in the race. For Turner, that has meant being on the defensive about past comments, like the one she made to the Atlantic last year once it was clear Biden would be the general election Democratic nominee: "'You have a bowl of shit in front of you, and all you've got to do is eat half of it instead of the whole thing.' It's still shit." Turner's campaign has argued that she would be going to Washington with influential connections; Brown's campaign has been making the case that Brown would not arrive in DC having to mend broken fences.
While Turner, the frontrunner, has embraced a lot of the progressive allies and policies she's pushed for on the national level she's also made the case that her work and ties in the state go back further than that, to avoid being oversimplified as just a Sanders campaign fixture. She points, for example, to her work as chair of engagement for the state Democratic party.
"She has a rich, deep history and a set of colleagues across the Democratic spectrum that are supporting her campaign," Kara Turrentine, Turner's deputy campaign manager, told BuzzFeed News. "Long before she has been the Nina Turner that we know and love on the national level, she was doing the work at the municipal level and the state level in Ohio." At a press conference last week, while one Turner ally sought to frame the race as "not a battle of Biden versus Bernie, this is a battle [of] us versus Trump," another talked about how the Democratic establishment wants a Democrat who "sits down, shuts up and [does] what you're told. That's not Nina Turner, we do not need anymore Democrats in Congress like that."
To get a sense of how nationalized the race is, look no further than the parade of Democrats who poured into the state to back their respective candidates. Sanders made an appearance over the weekend and held a series of get out the vote events. Progressive Rep. Alexandria Ocasio-Cortez, who campaigned alongside Turner for Sanders during the 2020 presidential campaign, pleaded with voters to "please send me Nina."
Brown, for her part, received a welcome endorsement from House Majority Whip Jim Clyburn, who famously made a crucial endorsement of Joe Biden ahead of the 2020 South Carolina presidential primary. Clyburn was also among those on the ground to back Brown this weekend.
"People are sick and tired of all of this headline seeking, and they're looking for people who can make headway for them," Clyburn told BuzzFeed News. "A lot of people think that all you need to do is jump up and down and make a headline and you're doing something. And people are still trying to get food on the table, to get shelter … and we have not, we cannot, convict them to headline seekers."
On the local level, Democrats were no less divided. One Democrat, when asked by BuzzFeed News if there might be a local political strategist that was unaffiliated with the campaign, noted it was a question they had received a lot in the days leading up to the race. "No there is not," said the Democrat. "Everybody has taken a side."
Tuesday's results will likely make clear who the winner of the seat is, but what it actually means for the broader party will remain unsettled.
"I do think it's a shame that really Democrats, we get into these things, and all of a sudden it's about '16 and '18 and not about '21. And that seems to have happened here," former state party Democratic chair David Pepper, who endorsed Turner, told BuzzFeed News. "I do think the fact that this has turned into just sort of, round, I don't know, three, four, five of a spat that started in '16 is unfortunate."
"It's just been really frustrating to watch this turn into, in one district, this broader, internal strife in the party playing out."