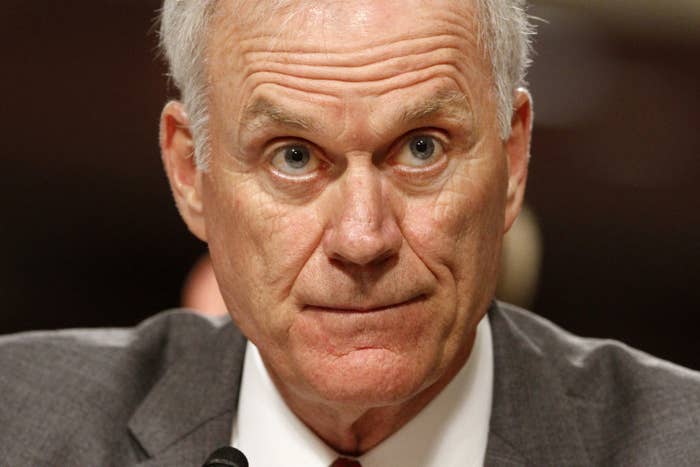 Navy Secretary Richard Spencer contradicted President Donald Trump on Thursday by saying "any patriot" should be allowed to serve in the military.
The comments, reported by Norfolk's Daily Press, are contradictory to Trump's stated position that transgender troops should not be allowed to serve, although Spencer said he would follow the president's direction.
"We will process and take direction on a policy that will be developed by the secretary (with) direction from the president — and march out smartly," Spencer, who was confirmed by the Senate last week, said. "As I said before, on a fundamental basis, any patriot that wants to serve and meets all the requirements should be able to serve in our military."
BuzzFeed News has reached out to the Navy secretary's office for additional comment.
Trump was asked by reporters about his decision to ban transgender troops on Thursday, to which he said he has "great respect for the community."

"I think I had great, or I have had great, support from that community. I got a lot of votes. But the transgender, the military is working on it now," Trump said. "They're doing the work. It's been a very difficult situation, and I think I'm doing a lot of people a favor by coming out and just saying it. As you know, it's a very complicated issue for the military, and I think I'm doing the military a great favor."
His views on the matter came out in an unexpected tweet at the end of July.
Since then, military leaders have come out in opposition to the president until an official policy change is made, and five transgender troops have sued the administration in federal court.

The head of the Coast Guard, Paul Zukunft, has also expressed support for transgender service members.
"We have made an investment in you, and you have made an investment in the Coast Guard, and I will not break faith,'" Zukunft said.

At his confirmation hearing last month, Spencer said individual services of the Department of Defense should not be a "petri dish for social experiments."

"I totally believe that policy should be developed at the DoD level and then discussed and socialized and deployed and then obeyed," Spencer said. "We have to work together, including all our service people, to make sure that they are given what they need, whether that be spiritually, whether that be psychologically, whether that be materialistically."