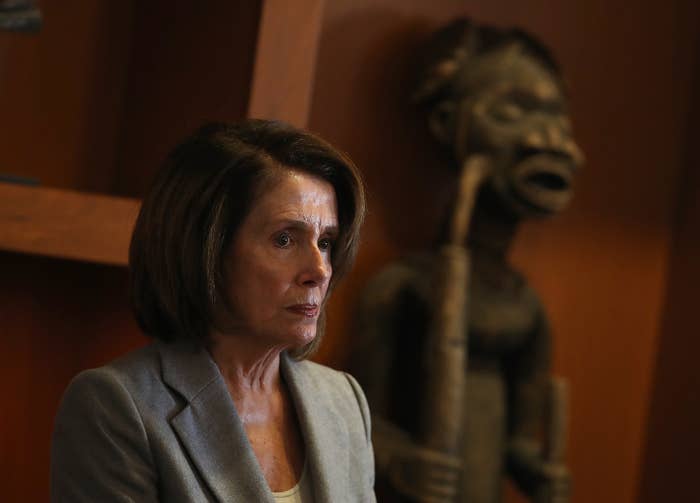 Multiple women accused Nevada Rep. Ruben Kihuen of sexual harassment last year, leading top Democrats to immediately call for his resignation. But months later, Kihuen is still in Congress and is now considering running for reelection. And now Minority Leader Nancy Pelosi, who directly called on him to step down last year, won't comment about the possibility of Kihuen attempting a comeback.
In December, Kihuen announced that he would resign after his first term. But the Nevada Independent reported this week that he was reconsidering his decision. (A source familiar with the matter confirmed to BuzzFeed News that he is "thinking" and having conversations about running again.) He has until Friday, March 16 to file in his competitive district, where several candidates are already running to replace him.
House Minority Leader Nancy Pelosi and Democratic Congressional Campaign Committee Chair Ben Ray Lujan called on Kihuen to resign when BuzzFeed News first reported that a woman said she quit working for Kihuen's campaign after he sexually harassed her. But asked directly on Thursday whether she still thought Kihuen should resign, Pelosi demurred.
"Let's see what he decides to do, OK? I don't mean to be rude in my response, but I don't want to speculate on something that may or may not happen," Pelosi said.
Asked for a reaction on the idea of him running, Pelosi quipped, "Well, when he makes a decision, I'll give you a reaction to it."
A spokeswoman for the DCCC said they had no new comment on Kihuen, and stood by their previous position that he should resign immediately.
The allegations against Kihuen ranged from touching the woman's thighs without consent to propositioning for dates and sex despite rejecting his advances. The woman worked as Kihuen's finance director while the campaign was in the primaries.
A female lobbyist also told the Nevada Independent that Kihuen touched her without consent multiple times and showed the paper hundreds of suggestive messages from Kihuen.
The Congressional Hispanic Caucus, which Kihuen belongs to, never took an official stance on whether he should resign, but some of its members did call on him to step aside on their own.
Kihuen also wouldn't say anything on the matter.
"I have no comment," Kihuen told BuzzFeed News when asked on Wednesday whether he was running for reelection.
Cresent Hardy, the Republican who held the seat before Kihuen, has filed to try to take it back. At least four Democrats have also announced: Patricia Spearman, a state senator, Steven Horsford, a former representative who held the seat, Amy Vilela, a progressive, and John Anzalone, a high school principal.
Until the sexual harassment allegations were reported, the freshman member was considered a rising star within the Democratic caucus. In addition to the initial scorching remarks made against him, Kihuen is under an ethics investigation over the sexual harassment allegations.
"While I think he wants to run again, I don't believe he will ultimately make the mistake of filing," a Nevada Dem strategist told BuzzFeed News. "The reaction to him reconsidering has been overwhelmingly negative from progressives in Nevada. No one thinks he would win the primary, let alone the general election, with these harassment allegations against him, an ongoing ethics investigation, and baggage of that FBI probe from last cycle."
Tarini Parti contributed reporting.