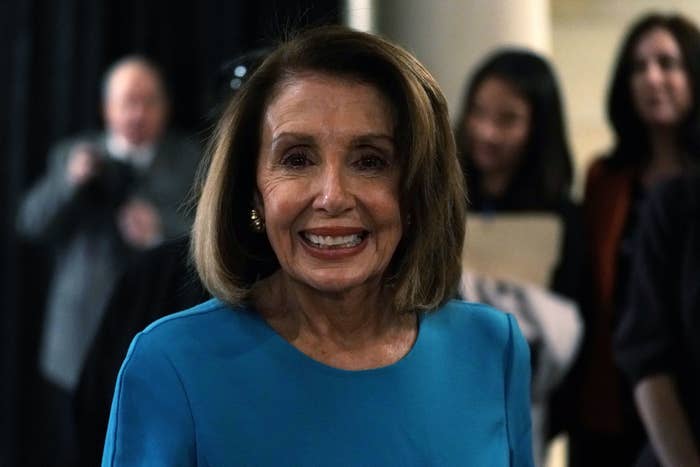 WASHINGTON — Nancy Pelosi is close to regaining the speaker's gavel, after House Democrats nominated her for the job in a closed-door meeting Wednesday.
Pelosi, who has run unopposed but faced opposition from a chunk of her caucus calling for generational change, won by a vote of 203–32. She must now secure 218 votes in a January floor vote to officially become speaker of the house for the new Congress.
"I couldn't be more honored. That is a figure of speech but is in fact in this case as true a statement anyone could ever make," Pelosi told reporters as votes were being cast.
Asked about the Jan. 3 vote, Pelosi said she thought she was in "pretty good shape."
While Pelosi has overwhelming support from the caucus, she's faced a tough math problem as a group of members and members-elect have called for a dramatic shake-up at the top of Democratic leadership. Sixteen Democrats have signed on to a letter pledging to oppose Pelosi, and at least three others not on the letter have also said they would not vote for her. While Democrats are on track to enjoy a 40-seat gain, the number of dissenters has made the math tight for Pelosi.
Minutes before Pelosi spoke with reporters, New York Rep. Kathleen Rice, one of the members leading the opposition, put out a statement saying the anti-Pelosi Democrats remain opposed to Pelosi following a discussion with the Democratic leader.
Pelosi said her focus was on the scores of Democrats who had just given her a "vote of confidence."
"Are there dissenters? Yes. But I expect to have a powerful vote as we move forward," she said.
Pelosi is not unfamiliar with opposition: In 2016, Rep. Tim Ryan of Ohio ran against her for the position of minority leader and Pelosi won 134–63.
For her part, Pelosi has been chipping away at the opposition. Pelosi's nonstop campaign has been a constant churn of endorsements from the likes of soon-to-be committee chairs and outside groups. Even former president Barack Obama, while not explicitly endorsing, heaped praise upon Pelosi. And incoming New York Rep. Alexandria Ocasio-Cortez gave her additional credibility among young progressives in a Twitter endorsement.
Before Thanksgiving, Pelosi earned the endorsement of the single Democrat publicly toying with the idea of running against her by striking a deal that made Rep. Marcia Fudge chair of a subcommittee focused on elections.
Last week, New York Rep. Brian Higgins also endorsed Pelosi, after striking a deal in which Pelosi agreed to prioritize a Medicare buy-in option for people at the age of 50. Higgins was one of the 16 Democrats originally "committed" to not vote for Pelosi who signed on to the letter saying as much.
The argument against Pelosi has long been that Democratic leadership in the House has been stagnant for too long. Promising Democrats have for years grown frustrated with their lack of opportunity within the caucus and sought opportunities elsewhere. And in fact, Democrats do prioritize experience, and the top three House Democrats (Pelosi and Reps. Steny Hoyer and Jim Clyburn) have been there for more than a decade. Hoyer won the majority leader spot unanimously and Clyburn won the number 3 spot in leadership.
Pelosi always projected confidence when asked whether she would be the next speaker, as the members arguing against her in the days after the election were accused of being sexist and ageist. Notably, only two of the Democrats who signed the anti-Pelosi letter were women: California Rep. Linda Sánchez and Rice. (Incoming Virginia Rep. Abigail Spanberger has also said she plans to vote against Pelosi but did not sign the letter.)
"In this time, she is the very best that we have. She's not just a candidate, she is the very best that we have to lead us through this cycle," said Rep. Joyce Beatty, who spoke on Pelosi's behalf during the nominating process.

House Democrats in the coming Congress have a tough political reality to face: In order to pass meaningful legislation, they have to get it past a GOP-controlled Senate and White House.
"I believe strongly that we need to have leadership in place that really, really knows the system," incoming California Rep. Katie Hill, who cowrote a letter to her fellow freshmen the week before Thanksgiving endorsing Pelosi, told BuzzFeed News by phone last week. "We don't have time to waste in terms of any sort of a learning curve."